One of Zoom's shareholders suing the software company for failure to disclose critical security and privacy flaws.
The shareholder believes that Zoom's executives knew about the storm that was coming.
Some recent share sales from the CEO, CFO, and director of Zoom came at a very suspicious time.
Michael Drieu, a shareholder of Zoom Video Communications Inc., is suing the tech company over misleading claims made regarding the privacy and security of the app. The plaintiff believes that the company had substantial knowledge of the holes that plagued the popular teleconference software, and still chose to keep them a secret from the public, as well as from their shareholders. More specifically, the man accuses Zoom of overstating its privacy standards and of failing to clarify that its encryption wasn't end-to-end or even particularly strong at all.
Zoom is already dealing with a class-action lawsuit alleging data privacy law violations, which was submitted to a U.S. District Court in California. Moreover, the software is dealing with bugs and security holes that are damaging its otherwise growing reputation, so Zoom had to do something. What they did was to apologize to their user community. They also decided to freeze the development of their software to fix all issues as quickly as possible. However, the price is falling, and shareholders are losing money precisely due to Zoom's decision to keep them in the dark. From the 159.56$ price that it had reached on March 23, 2020, the share price fell to $113.75 yesterday.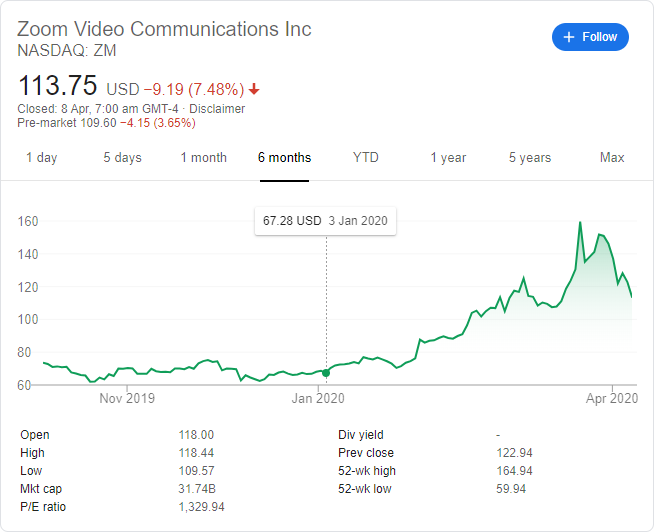 Even more, interestingly, there has been a buzz recently about high-standing executives in Zoom offloading large amounts of shares since the beginning of the year, back when the share price was around $67. It is as if these individuals knew that Zoom was going to climb until revelations about its security and privacy hit the news, and then they would drop again. Zoom's CEO, Eric S. Yuan, gradually got rid of $38.5 million worth of shares since the beginning of the year. The CFO, Kelly Steckelberg, sold $3.4 million within the same period, while Zoom's director, Santiago Subotovsky, sold $16.8 million worth of shares in March 2020.
Zoom responded to the allegations characterizing them as unsubstantiated, explaining that these share trades were carried out in the context of pre-determined plans that had been defined a long time ago. As the company told the press, the money from the CEO's share sale didn't even end up in his pocket, as it was converted directly to donations to humanitarian causes instead. Still, as Michael Drieu's lawsuit submission in the U.S. District Court of California proves, many shareholders aren't convinced by these explanations.