Piracy rates are dropping globally, as people find streaming services good and cheap enough.
This may change soon as the video-on-demand market gets overcrowded and fragmented.
As the market takes its final form, lesser players will be pushed out as giants establish themselves.
A recent survey conducted by Ampere Analysis indicates a drop in the piracy rates that is simultaneously recorded in the United States and Europe. The main reason for this drop is thought to be the wide availability of affordable subscription-based online streaming platforms such as Netflix and Amazon Prime, so people have fewer reasons to turn to piracy. The notion of 'on-demand' video consumption was actually born inside the pirating ecosystem, while legal services of this kind came many years after to build their success models on it.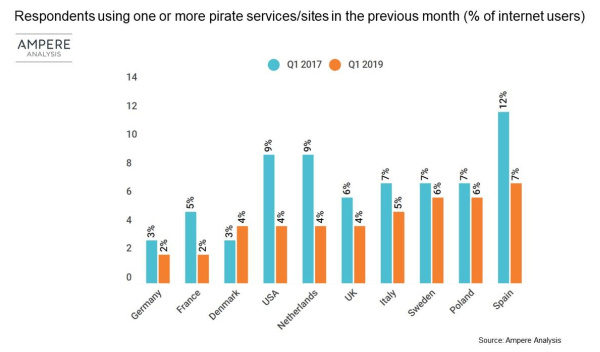 The stats compare the first quarters of 2017 and 2019, and the decline is evident mostly in the USA, Netherlands, France, and Spain, while it's also notable in Germany, Italy, and the UK. While this paints a satisfying picture for copyright holders, the analysts of Ampere Analysis warn that the situation may soon change, and piracy rates could suddenly go upwards. The reason for this would be the ongoing fragmentation of streaming services and the fact that there are so many services offering original content that people want to watch. As it's impossible for one to maintain subscriptions on various different services, the only way to access this content will be through piracy again.
Is this a real possibility? Some industry experts believe that we are already in the middle of a streaming service bubble, with the availability of so many video-on-demand services now working not only as competitors to each other but as the sappers of their very market. We already have Netflix, Amazon TV, Sling TV, Hulu, Sony PlayStation Vue, fuboTV, CBS All Access, YouTube TV, HBO Now, HBO Go, Philo, Kanopy, Roku Channel, Shudder, Facebook Watch, Sling TV, and more, while giants like Disney are soon to enter the market with their Disney+, AT&T will launch its own service this year, BBC and ITV will try again through BritBox, and even Costco and Walmart are looking to invest in this overcrowded market.
Everyone wants a piece of a growing pie, but it looks like the pie won't be enough to feed all services in the end. It is unlikely that these new entrants will be able to compete with Amazon and Netflix, however, damaging the field and pushing people to piracy is a real possibility. Of course, while surveys like the above give us an indication of the current state of affairs, we should take into account the possibility of people not admitting of doing something illegal like pirating.
What would you propose as a solution to the fragmentation problem? Share your opinion in the comments beneath this post, or on our social media, on Facebook and Twitter.