The principal operator of the bitcoin mixing service 'Bitcoin Fog' has been identified and arrested.
The man was not careful enough in hiding his online tracks, and an IRS investigator identified him.
The platform has received millions in stolen crypto and transfers from dark web markets.
U.S. officials have arrested Roman Sterlingov, a Swedish-Russian citizen who is believed to be the principal operator of the cryptocurrency mixing service known as Bitcoin Fog. According to the warrant details, the man has laundered approximately $336 million in Bitcoin cryptocurrency over the past decade. The case against Sterlingov was launched thanks to an IRS special agent, who confirmed the violations during a relevant criminal investigation.
According to the warrant, the offenses that Sterlingov is facing concern the following violations:
18 USC 1960(a) Unlicensed Money Transmission
18 USC 1956(a)(3) Money Laundering – Sting
D.C. Code 26-1023(c) Money Transmission without a License
The IRS made it clear last year that owners of cryptocurrency assets should declare their holdings. The agency has even invested in a novel system that would be able to trace transactions made using even the most private coins, like Monero.
Cryptocurrency mixing platforms are the nemesis of services like the IRS because they basically allow users to exchange bitcoins through a large number of transactions, essentially obfuscating their origin and ownership. Typically, these mixers are used by those who need to "clean" stolen crypto, but anyone valuing their anonymity, in general, will follow similar practices.
Even though there's an abundance of bitcoin mixers, we rarely see law enforcement action against them. Oftentimes, these platforms are scamming crypto holders, and other times, their operators are too well hidden to ever find trouble with the law. In the case of Bitcoin Fog, we have a platform that was reportedly legit in its service, while the identity of Sterlingov was retrieved through Bitcoin address analysis in the blockchain.

The investigators found that when the service was launched back in 2011, 1.2 million BTC was transferred there from customers of the Silk Road, Evolution, Alpha Bay, Agora, and Silk Road 2.0, all now-defunct dark web marketplaces. Over the following years, various amounts stolen from legitimate exchanges were passed through Bitcoin Fog's mixers.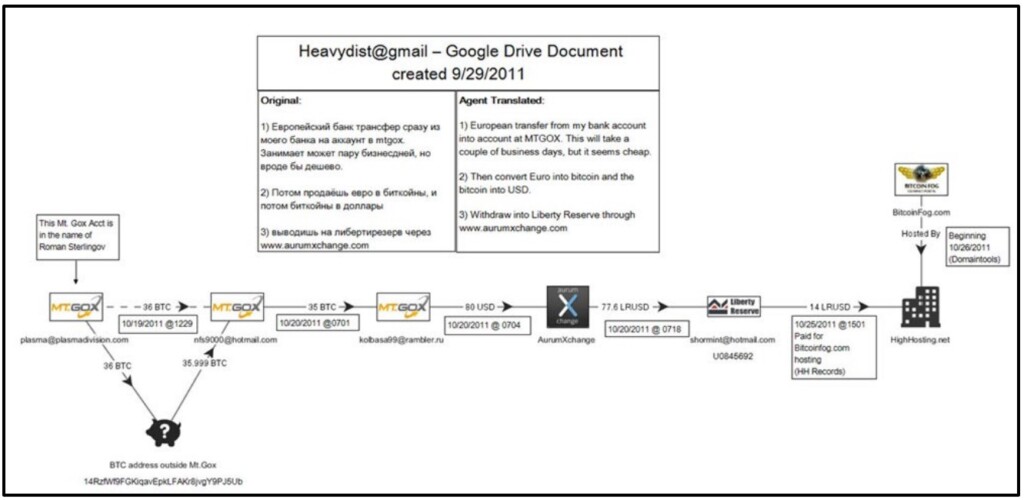 By analyzing everything and linking it to financial records, ISP records, email service provider records, and additional information, the IRS investigator was eventually led to Roman Sterlingov. As the report mentions, Sterlingov wasn't diligent enough in hiding his online tracks, logging in to 'Mt. Gox' and 'Liberty Reserve' accounts through the same IP address, making the work of the investigators easier.