Scammers are looking to get a piece of the massive amounts spent on NFTs, and they're using many tricks to achieve it.
From fake and copycat marketplaces to stolen art and artist impersonation, anything goes.
Those looking to buy NFT need to research thoroughly before they click that payment button.
Wherever there's money, there are scammers, and the rising NFT investment trend is no exception to this rule. Before you go forth and spend your crypto to buy a piece of data on a ledger, you need to do your due diligence with the specifics, from the potential copyright violations to the trustworthiness of the seller or the very marketplace. Not doing your research may result in some weird situations like not being able to see or access your assets anymore.
Unfortunately, there is a wide range of different scams orbiting the NFT planet right now, but here are the top five things to watch out for according to the findings of a Bolster.ai investigation:
Replica Stores – This is similar to what we're seeing by phishing actors. Scammers create a convincingly similar website that looks like a real and credible store and then lure people in either through malvertising or through social media and forum posts. Domain registrations using the words 'rarible', 'opensea', and 'audius' have increased by 300% in March 2021, which is indicative of the situation.
Fake NFT Stores – Then there are the straight-away fake stores that don't try to imitate others but instead use their own branding and logos. The NFTs offered for purchase there are all non-existent, like the markets themselves, but the crypto wallet addresses where your investment will end up are all real.
Stolen Art or Creator Impersonation – There's so much going on in this category of scams; even trying to recap the most notable cases feels otiose. Scammers are actively stealing the artworks of others and then try to sell them as NFTs. Also, even amateur low-level digital artists create pieces, append a recognizable name onto the art, and sell them for grand amounts.
Fake Giveaways – Bolster reports that they are seeing thousands of individual fake giveaways promising crypto, NFTs, or tokens that can be exchanged for art on popular marketplaces like Rarible. There's just no such thing as free stuff, no matter what accompanies the promise and how great it may sound.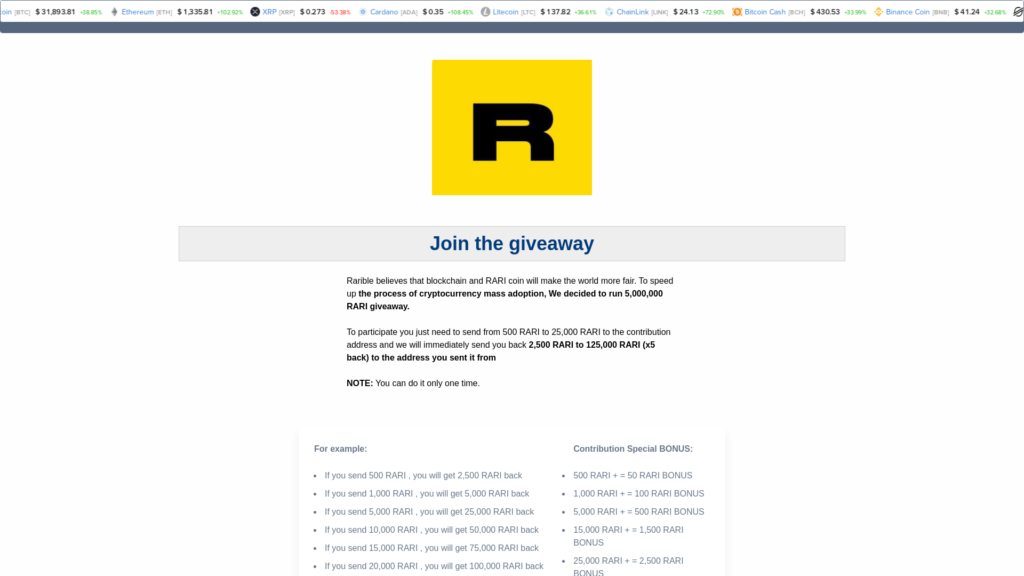 Brand Impersonation on Social Media – Social media groups are just a great channel through which to promote anything, so NFT scammers are taking advantage of them as much as possible. A Polkadot search on Telegram gives back so many channels that it's easy for anyone to get lost, and the same applies to other popular markets as well.