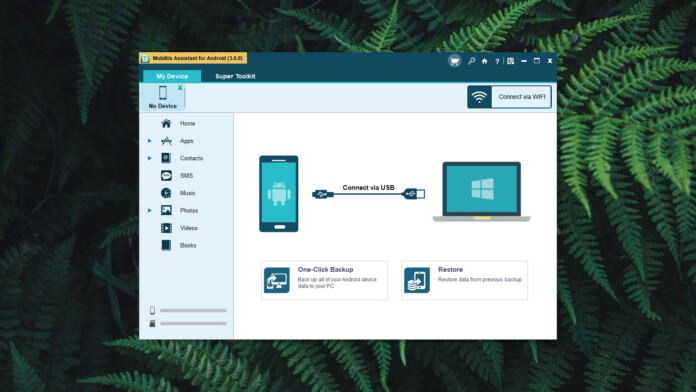 At the moment, Microsoft is doing a good job of trying to integrate Android with Windows 10. By using an app called Your Phone, you can sync certain types of data and even take calls on your computer. However, this isn't a deep level integration and it leaves out plenty of important stuff. This is precisely why you'll find a solid range of third-party solutions, like MobiKin Assistant for Android. This application brings a complete solution for synchronizing data between your smartphone and computer. More importantly, this synchronization doesn't happen one-way, as you can use your computer to fully organize and reach various aspects of your Android phone.
First, let's go over some basic information regarding this application. The following table will give you certain highlights, which might come in handy if you're comparing this solution to its competitors. Take a look.
Overview
Product Name
MobiKin Assistant for Android (Windows Version)
Supported Platforms
Windows 10/8/7/Vista/XP; MacOS version available.
Unique Features
Supports an enormous list of devices; Two-way synchronization; Supports various types of files; Back-up and restore functionality included.
Price
$29.95 (1-Year) | $39.95 (Lifetime)
Visit
MobiKin Assistant for Android
Next, we will show you the highlights of this application. If you don't have the time to read this entire review, we're sure that the following table will come in handy.
The Bottom Line
Pros
Easy to use; Supports numerous types of data; Fast synchronization; Does back-ups as well; Safe to use.
Cons
Somewhat outdated UI; Not the most affordable option.
The Final Verdict
MobiKin Assistant for Android does what it says – this is a handy and fully working solution for managing your Android device.
Our Score
8.9/10
That would be all for our introductory segment. If you join us, you'll get to read our full review of MobiKin Assistant for Android, as well as learn everything there's to know about this application. With this said, let's jump right in, shall we?
MobiKin Assistant for Android – TechNadu's Review
First things first – you should know that we've tested MobiKin Assistant for Android on our Windows 10 computer. Also, we've tested the latest available version (3.8.8). It should be also noted that there's a macOS version of this application, which comes close to identical to the version we tested.
Platform Compatibility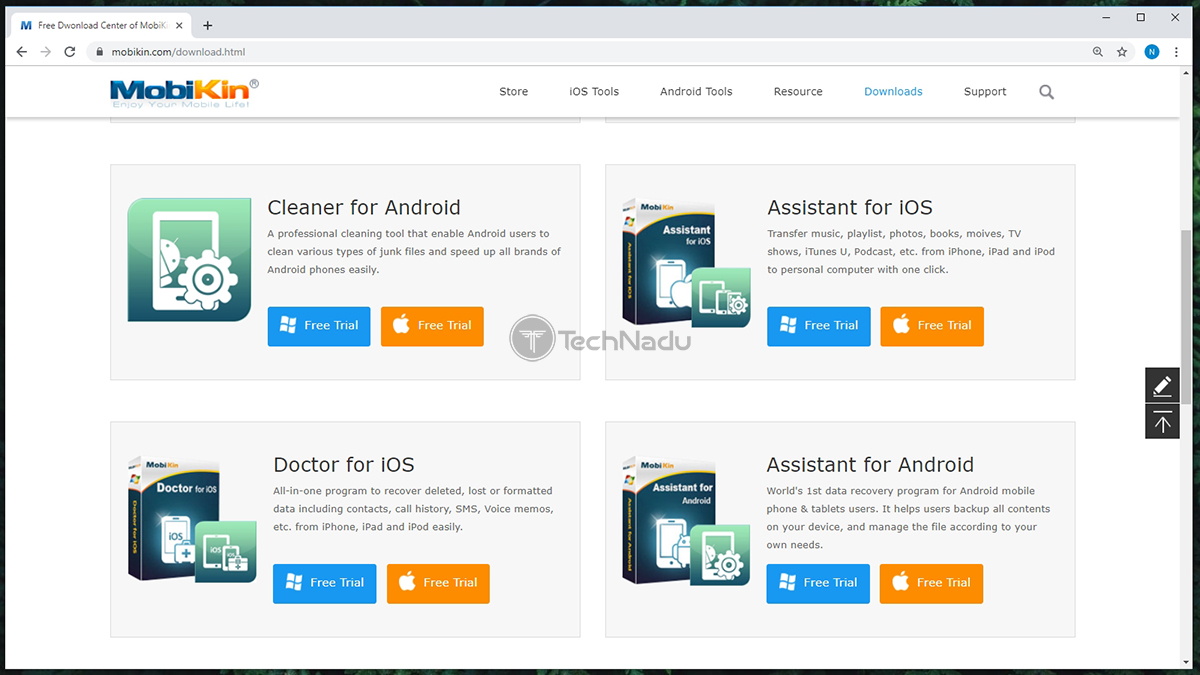 MobiKin for Assistant runs well even on outdated computers and pretty old smartphones. There's also a macOS version, sold as a separate license. Our Score: 10/10.
As noted earlier, we've tested MobiKin Assistant for Android on a Windows 10 machine. In case you're a Windows user as well, you're in luck. To run this application, you need to have a machine running Windows 10/8/7/Vista/XP. In addition, you need to have a 750Mhz CPU, 512MB of RAM, and at least 1GB of hard drive space. As you can see, this is a pretty lightweight application that won't take much of your computer's resources. We believe that even some pretty old machines will run MobiKin Assistant without any problems.
It's also important to note that you need to have Android 2.1 or above, on the device that you plan on connecting to your computer. This also means that aside from the latest Android devices, even some outdated smartphones should work with no issues.
One more note – there's a version of MobiKin Assistant for Android made specifically for macOS computers. Therefore, if you're a Mac user, this could be the right tool for you. Even though we've tested this application on Windows, everything said in this article also applies to its macOS counterpart. However, these two applications have two different distribution channels, so you'll need to choose between a Windows or macOS license when buying this software.
Installation Process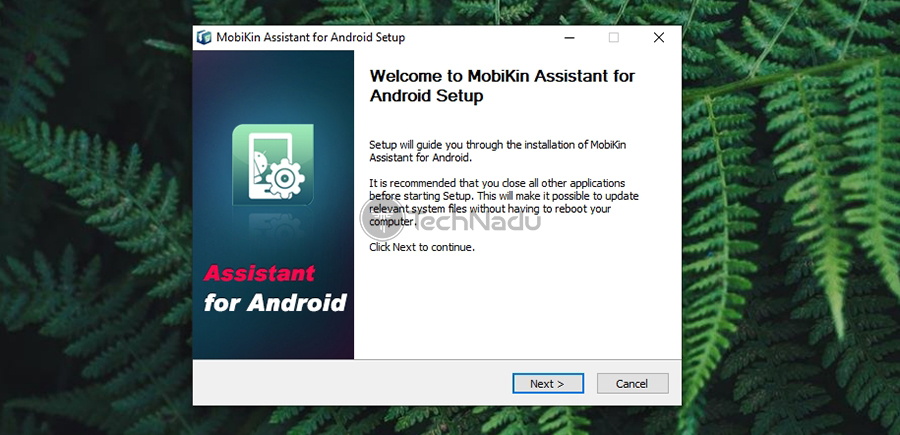 The installation process of MobiKin Assistant for Android is as easy as it gets. It takes less than one minute to complete the installation and initial configuration. Our Score: 10/10.
You can choose from using a free trial or buying this application straightaway. Either way, you'll need to visit its official website, from where you can download the latest available version. On Windows, you'll end up with a lightweight installation file (around 17MB in size), so you don't need a fast Web connection to download this file. Once you have it on your computer, double-click on it to initialize the installation procedure. Then, it's all smooth sailing from there.
It's worth noting that you won't find any marketing offers here or any type of bloatware. This is something that we've started to see quite often, even when using software from big-name companies. Therefore, we're more than glad that MobiKin Assistant for Android doesn't come with these complications.
Once you install the application, feel free to launch it. As you do that, a webpage will open in your Web browser, showing you a tutorial on how to get started. You'll need to connect your Android device to your computer, which can be done via a USB cable or wirelessly. Don't worry, you'll be guided through each step of the way.
User Interface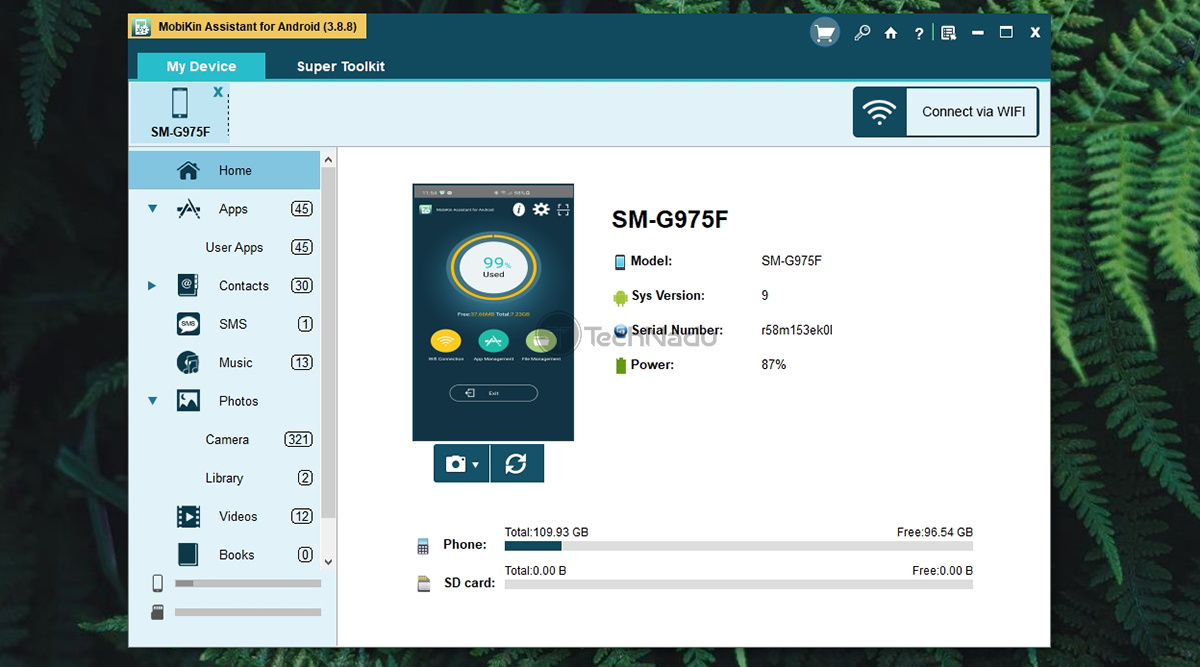 MobiKin Assistant for Android comes with a somewhat outdated UI – but it's still highly functional. We also didn't like that MobiKin is pushing different marketing channels aggressively through this application, even though we can understand the reasons for that decision. Our Score: 8/10.
The user interface of MobiKin Assistant for Android is separated into several sections. As you connect your Android device, the left side of the screen is where you'll find different types of data. You can review the applications you have installed, contacts, SMS, music, photos, videos, and e-books. As you click on any of these categories, you'll get to see the contents of your phone on the right side of the UI. We'll walk you through several sample operations later in the article, so make sure to stick with us.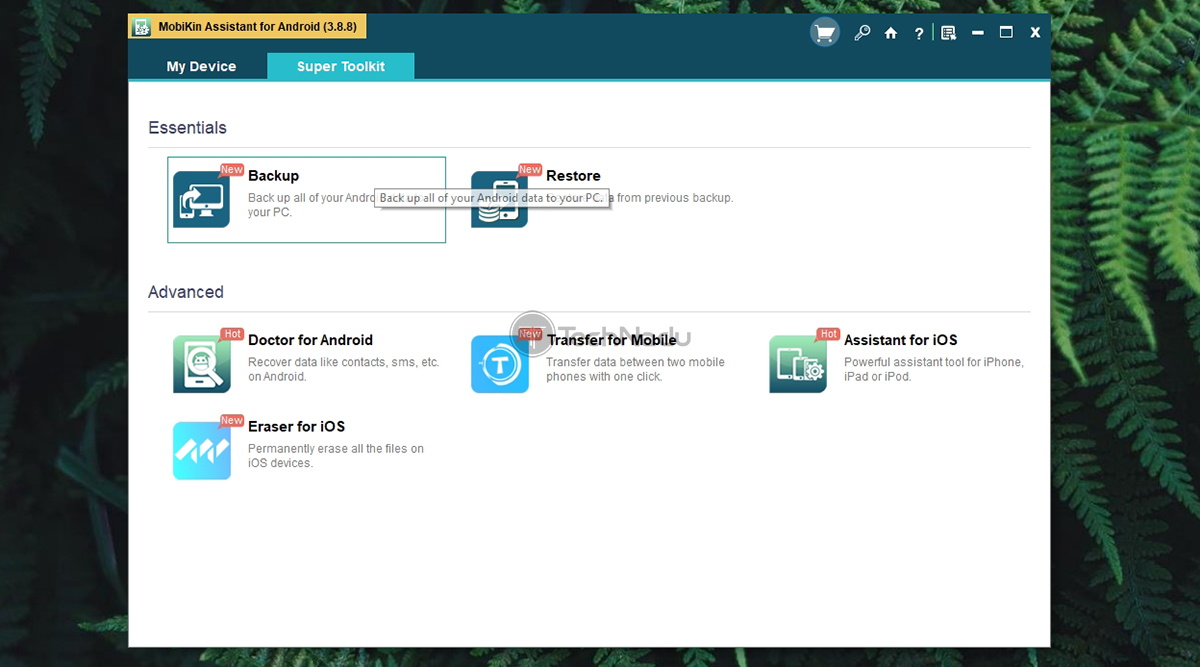 Then, at the top of the screen, you will see two tabs called 'My Device' and 'Super Toolkit'. The first tab allows you to review your currently active Android device. And also, this is where you can review other connected devices, as you can connect them via Wi-Fi as well. The other tab (Super Toolkit) acts as a marketing channel for the company. However, this is where you'll find two important features as well – backup and restore.
At the very top of the UI (top-right corner), you'll see a series of small icons. This is where you can register your software, return to the home page of its UI, and visit this company's customer support section (on their website). There are other options here as well, allowing you to check frequently asked questions, this company's social media profiles, and more.
Ease of Use
In general, this application is quite easy to use. Some parts of its UI could be more polished, but it's intuitive enough even for complete beginners. Our Score: 9/10.
As noted previously, there are many possible uses of this application. You can use it to back-up and restore data to your Android device. Then, you can manage apps, contacts, SMS, photos, videos, and music. This including making some deeper-level changes as well. For example, you can install APK files directly from your computer, but you can also uninstall apps as well. And also, this application has access to your phone's memory and your phone's SD card, which means that you get full access to your device.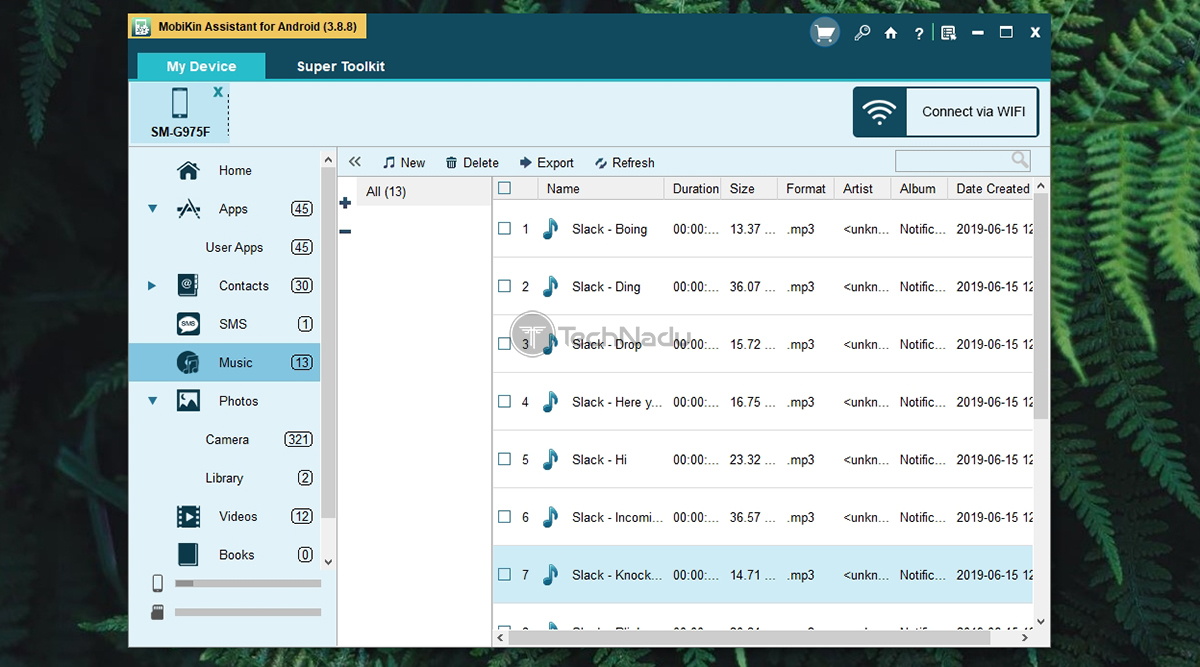 Let's say that you want to add some music to your phone. You first select 'Music' from the left-placed sidebar. Then, you'll see a list of songs currently present on your phone. You can export these to your computer or delete them from your phone. To add new songs, click on 'New' and then select the files that you'd like to transfer. MobiKin Assistant for Android will do the rest on its own. The same applies to photos and videos.
Another handy feature is this application's back-up tool. You can decide to backup various types of data and save them on your computer. In case of any problems with your phone, you can use this application to restore the previously saved data.
All in all, this application is quite easy to use. As said in the previous segment of this review, MobiKin Assistant for Android doesn't bring the most polished UI. However, we strongly believe that even complete beginners won't have any problems using it.
Speed & Performance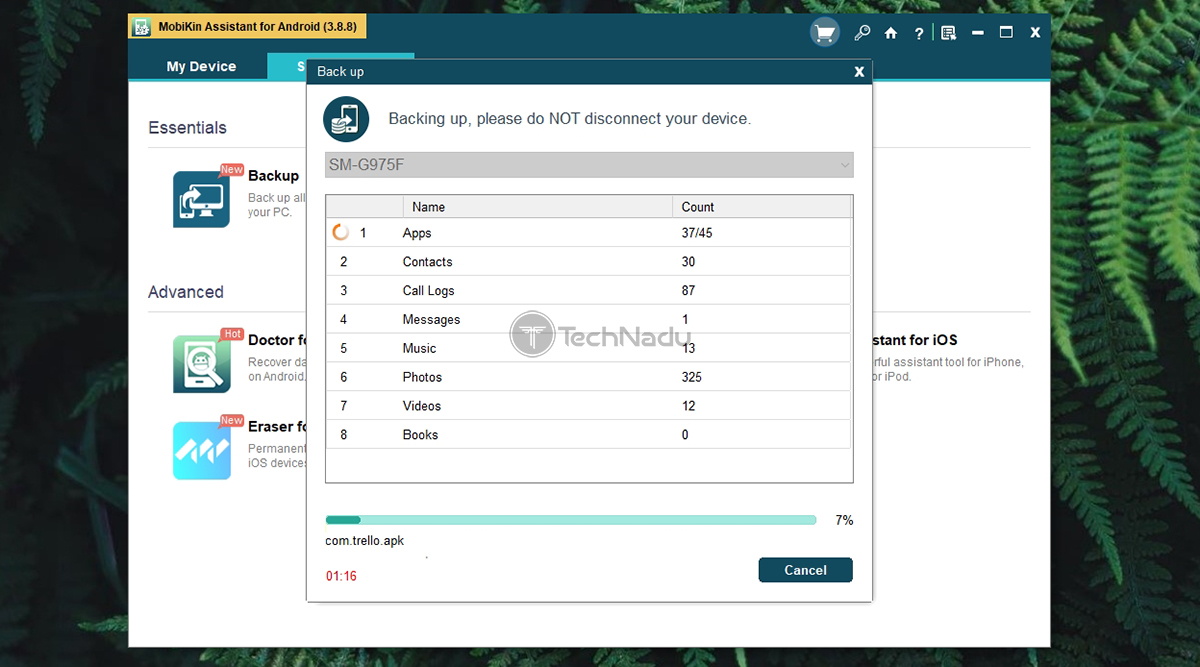 MobiKin Assistant for Android works without a single hitch. Also, it supports fast data transfers, which also depends on the type of smartphone you have. Our Score: 9.5/10.
We're sure that many of you have sizeable media libraries on your phones. Therefore, you don't want an application that takes ages to sync all that data. Well, you'll be happy to know that MobiKin Assistant for Android does its job in a timely manner. Most importantly, it does its job without any issues whatsoever.
To transfer a library of 350+ high-resolution images from our phone to your computer, this application took no more than two minutes. And to create a complete backup file (containing all our apps, contacts, call logs, messages, and more), we needed to wait around 6 minutes. The output file was close to 5GB in size.
Also, one important note. How fast this application is going to work depends on your phone as well. If you have a newer smartphone, you can expect a faster data transfer rate (and vice versa).
Customer Support
MobiKin doesn't offer live chat support. However, you can rely on contacting the company via email, and there's plenty of self-help resources. Our Score: 8/10.
MobiKin offers a central customer support page, where you'll find different types of resources. There's plenty of frequently asked questions, as well as tutorials about different aspects of this application. And also, you are also free to send an email to this company, and you'll receive a response in a timely manner.
As you can expect, there's no live-chat support here. Also, we weren't able to find any phone numbers on the website of this company. Therefore, there's no way to receive an answer to your question immediately. Still, since there's e-mail support present, this can be seen as the next best thing.
Pricing
MobiKin Assistant for Android isn't the most affordable option out there. However, considering that it still brings plenty of value for its price, we believe that this is a good deal overall. Our Score: 8/10.
So, the question is – how much you'll need to pay for MobiKin Assistant for Android? Well, there are different types of subscriptions and licenses, which complicated the situation a bit. So, here's a simple explanation.
In case you'd like to buy an annual subscription for one 1 PC, this will cost you $29.95. If you need to use this application on up to 5 PCs, this costs $49.95 per year. MobiKin also offers bulk licenses, and this application can be used on up to 30 PCs.
There are also lifetime subscriptions. This is a good way to save plenty in the long run, as these are one-time purchases. So, the price of a lifetime subscription for 1 PC is $39.95. And if you need lifetime licenses for up to 5 PCs, this costs $59.95. As you can expect, there's a possibility to buy lifetime licenses in bulk as well.
Among other information, you'll get a 90-day money-back guarantee. And also, you can pay via PayPal and a wide range of payment cards (Visa, Discover, American Express, and more).
Do We Recommend MobiKin Assistant for Android?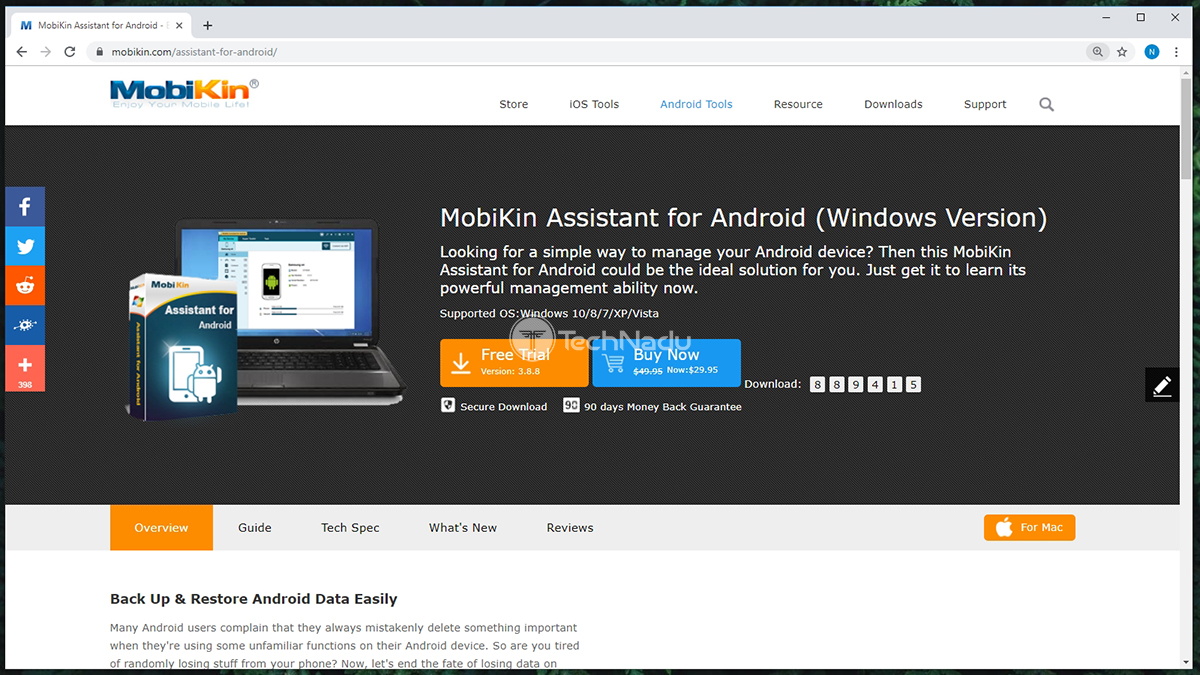 If you're in need of a reliable solution for syncing your Android phone with your computer, this is the right solution. MobiKin Assistant for Android works as advertised and comes without any overly problematic aspects. All in all, we highly recommend buying it.
PROS: Easy installation; Supports a wide range of data types; Fast performance; Works without a single issue; Supports plenty of Android devices.
CONS: Not the most affordable option; Lacks live-chat customer support.
OUR SCORE: 8.9 out of 10!
So, if you considering buying a MobiKin Assistant for Android license, make sure to click on the provided link. You'll be taken to this application's official website, where you'll find all the information you need.
As you made it to the end of this review, why not share this article online? And don't forget to follow TechNadu on Facebook and Twitter. Thanks!