Intel's leaked presentation slides demonstrate how the chipmaker attempted to compare to M1.
It appears that Intel isn't bothering to compare to AMD but instead focuses on the disruption that is the ARM architecture.
Apple fans call out the bench tests for being way too cherry-picked and heavily biased.
Ever since Apple announced the M1 chip, the field of processor tech has been irreversibly shaken. No matter whether you belong to those who praise Apple's feat or the camp that chooses to disregard the importance of the ARM implementation, the undeniable fact is that the M1 is ushering in a new age in computing. Such is the impact of Apple's chip that Intel's new CEO Pat Gelsinger mentioned its creator rather disparagingly the first time he addressed himself to his team.
Now, an Intel presentation has surfaced, courtesy of Tom's Hardware, and the publication is sharing some slides that show a direct comparison between 11th-gen "Tiger Lake" processors and Apple's M1. As it seems, Intel is nervous about its future in the mobile space, so the company feels they have to state something that sets the record straight.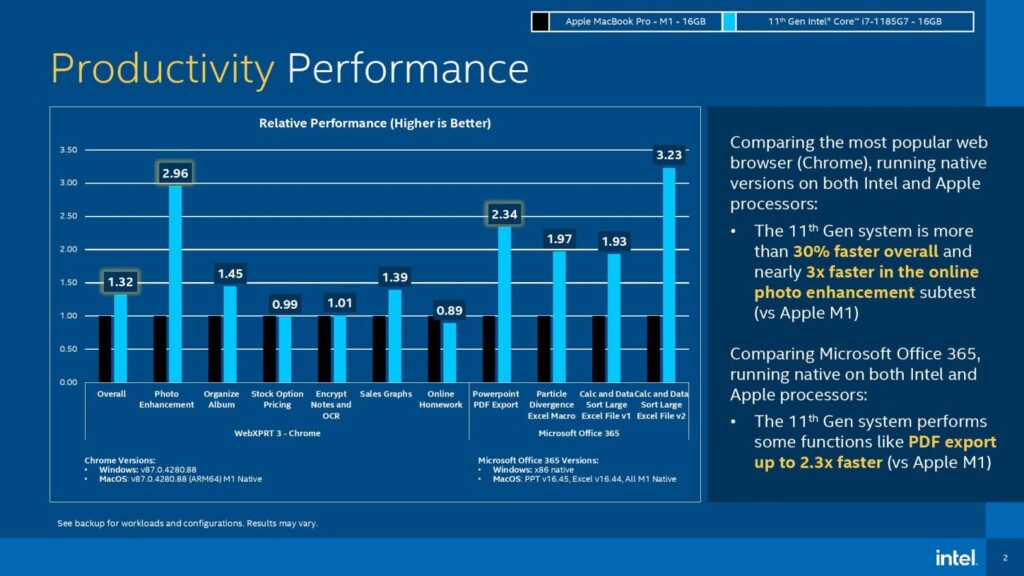 The slides show how Intel's tech destroys the M1 in tasks like "Photo Enhancement," "PowerPoint PDF Export," "Excel Macro," "AI Photo Denoise," and some game titles like Middle-Earth: Shadow of Mordor, and Total War: Three Kingdoms.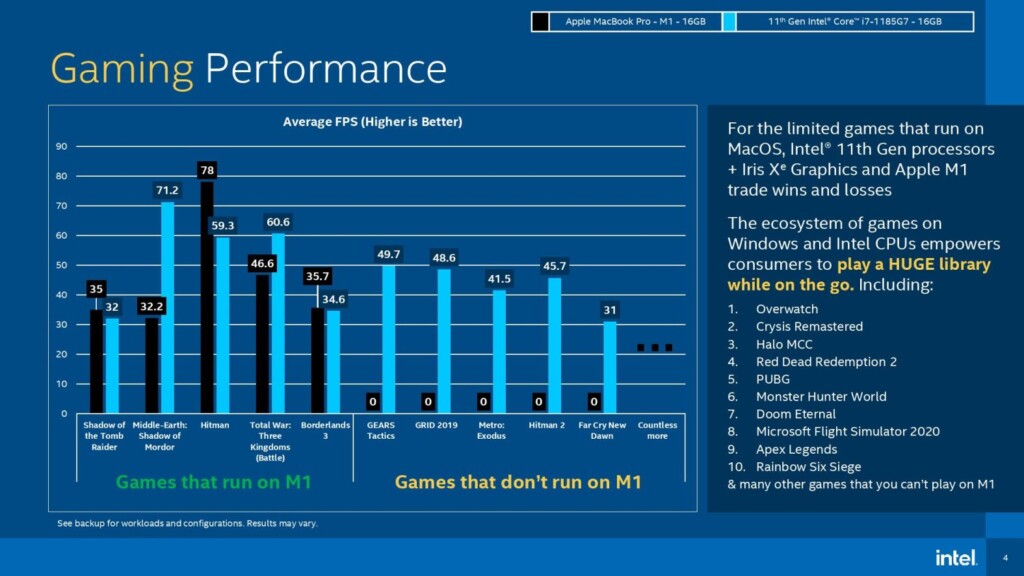 Of course, Intel doesn't fail to also point out that its CPUs offer much greater compatibility with a wider range of hardware and software products and not just the "limited number" of stuff that runs on the M1. Also, in regards to battery life, Intel claims that on "real life" tests, their i7 1165G7 inside an Acer Swift 5 will keep rocking for just as long as the M1 in the MacBook Air M1.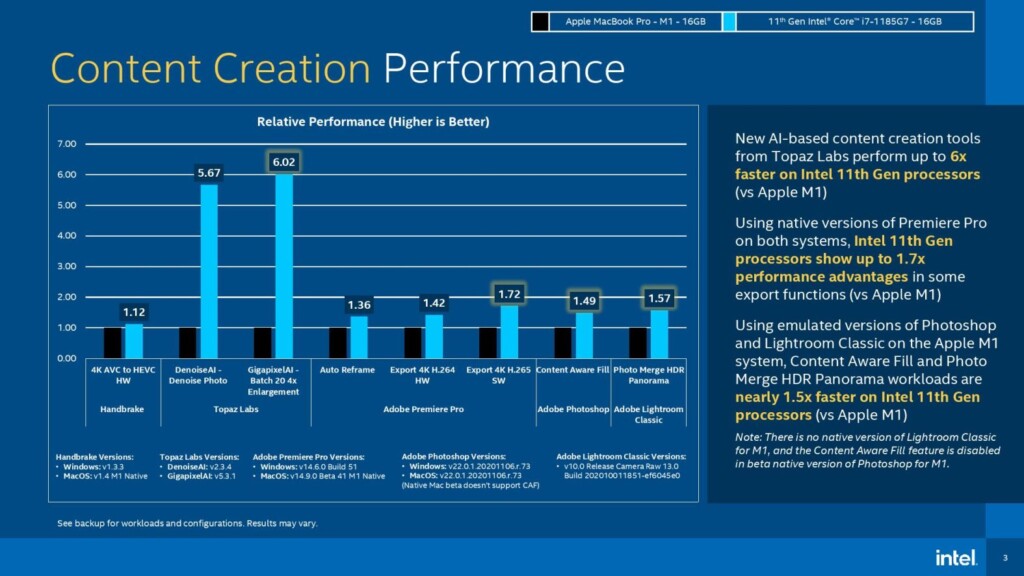 Those on the Apple camp call out the presentation points as being unrealistic and heavily selective, not nearly close to the "real life" usability and deployment scenarios that concern the majority of users. In general, Intel is accused of swapping processor models in the comparisons as it sees fit, using unpopular benchmarking tools, and leaving the hardware-based transcoding to "off" on the M1 while enabling "QuickSync" on the other side.
In addition to all that, Apple fans rightfully point out that in most cases the software used for the comparison tests run on the M1 through the 'Rosetta 2' compatibility layer, and so the performance was naturally degraded. Intel could have used programs that run natively on the M1, but they chose not to take that path.
If the M1X, which shouldn't be far now, follows along the same disruption path of its predecessor, Intel will have a lot of trouble saving the day on the mobile space no matter how selective or smart the tests will be.