Intel announced quite a few new products at the CES 2021 event and offered a preview of the "Alder Lake."
The upcoming chip is focused on power and efficiency, so it's looking to compete in the mobile space.
The new H-Series and U-Series for laptops are holding very well against the existing competition.
Intel held a comprehensive CES 2021 news conference where they introduced four new processor families and 53 new chips for desktops and laptops. Among them, there's the 11th generation "Rocket Lake" for the desktop, the 11th gen "Tiger Lake" H35 series for ultra-portable gaming, the 11th gen "Tiger Lake" vPRO for business-class notebooks, and the education-focused "Jasper Lake" Pentiums and Celerons for Chromebooks.
In addition to all these, Intel has given us a previous of the 12th gen "Alder Lake" chips that are expected to arrive in the second half of 2021.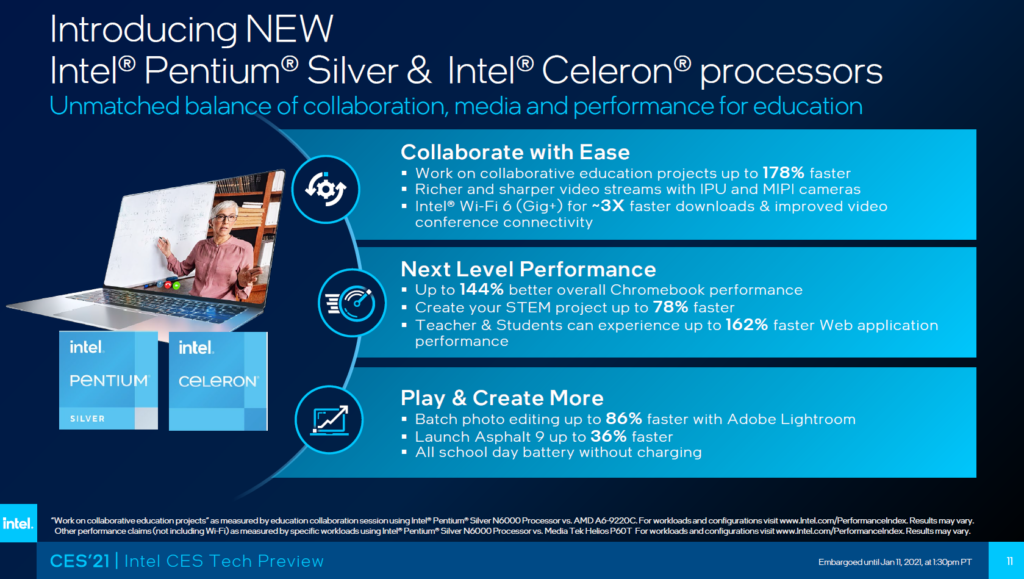 The 11th gen Intel Core i9-11900K used as a representative of the new series is still a 14nm chip, and we expect this to be the last chapter in the books of Intel's 14nm processor history.
The American chipmaker has worked on a new micro-architecture for it, though, so it promises several important improvements like 19% better IPC performance and up to 50% more powerful integrated graphics. According to Intel, there should be between 2% and 9% performance gain in modern AAA games compared to the previous generation.
The new mobile chips are far more interesting as we have chips that perform very well against the existing competition – according to Intel's numbers, at least. The new U-series chips are now taken down to 35 Watt, are built on the 10nm SuperFin process, and have 4 cores/8 threads.
Compared to the 10th gen H Series core i7, Intel promises a performance bump of 15%, while the difference from the 15W chips of the 11th generation is about 9%. As for the new H-series, it uses 45 watts to power eight cores and pushes them to frequencies of up to 5GHz on multiple cores.
And as for the "Alder Lake," which is what most consumers are primed for, Intel gave a limited demo where they mentioned a 10nm "SuperFin Enhanced" process. They called the product their most power-scalable system-on-chip, which stems from the fact that it will combine high-performance cores and energy-efficiency cores on the same unit.
This sounds like opening the way to compete on the mobile/laptop space against Apple's M1, for example. Remember, this generation will come with a new LGA 1700 socket and support for DDR5 memory and the PCI Express 5.0 bus standard, so this is where Intel is going to make its next leap.