Intel has presented the "Comet Lake-S" and is ready to set a very aggressive pricing plan.
According to rumors, the LGA 1200 socket will be good for only one more generation.
The "Alder Lake" will arrive with the long-awaited 10nm and a brand new LGA 1700 socket.
After the mobile version of Intel's 10th generation of its "Core" processors codenamed "Comet Lake," the American chipmaker has presented the "Comet Lake-S," betting on high clock speeds, boosted cores, and lower cost of acquisition. Next will come "Rocket Lake," and Intel has made it clear that the 11th generation is going to be an incremental improvement over the Comet Lake CPUs. However, there's a reason why you may want to skip this one and the next generation altogether - and wait for the 2021 launch of the "Alder Lake" instead.
First, both the Comet and the Rocket Lake are still based on the 14nm fabrication technology, so buying something that has such an outdated power efficiency right now doesn't make much sense. Intel is amping and boosting its CPUs to put a brake on the worsening status of their market position, as AMD's Ryzens are now considered technologically superior. For example, the Ryzen 9 3950X has a TDP (thermal design power) of 105 Watt, while the Core i9-10900K has a TDP of 125 Watt. The sheer power of "turbo boosting" to 5 GHz while priced at a lucrative point may be alluring, but there's one more reason besides power efficiency to skip Intel's 10th and 11th generation.
According to an increasing number of rumors, Intel's 12th gen "Alder Lake" will finally introduce the 10nm architecture, and will switch to a new LGA 1700 socket. Intel had just switched to the LGA 1200 socket, which will be good for the "Rocket Lake" as well, but this will be the end of the upgrading line for those who get it. A Taiwanese maker of voltage regulation test tools has confirmed this, and so did various major hardware leakers on Twitter like momomo_us and KOMACHI_ENSAKA. So, it hasn't been officially confirmed yet, but it's most definitely true.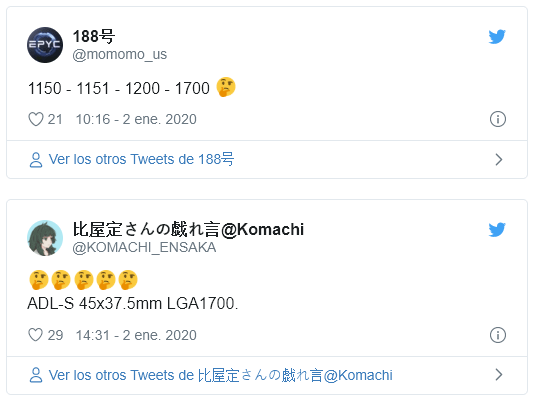 So, even if the "Alder Lake" is not ready in late 2021 but in early 2022, it is still worth the wait to upgrade then. AMD is pushing Intel hard with the Ryzen, so the American chipmaker cannot afford to waste time and just wait until the sales of the 10th and the 11th generations mature. They will push for the launch of the "Alder Lake" and will strive to get it out as soon as possible. The only way they can sell their "Comets" and "Rockets" is by making them a bargain. Still, we wouldn't buy them unless it's absolutely necessary. In less than two years from now, their depreciation will dive to disappointing levels, so keep that in mind if you're thinking that selling them later to get an "Alder Lake" is a smart plan.