The One Piece anime is based on a Japanese manga series written and illustrated by Eiichiro Oda. According to the series' lore, the man who acquired everything, the Pirate King, was Gol D. Roger. The final words he said at the execution tower were: "My treasures? If you want it, I'll let you have it. Look for it; I left all of it at that place." The words of Gol D. Roger had an impact on pirates all over the world as they headed toward the Grand Line in search of the One Piece!
One Piece follows the story of Monkey D. Luffy, a boy who unintentionally ate a Devil Fruit, leading his body to gain the properties of rubber. Luffy hopes to become the next Pirate King someday and hence, sets of several adventures with his pirate crew, the Straw Hat Pirates. Together they explore the Grand Line, searching for the "One Piece."
Fans can watch all the latest episodes of One Piece on Crunchyroll and Funimation. The latest episodes are currently airing in Japanese with English subtitles. One Piece's English dubbed version is quite far behind the original series, with only 794 episodes.
One Piece has a very precise timeline; however, some arcs are not released chronologically. We recommend first-time watchers of the anime follow the release order. The specials, OVAs, and shorts can be watched at any time because they don't follow the storyline of the main anime and hence spoil nothing.
Check out the full list of One Piece episodes, movies, OVAs, shorts, specials, and the chronological order to watch them below:
Release Order
I. TV Series
Season 1 (1999)
Season 2 (2001)
Season 3 (2001)
Season 4 (2001)
Season 5 (2002)
Season 6 (2003)
Season 7 (2004)
Season 8 (2005)
Season 9 (2006)
Season 10 (2008)
Season 11 (2009)
Season 12 (2009)
Season 13 (2009)
Season 14 (2010)
Season 15 (2011)
Season 16 (2013)
Season 17 (2014)
Season 18 (2016)
Season 19 (2017)
Season 20 (2019 – ongoing)
Movies
One Piece: The Movie (2000)
Clockwork Island Adventure (2001)
Chopper's Kingdom on the Island of Strange Animals (2002)
Dead End Adventure (2003)
The Cursed Holy Sword (2004)
Baron Omatsuri and the Secret Island (2005)
Giant Mecha Soldier of Karakuri Castle (2006)
The Desert Princess and the Pirates: Adventures in Alabasta (2007)
Episode of Chopper Plus: Bloom in the Winter, Miracle Cherry Blossom (2008)
One Piece Film: Strong World (2009)
Straw Hat Chase (2011)
One Piece Film: Z (2012)
One Piece Film: Gold (2016)
One Piece: Stampede (2019)
One Piece Film: Red (2022) (upcoming)
OVAs
Defeat Him! The Pirate Ganzack! (1998)
Romance Dawn Story (2008)
Strong World: Episode 0 (2009)
Glorious Island Part 1 (2012)
Glorious Island Part 2 (2012)
One Piece Film: Gold Episode 0 (2016)
ROMANCE DAWN (2019)
IV. Shorts
Jango's Dance Carnival (2001)
Dream Soccer King (2002)
Take Aim! The Pirate Baseball King (2004)
ONE PIECE 3D! Trap Coaster (2011)
V. Specials
One Piece TV Special: Adventure in the Ocean's Navel (2000)
One Piece: Open Upon the Great Sea! A Father's Huge, HUGE Dream (2003)
One Piece: Protect! The Last Great Stage (2003)
One Piece: End-of-Year Special Plan! Chief Straw Hat Luffy's Detective Story (2005)
Boss Luffy Historical Specials: Episodes 291-292, 303, 406-407
Episode of Nami: Tears of a Navigator and the Bonds of Friendship (2012)
Episode of Luffy: Adventure on Hand Island (2012)
Episode of Merry: The Tale of One More Friend (2013)
3D2Y (2014)
The episode of Sabo: The Three Brothers' Bond – The Miraculous Reunion and the Inherited Will (2015)
One Piece: Adventure of Nebulandia (2015)
One Piece: Heart of Gold (2016)
One Piece: Episode of East Blue: Luffy and His 4 Crewmates' Big Adventure (2017)
One Piece: Episode of Sky Island (2018)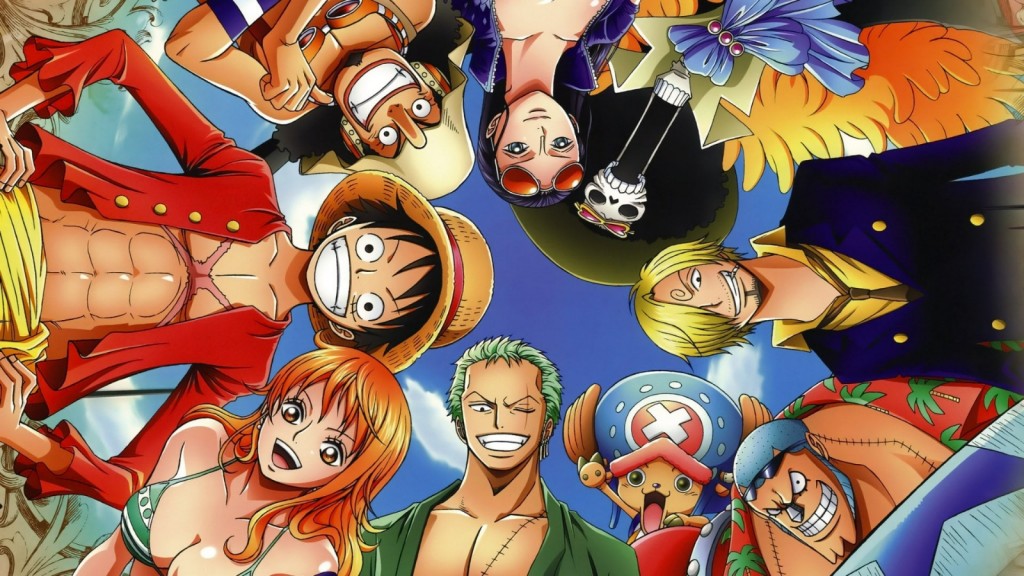 Chronological Order
I. East Blue Saga
Romance Dawn Arc: Episodes 1-3
Orange Town Arc: Episodes 4-8
OVA - Defeat Him! The Pirate Ganzack!
Syrup Village Arc: Episodes 9-18
MOVIE - One Piece: The Movie
Baratie Arc: Episodes 19-30
Arlong Park Arc: Episodes 31-44
Loguetown Arc: Episodes 45
Buggy's Crew Adventure Chronicles: Episodes 46-47
Loguetown Arc Cont. : Episodes 48-53
MOVIE - Clockwork Island Adventure
One Piece TV Special: Adventure in the Ocean's Navel
One Piece Short - Jango's Dance Carnival
Warship Island Arc: Episodes 54-61
One Piece TV Special - One Piece: Episode of East Blue: Luffy and His 4 Crewmates' Big Adventure
II. Alabasta Saga
Reverse Mountain Arc: Episodes 62-63
Whisky Peak Arc: Episodes 64-67
Diary of Koby-Meppo: Episodes 68-69
Little Garden Arc: Episodes 70-77
Drum Island Arc: Episodes 78-91
One Piece Short - Dream Soccer King
Alabasta Arc: Episodes 92-130
MOVIE - The Desert Princess and the Pirates: Adventures in Alabasta
MOVIE - Chopper's Kingdom on the Island of Strange Animals
Post-Alabasta Arc: 131-135
Sky Island Saga
Goat IslandArc: Episodes 136-138
MOVIE - Dead End Adventure
MOVIE - The Cursed Holy Sword
One Piece TV Special: Open Upon the Great Sea! A Father's Huge, HUGE Dream
One Piece Short - Take Aim! The Pirate Baseball King
Ruluka Island Arc: Episodes 139-143
Jaya Arc: Episodes 144-152
Skypiea Arc: Episodes 153-195
One Piece TV Special: Episode of Sky Island
G-8 Arc: Episodes 196-206
MOVIE - Baron Omatsuri and the Secret Island
IV. Water 7 Saga
Long Ring Long Land Arc: Episodes 207-219
One Piece TV Special: Protect! The Last Great Stage
Ocean's Dream Arc: Episodes 220-224
Foxy's Return Arc: Episodes 225-228
MOVIE - Giant Mecha Soldier of Karakuri Castle
Water 7 Arc: Episodes 229-263
Enies Lobby Arc: Episodes 264-290, 293-302, 304-312
Boss Luffy Historical Specials: Episodes 291-292, 303, 406-407
Post-Enies Lobby Arc: Episodes 313-325
MOVIE - Episode of Chopper Plus: Bloom in the Winter, Miracle Cherry Blossom
Thriller Bark Saga
Ice Hunter Arc: Episodes 326-335
Chopper Man Special: Episode 336
Thriller Bark Arc: Episodes 337-381
Spa Island Arc: Episodes 382-384
VI. Summit War Saga
Little East Blue Arc: Episodes 426-429
OVA - Strong World Episode 0
MOVIE - One Piece Film: Strong World
MOVIE - Straw Hat Chase
One Piece Short: ONE PIECE 3D! Trap Coaster
OVA - Romance Dawn Story
Sabaody Archipelago Arc: Episodes 385-405
Amazon Lily Arc: Episodes 408-417
Straw Hats Separation Serial Arc: Episodes 418-421
Impel Down Arc: Episodes 422-425
Impel Down Arc Cont. : Episodes 430-452
Straw Hats Separation Serial Arc Cont. : Episodes 453-456
Marineford Arc: Episodes 457-489
Post-War Arc: Episodes 490-491
Toriko Crossover: Episode 492
Post-War Arc Cont. : Episodes 493-516
One Piece TV Special: 3D2Y
Fish-Man Island Saga
Return to Sabaody Arc: Episodes 517-522
One Piece TV Special: Episode of Nami: Tears of a Navigator and the Bonds of Friendship
Fish-Man Island Arc: Episodes 523-541
Toriko Crossover: Episode 542
Fish-Man Island Arc Cont. : Episodes 543-574
VIII. Dressrosa Saga
Z's Ambition Arc: Episodes 575-578
OVA - Glorious Island Part 1
OVA - Glorious Island Part 2
MOVIE - One Piece Film: Z
One Piece TV Special: Episode of Luffy: Adventure on Hand Island
One Piece TV Special: One Piece: Adventure of Nebulandia
Punk Hazard Arc: Episodes 579-589
Toriko & Dragon Ball Crossover: Episode 590
Punk Hazard Arc Cont. : Episodes 591-625
One Piece TV Special: Episode of Merry: The Tale of One More Friend
Caesar Retrieval Arc: Episodes 626-628
Dressrosa Arc: Episodes 629-746
One Piece TV Special: Episode of Sabo: The Three Brothers' Bond – The Miraculous Reunion and the Inherited Will
Four Emperors Saga
Silver Mine Arc: Episodes 747-750
One Piece TV Special: One Piece: Heart of Gold
MOVIE - One Piece Film: Gold Episode 0
MOVIE - One Piece Film: Gold
Zou Arc: Episodes 751-779
Marine Rookie Arc: Episodes 780-782
Whole Cake Island Arc: Episodes 783-877
Levely Arc: Episodes 878-889
Wano Country Arc – Act 1 (890-894)
Cidre Guild Arc: Episodes 895-896
MOVIE - One Piece: Stampede
Wano Country Arc – Act 2 (897-906)
Anime 20th Anniversary special: Episode 907
Wano Country Arc – Act 2 (908-958)
Wano Country Arc – Act 3 (Oden Kozuki Past) (959-1013) (ongoing)
MOVIE - One Piece Film: Red (Upcoming)
Read Next: How to Watch the Bleach Series in Order (With Movies)