Google announced the ability to book Uber Rides within Google Maps last year, but the feature is now being removed without reason.
The feature was added to Google Maps in January 2017 to help users book Uber rides within Google Maps after setting a route.
The iOS version of Google Maps lost Uber integration last year while the feature continued to be available for Android users until recently.
Google removed its Uber integration for the Google Maps Android app earlier today without specifying any reasons behind the move. Users can continue to map out routes in Google Maps and request rides by launching the Uber app, but the ability to book rides without leaving the app is no more.
The feature was announced in January 2017, and Google promoted its integration with the ride-sharing service extensively. The iOS version of the map had the feature pulled last year with no explanation with the Maps page simply stating users cannot book Uber rides from the app. It is unknown when the feature was taken down by Google for its Android version of the app. App teardowns reveal that the feature was available in the February 9.72 build of the app, pointing to the fact that the integration was removed very recently, unlike the iOS version.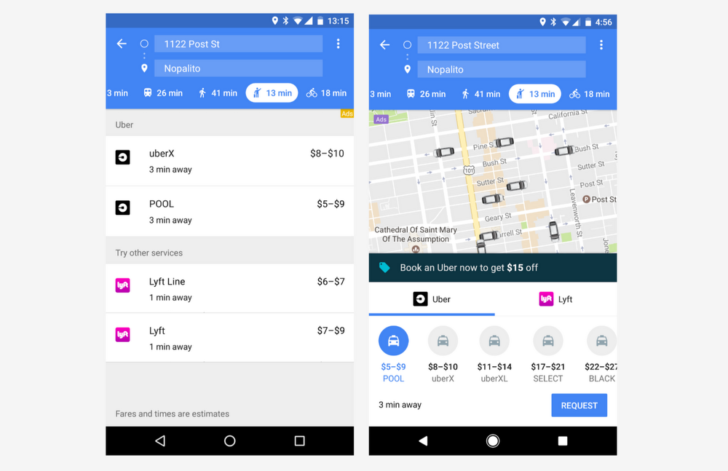 Many users preferred using the Maps app to book Uber rides because of the ride-sharing service's aggressive location tracking features being criticized by users. It is a win-win situation for Uber as Google still shows a notification to connect users to the Uber app once a route has been marked on Google Maps and it also allows Uber to experience increased app usage. Uber continues to use Google Maps as its map service for booking and tracking rides.
If you want to continue using Uber's ride-sharing services you need to download the app from the Google Play Store. Unlike the Maps app, the full suite of Uber's signature features is available from the standalone Android and iOS apps including fare splitting, real-time ride tracking, scheduled rides and meeting synchronization. The app does have many questionable permissions, and its location features remain active even when the app is not in use.