Now that you've decided to cut the cord with your cable provider and free yourself from those stuffy contracts, online TV watching is the way to go, especially in the digital era. So, if you can't decide which one to pick and you're split on fuboTV vs Philo, we're going to try and help you out.
The two platforms are quite different. When we reviewed fuboTV, we couldn't help but notice how true their marketing is because this really is a platform for sports lovers. At the same time, it's also a very complex platform, with loads of bells and whistles. Philo, on the other hand, as we've noticed when we reviewed it, is a very simplistic platform, opting for a minimalist approach instead.
So, before we get into it, we're going to take a look at the main features of each platform in a side-by-side table.
Overview
fuboTV
Philo
Bundles
fubo ($34.99/mo first month, $44.99/mo after), fubo Extra ($39.99/mo first month, $49.99/mo after), fubo Latino ($17.99/mo), fubo Portugues ($19.99/mo)
40 Channels ($16/mo), 49 Channels ($20/mo)
Customization
Channel packs: fubo Cycling, International Sports Plus, Sports Plus, Adventure Plus, RAI Italia, Portuguese Plus, Mundo Plus, fubo Latino

Premium channels: Showtime, AMC Premiere

None
Device support
Roku, Apple TV, Amazon Fire TV, Android TV, iOS, Android, Chromecast, web browser
Apple TV, Fire TV, Roku, iOS apps, via Chrome, IE, Firefox, or Safari on computers, via Chrome on Android
DVR
30 hours, unlimited time storage, expandable to 500 hours via extra feature
Unlimited
Free trial
Yes, 7 days
Yes, 7 days
Visit
fuboTV
Philo
Also, we should get a look at how these platforms did in our reviews and what scores they got.
| Criteria | fuboTV | Philo |
| --- | --- | --- |
| Channel bundles | 9/10 | 7/10 |
| Customization options | 10/10 | 2/10 |
| Supported features | 8/10 | 10/10 |
| Streaming quality | 7/10 | 10/10 |
| Supported devices | 5/10 | 4/10 |
| Usability | 9/10 | 9/10 |
| Overall Score | 8/10 | 7/10 |
Since numbers don't tell the full story, we're going to go into detail here and see what they each hide.
fuboTV vs Philo: Side by Side Comparison
We have to take a look at numerous aspects of these platforms, from the bundles of channels they feature to the DVR capabilities they have, to the device support.
Channel Bundles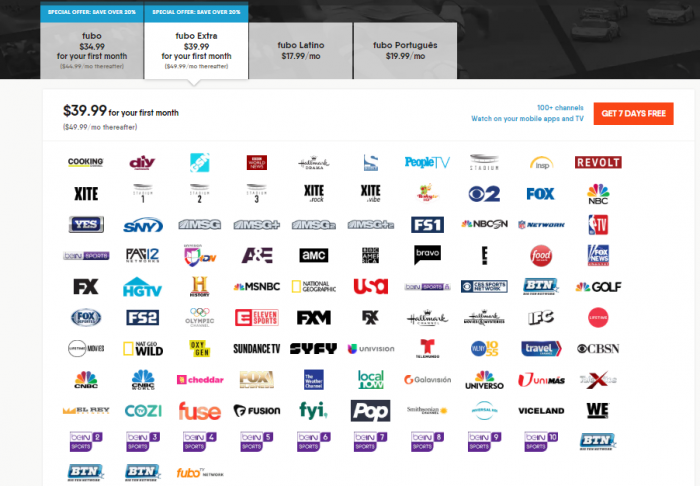 What channels are you expecting to watch and how many of them do you want? Do you want diversity?
fuboTV: There are four bundles you can pick from on fuboTV. The cheaper ones - fubo Latino ($17.99 per month) and fubo Portugues ($19.99 per month) feature just a handful of channels each and they're in Spanish or Portugues. The main channel bundles, however, are fubo ($44.99 per month) and fubo Extra ($49.99 per month). These two feature over 85 channels, and over 105 channels respectively, many of which are sports networks.
Philo: Philo only has two bundles you can pick from - 40 Channels and 52 Channels. The first one costs a mere $16 per month, while the latter costs $20 per month. The bundles feature channels that cover a lot of interests - music, entertainment, news, cartoons, cooking, and so on.
Winner: fuboTV takes the win in this one simply because there are so many channels in the bundles and a lot more room to choose.
Customization Options
How much can you customize the way your subscription looks? Can you add some extra packages? Let's find out!
fuboTV: fuboTV allows users to customize their experience. After choosing a base bundle, they can add however many extra channel packs they want. For instance, if you like watching people bike, you can get fubo Cycling for $11.99 per month, or if you like outdoor sports, you can get Adventure Plus for $4.99 per month. There are quite a few of these packs that you can add. You can also add Showtime and AMC Premiere.
Philo: Well, there's nothing we can say here because there's no channel pack to add and no premium networks. What you see is what you get.
Winner: fuboTV wins this one because there's really no competition. We're sure Philo will attract loads of users specifically because it's such a simple platform, but for the sake of our comparison, we'll have to reward the richness of fuboTV.
Supported Features

Can you record your favorite shows? Can you watch a movie while your spouse watches something else? Let's see how these platforms stand.
fuboTV: DVR is something that fuboTV includes with the subscription, even though it's only 30 hours of space. The recordings can be kept indefinitely or until deleted. You can expand the storage room for up to 500 hours by adding Cloud DVR Plus for $9.99 per month. Also, fuboTV users can watch content on two devices at the same time. If you want to add another device, you can pay $5.99 per month for Family Share.
Philo: One of the best features of Philo is that you can enjoy unlimited DVR space. The recordings will get saved for 30 days before automatically getting deleted. You can also watch any of the channels on up to three devices at once.
Winner: Philo wins this round because it offers so much for.. nothing. Well, it's included in the subscription, but still, you don't have to pay anything extra to get a great experience.
Streaming Quality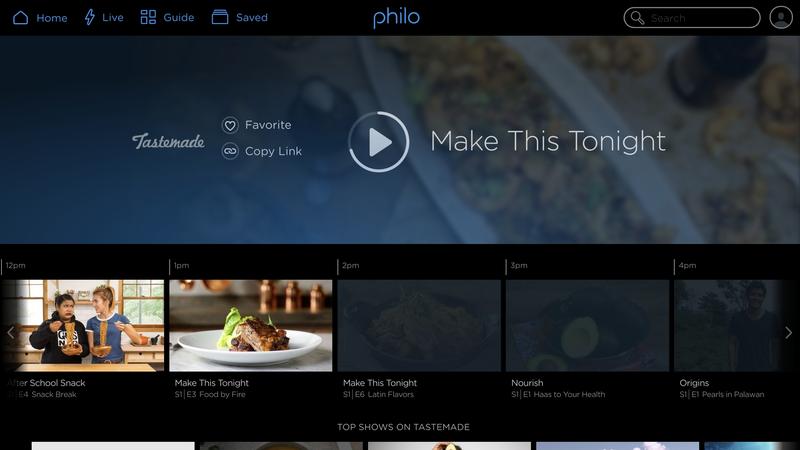 When you move online to watch TV, you have to make sure that your Internet connection can actually carry all the live TV you plan on watching.
fuboTV: According to fuboTV, if you want to have a good experience when watching 720p videos you're going to need to have at least 5 Mbps. If you want to watch 1080p videos, you're going to need 10 Mbps. Those who want to watch those awesome games in 4K over the weekend, however, will need over 25 Mbps, so make sure your network can support that.
Philo: All Philo needs from you to allow you to watch HD quality videos is 5 Mbps. Of course, you'll need more if you plan to stream at the same time on multiple platforms on the same network, but that's understandable.
Winner: Well, Philo wins this one too because it's always great not to have too much of a strain on your Internet network. Plus, you will likely not need to upgrade your Internet subscription either.
Supported Devices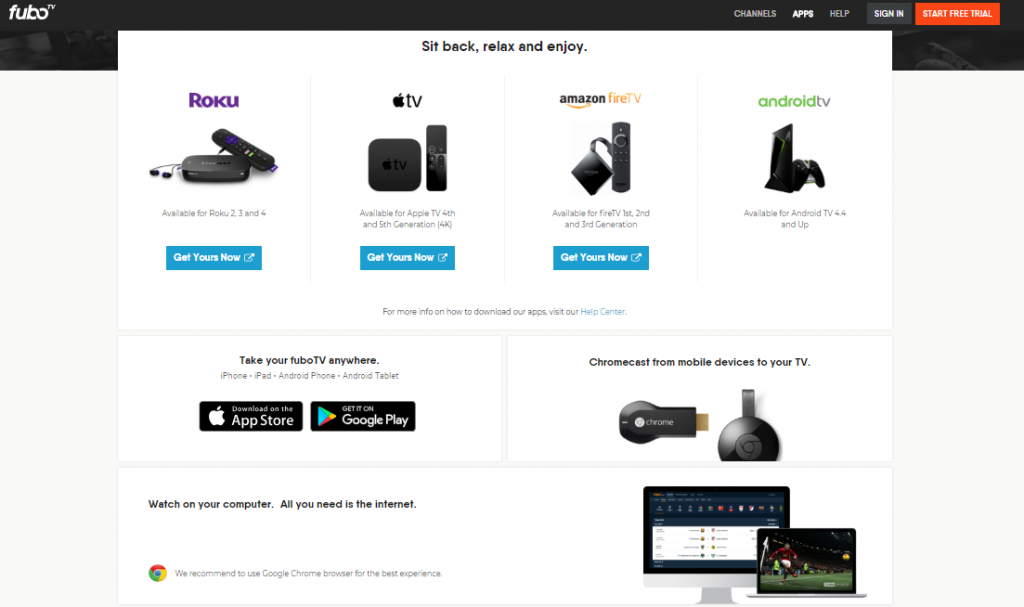 Before picking a service, you need to make sure that it works on your favorite devices, including when you're out and about.
fuboTV: If you want to watch fuboTV, you can do that on multiple devices, including Android and iOS smartphones and tablets, Apple TV, Amazon Fire TV, Roku, Chromecast, and Android TV. No smart TVs are on the list or any game consoles.
Philo: It's not just fuboTV that has some support issues, but also Philo. What we mean is that the platform has dedicated apps for Amazon Fire TV, Apple TV, Roku, and iOS. You can, of course, also watch online via a web browser, including when you're on an Android device because they've yet to build a native app for it. Smart TVs and game consoles don't even make it on the list.
Winner: Neither of the two has a great device list, but fuboTV is definitely doing better than Philo in this department.
Usability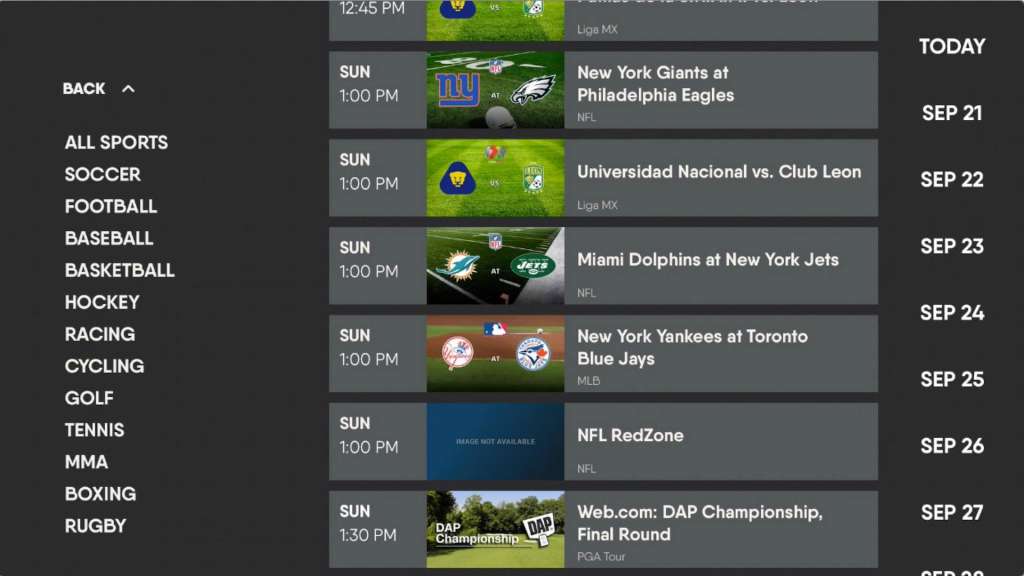 Will you have any troubles finding your favorite channels, checking out the TV guides, or setting up the DVR? Let's see!
fuboTV: The platform has an interface that's particularly easy to navigate, where you can jump from one channel to the next quite easily, check out the TV guides, even based on specific sports, and so on.
Philo: The platform's interface makes it easy for users to figure out where they should press to do whatever it is they want to do, including to set up the DVR.
Winner: We've got a tie here! The similar UI used by this type of platforms makes it easy for users to figure out what they need to do, even when switching between platforms.
fuboTV vs Philo: Which One to Pick?
While both platforms are absolutely great, we can't help but recommend fuboTV because it has a much better score. Of course, there are many people who will be pulled in specifically by the minimalist approach that Philo has, but in our eyes fuboTV wins. So, go ahead and sign up for fuboTV.
Final Thoughts
We hope we've made picking the right platform for you easier and that you'll now be able to take that final step and get rid of your cable contract if you haven't already.
We can't wait to hear what platform you picked and what made you choose it in the comments section below. Also, we'd love it if you could share the article online so others can find it too. Follow TechNadu on Facebook and Twitter! Thanks!