Fortnite is reported to have raked in $50 million on iOS in its fourth season of content.
The mobile version of the popular battle royale game has raked in $50 million since its March 15 launch.
Developer Epic Games has doubled its revenue in just over two weeks.
After raking in over $25 million in the first 30 days of its mobile release, battle royale game Fortnite has reached an even bigger milestone since its March 15 release. Epic Games' game has generated $50 million in revenue after doubling its earnings in the past two weeks.
Player spending in Fortnite grew by 293% as on May 1. The rapid quadrupling revenue has been generated due to the introduction of the $10 in-game currency worth of Battle Pass for Season Four. The Season Pass allows players to receive additional content and other perks for completing various challenges throughout the course of the season.
Fortnite is a co-op sandbox survival game developed by Epic Games and People Can Fly and published by Epic Games. The game was released as a paid-for early access title for Microsoft Windows, macOS, PlayStation 4 and Xbox One last year, with a full free-to-play release expected in 2018. The game cashed in on the battle royale genre hype and introduced Fortnite Battle Royale mode which turned the title into one of the most popular free-to-play games available right now.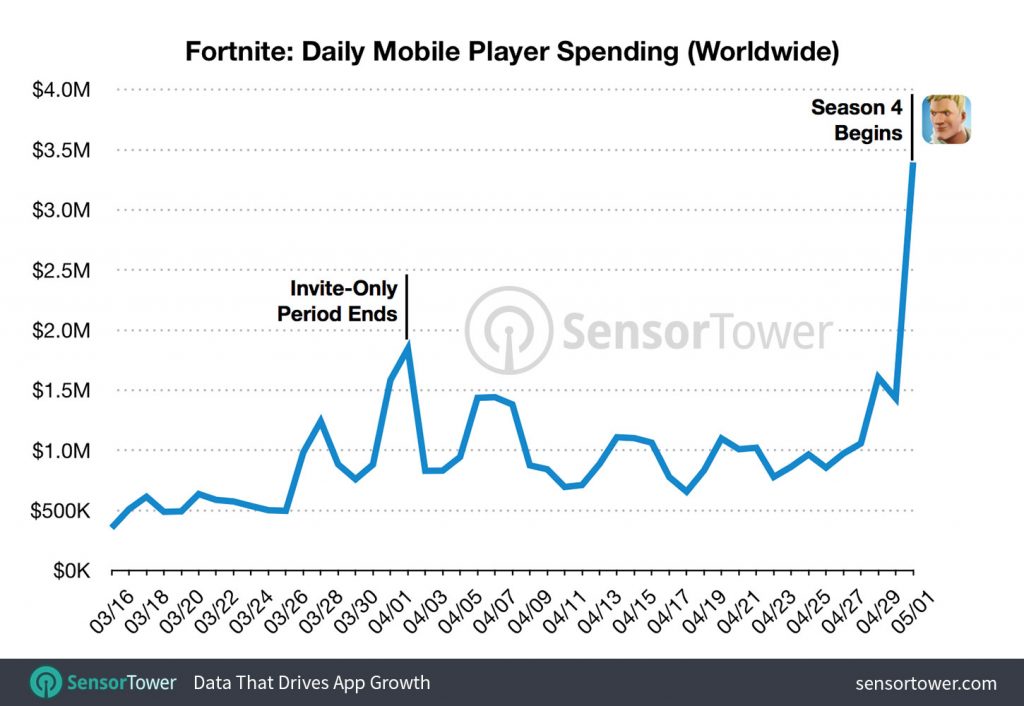 Epic Games has already started rolling out the additional content for Fortnite's Season Four participants which include character skins that are available only for a limited time. These Season Passes are introduced each season and bring exclusive skins and perks. The game shies away from loot boxes used by its competitor PUBG for monetization which allow players to gamble for items that are generated randomly in them.
With the gaming industry surrounded by controversy because of loot boxes, this approach of Season Passes for monetization has proven to be highly effective. Fortnite experiences $1 million in player spending each day so far on the mobile version alone. The game is also available on PC and console, allowing Epic Games to reach out to a massive potential player base across all platforms.
PUBG Mobile makes only 20% of what Fortnite is raking in each week since launch despite the much larger player base PlayerUnknown's Battlegrounds mobile commands on iOS.