Apple has finally started shipping Developer Transition Kits, which means that Geekbench results are already online.
Despite being tested via a non-optimized app, Apple Silicon is a significant leap forward in comparison to Intel Macs.
It's predicted that even non-native apps will come with fluid performance thanks to Apple's Rosetta 2.
This year's WWDC was filled with all kinds of exciting announcements. Still, as predicted by TechNadu's team, the most prominent announcement was related to Apple's transition to ARM chips. Called 'Apple Silicon,' this brand-new generation of chips promises better performance while also adding hours to future MacBooks' battery lives. Still, the Cupertino-based company didn't talk about what kind of performance we can expect, as any concrete numbers weren't mentioning during the WWDC20 keynote.
As a way for developers to prepare their apps for ARM-powered devices, the company is now sending out Developer Transition Kits (DTK). The DTK is essentially a Mac mini with an A12Z chip, 16GB of RAM, and a 512GB SSD. Of course, the computer comes equipped with an ARM version of the macOS Big Sur and Xcode development suite. Considering that DTKs have started to reach developers, we're starting to see the first benchmark results as well.
If you check out the Geekbench database, you'll already see a list of benchmark results for Apple's DTK. However, keep in mind that Geekbench isn't available as an app optimized for Apple's ARM devices. Instead, these tests were done on Geekbench's "traditional" app (that runs on Intel Macs) translated via Rosetta 2. Since additional processing power is being lost this way, we'll see higher numbers once Geekbench starts running natively on ARM-powered Mac computers. So, what kind of story do these numbers tell?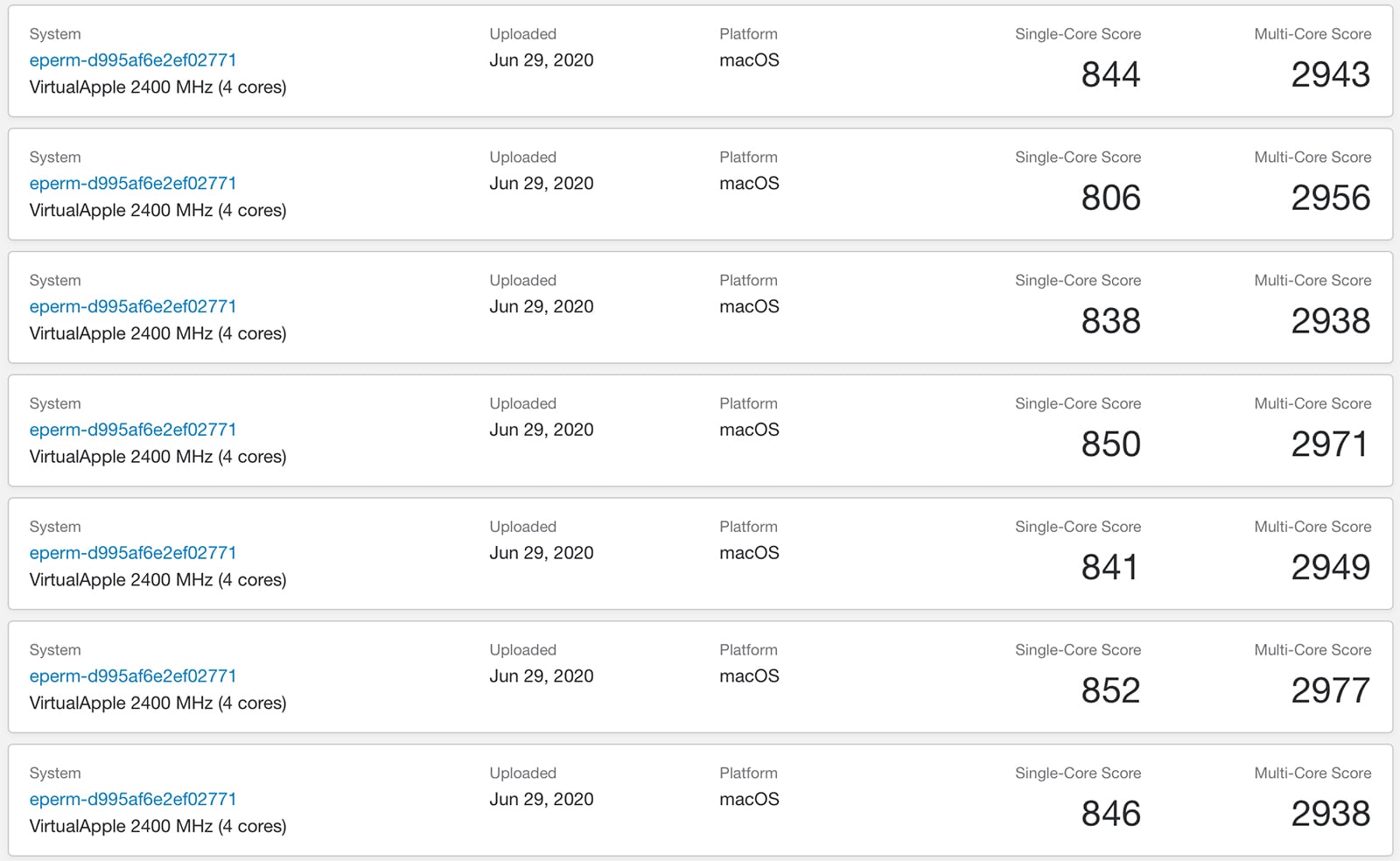 The scores for Apple's DTK fall into the low 800s for single-core performance, and around 2,800 for multi-core performance. In comparison, the 2020 MacBook Air scores around 1,100 for single-core and 2,200 for multi-core. And if we check Mac mini's 2018 entry model, we'll see a score in the high 800s for single-core and around 2,500 for multi-core performance.
Therefore, we can conclude that Apple's DTK runs equally well as Apple's entry-level MacBook Air and Mac mini. And it's also important to note that the DTK has a much higher number when it comes to multi-core performance, which tells a lot. Again, we're talking about running Geekbench as a non-native application – so these numbers will most definitely be much higher shortly.
In the end, it's safe to say that computers powered by Apple Silicon chips will present a significant leap forward. More importantly, this benefit won't come at the cost of shortening future MacBooks' battery lives. On the contrary, we expect to see numerous real-world benefits across the board.