ESPN+ has been launched and will cost you $5 a month.
The service will not offer live sporting events nor access to ESPN but will be catered as a platform for "niche sports."
Jimmy Pitaro cites main attraction for ESPN+ to be the "30 for 30" documentary series.
Disney owned ESPN, the popular cable and satellite sports channel, have just launched their own streaming service dubbed as ESPN+. However, you should note that its offering is not similar to the ESPN we are all familiar with. The basic fact to consider is that a subscription to ESPN+, which will cost you $5 a month, won't give you ESPN – in fact, you will gain access to programmings that are not on ESPN.
Let start with the basics. To gain access to ESPN+, you will have to head on over to the revamped version of their mobile app. There you will find an option which lets you subscribe to the new streaming service. Once enrolled, you will be greeted to thousands of programming, but rarely will you find any live sports – something we expect from ESPN. In short, ESPN+ services can be defined as a platform for "niche sports."
A Disney spokesperson has defined their service as "thousands of additional live events" packed in a single package. Through ESPN+, users will be able to watch a game a day from Major League Baseball as well as the National Hockey League. And then, there is a laundry list of many more sporting events which are not so popular amongst people, e.g. college sports featuring teams, Canadian Football League, minor league soccer from the U.K., and the likes.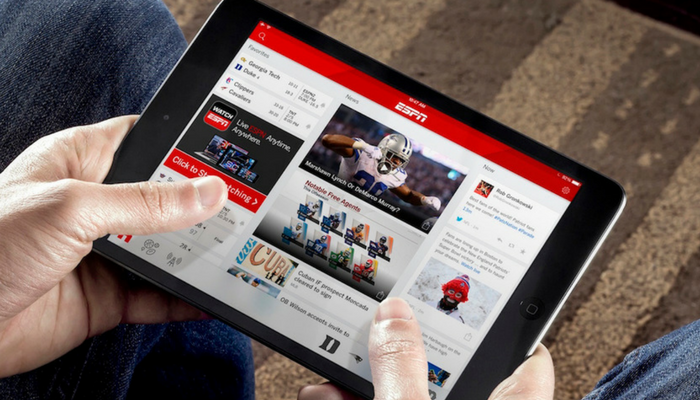 Other than this, it will also boast sports-related content, like the new Bobby Knight documentary, as well as the new basketball analysis show coming from Kobe Bryant. Jimmy Pitaro, the new boss over at ESPN, highlights that the main attraction for people coming to ESPN+ would be the "30 for 30" documentary series, as well as the other two shows mentioned above.
In light of what ESPN+ is offering, the next obvious question becomes, what was Disney's intent when they decided to launch the service? Well, Pitaro isn't up for revealing their expectations to how many users will sign up, but we can make some educated guesses to what the service will do for Disney in the long run.
First of all, ESPN+ will be Disney's first step into the world of streaming service, but it won't end up making an impact on ESPN's current subscriber count. Furthermore, if Disney is able to win over FOX, then ESPN+ will be the perfect platform to offer those new content as add-ons. Furthermore, if the cord-cutting trend really picks off and the original ESPN suffers, then there is a streaming platform ready to start offering ESPN content over their, directly.