If you own an iOS device, you already aware of the importance of having iTunes installed on your computer. However, Apple has done plenty of work to actually distance you from this application – but you still need it, at least from time to time. However, the problem is that iTunes has become incredibly bloated, confusing to use, and comes with numerous obsolete features. Therefore, we can't blame you for searching for an alternative. And if that's the case, you've come to the right place. Welcome to our review of DearMob iPhone Manager.
We first would like to introduce you to this application. So, we'll use the following table to provide the basic set of information. Take a quick look.
Overview
| | |
| --- | --- |
| Product Name | DearMob iPhone Manager |
| Supported Platforms | Works on Windows and macOS. |
| Unique Features | Full data synchronization; Supports photos, videos, music transfer; Deeply integrated into iOS; USB-like file storage support. |
| Price | Starts at $39.95 |
| Visit | DearMob iPhone Manager |
Now, we are going to dive a bit deeper into DearMob iPhone Manager. The following table brings you TechNadu's opinion on the strongest and weakest sides of this application. Therefore, you can use it to easily compare this application to other iPhone managers.
Final Verdict
| | |
| --- | --- |
| Pros | Incredibly capable tool; Works with iPhones and iPads; Supports backups and encryption; Very easy to use. |
| Cons | Somewhat confusing support documentation. |
| The Bottom Line | In the world of iOS device managers, this application deserves a special place. It's easy to use – yet powerful enough even for the most demanding users. |
| Our Score | 9.6/10 |
And finally, it's time to take a deep dive into everything that DearMob iPhone Manager offers. If you keep on reading, you'll learn everything there's to know about this application.
DearMob iPhone Manager – TechNadu's Review
Before we get started, you should know that we've tested the version 3.3 of DearMob iPhone Manager on a Windows PC. There's no need to list our PC's specs, as you don't need a powerful computer to run this application – even dated hardware should do the job just fine.
Platform Compatibility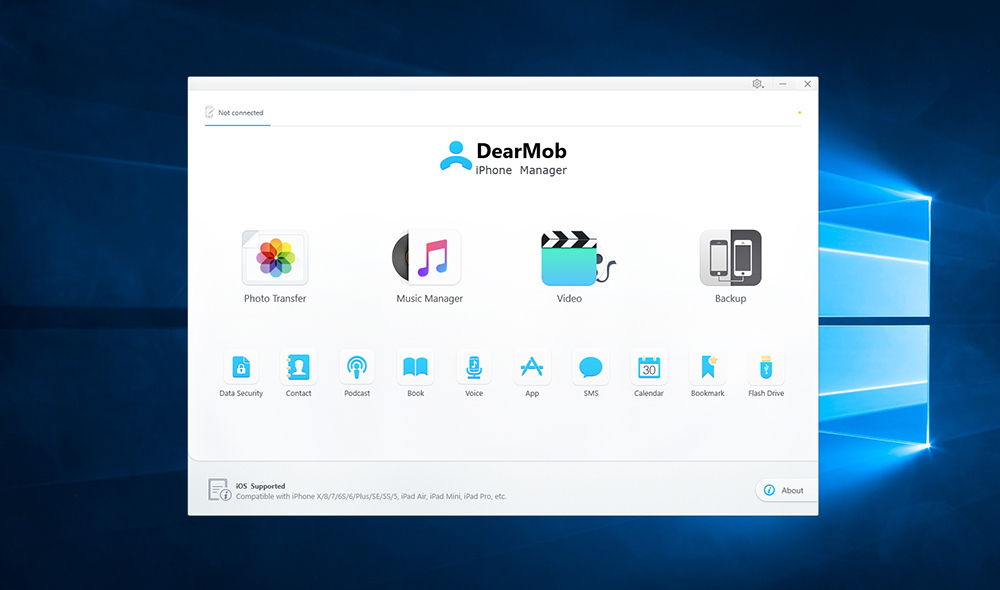 You can run this application on Windows PCs and Apple's Macs, and you'll get the same experience across both of those platforms. Our Score: 10/10.
DearMob iPhone Manager comes as a standalone application for Windows and MacOS. However, please note that we're talking about two separate versions. This means that when you buy a license, you need to buy one for Windows or MacOS – which means that licenses are not interchangeable. Still, we also need to note that both of these versions bring close to identical experience, and there are no limitations to any particular version.
Also, finding the official requirements has proven to be a tough task. However, it's safe to say that you have a computer bought in the last 10 years or so, you can run this iPhone Manager without any problems. After all, this is not a demanding application, so even entry-level computer shouldn't have a hard time running it.
Installation Process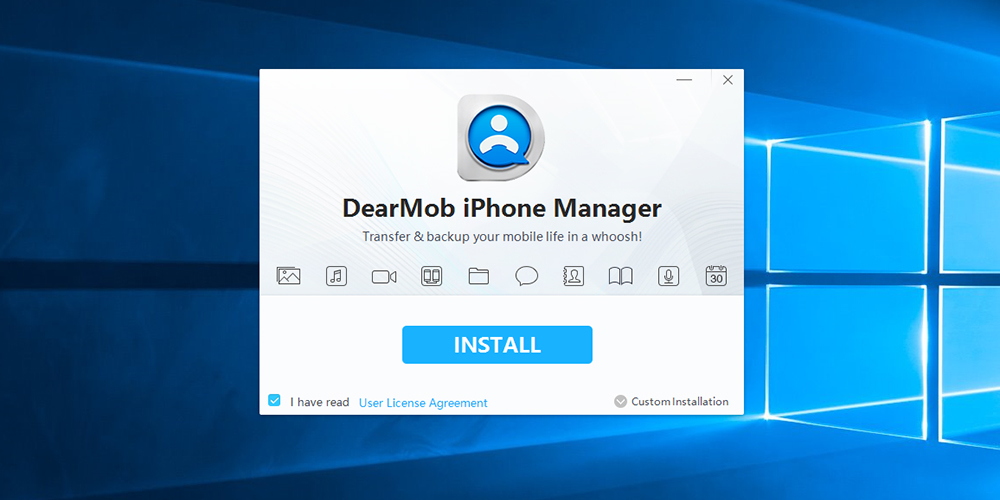 To install DearMob iPhone Manager, you need to download its installer and after a few clicks – the application will be ready for use. Our Score: 10/10.
It all starts by visiting the official website of this iPhone Manager, from where you can download the application. You can use a free trial version to test-drive it, or you can go ahead and buy a license directly from the website. Either way, downloading the software won't take much time (it's around 46MB in size).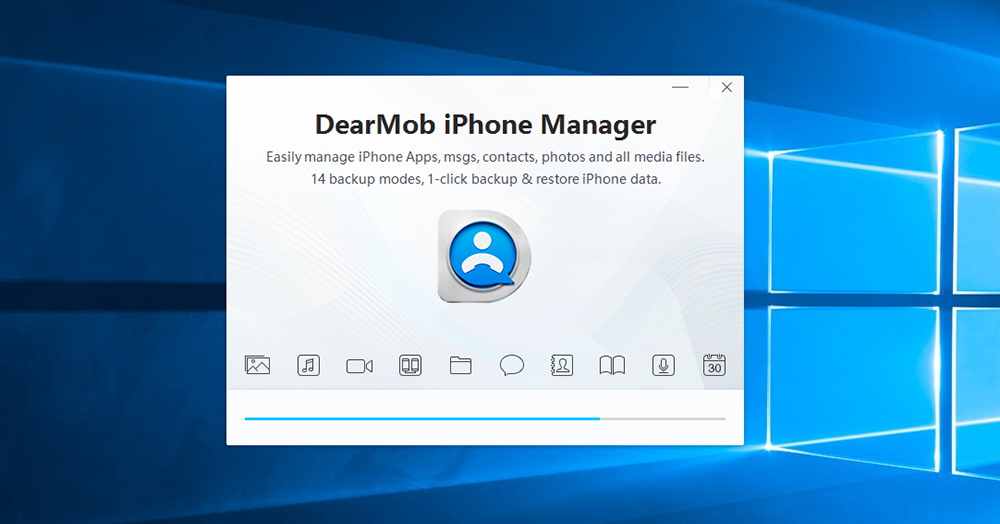 Double-click on the installer and use either a simple or custom installation. You can decide where to install the application and if you want a desktop shortcut and so on. After a few moments, DearMob iPhone Manager will be all your to use.
User Interface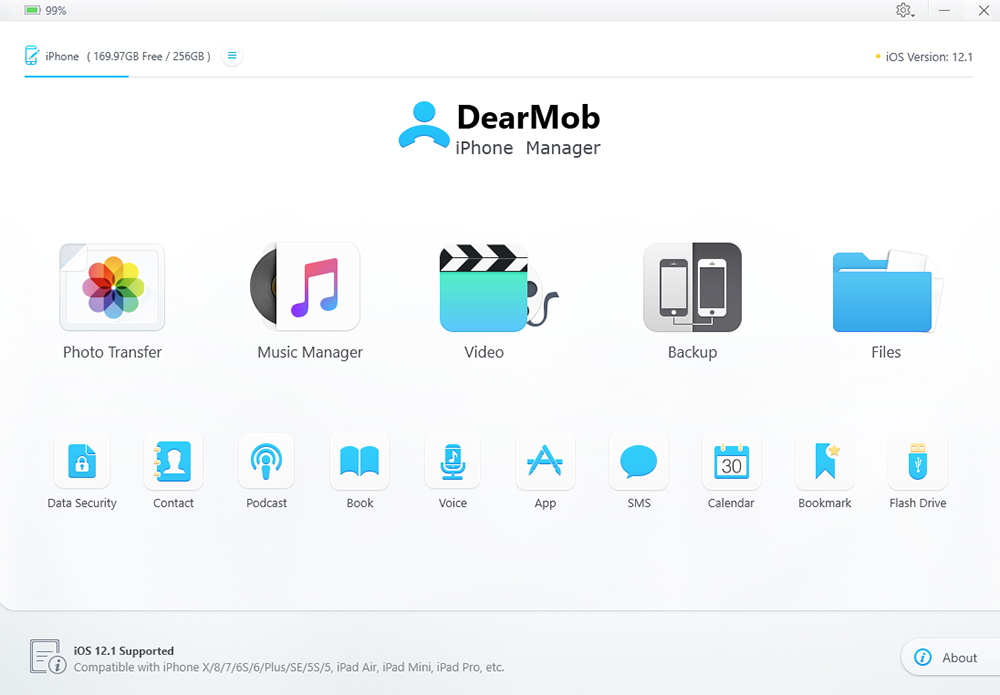 In general, this is a very simple application that strikes just the right balance of simplicity and complexity. Our Score: 10/10.
When you open this iPhone Manager for the first time, you'll see a very familiar-looking interface. What you'll see is a series of icons, resembling those that you see on iOS. However, we'll start explaining what to expect by going 'behind the scenes' – into this application's settings panel. You find this option by clicking on the cogwheel icon, in the top-right corner.
Path: First of all, you can select different paths for different types of media. This application can serve as a library of media, so knowing where the 'original' folders are could be very important.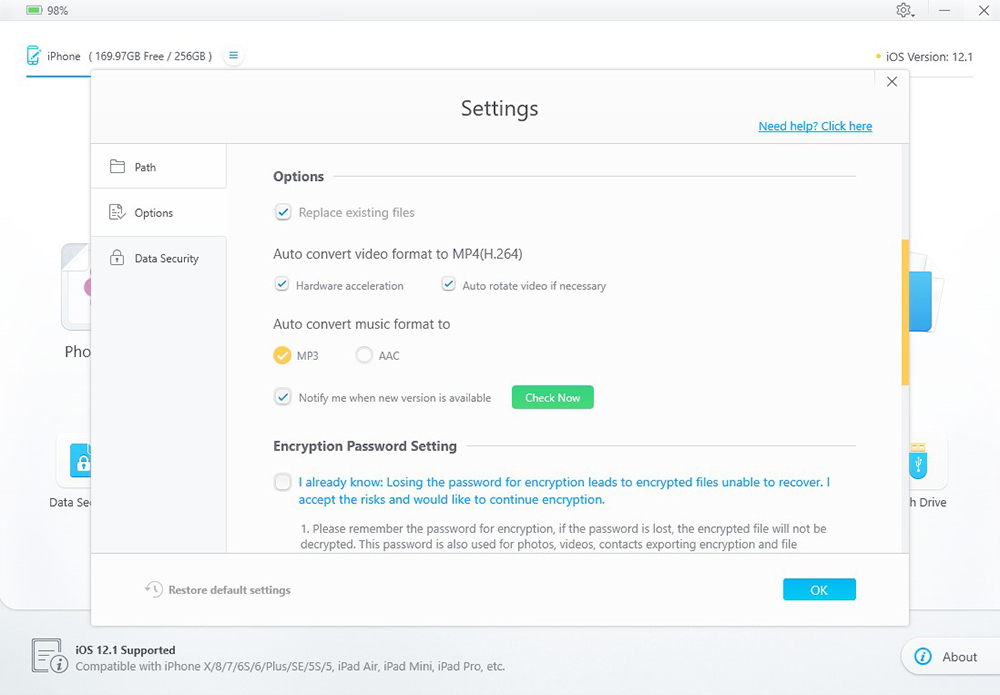 Options: Next, you can decide whether you'd like to replace existing files or simply store a copy. There are also two handy options (enabled by default) that make video conversion faster.
Data Security: Finally, this is also where you can set your master encryption password and choose what types of data to encrypt.
Now, let's return to the main screen of DearMob iPhone Manager. This is where you'll see 14 different icons, which translates into 14 different tools you can use. So, let's give you a brief overview of what to expect.
Photo Transfer, Music Manager & Video: No matter which of these 3 tools you use, you will get to easily transfer photos, music, and videos to and from your iPhone. Each of these looks the same in general but they bring some tool-specific options. For example, let's take the Photos tool. Once you open it, you'll see a nice selection of different photo types on the left such as selfies, panoramas, animated, screenshots, and more. And when it comes to Videos, you can preview recorded videos, TV shows, movies, and music.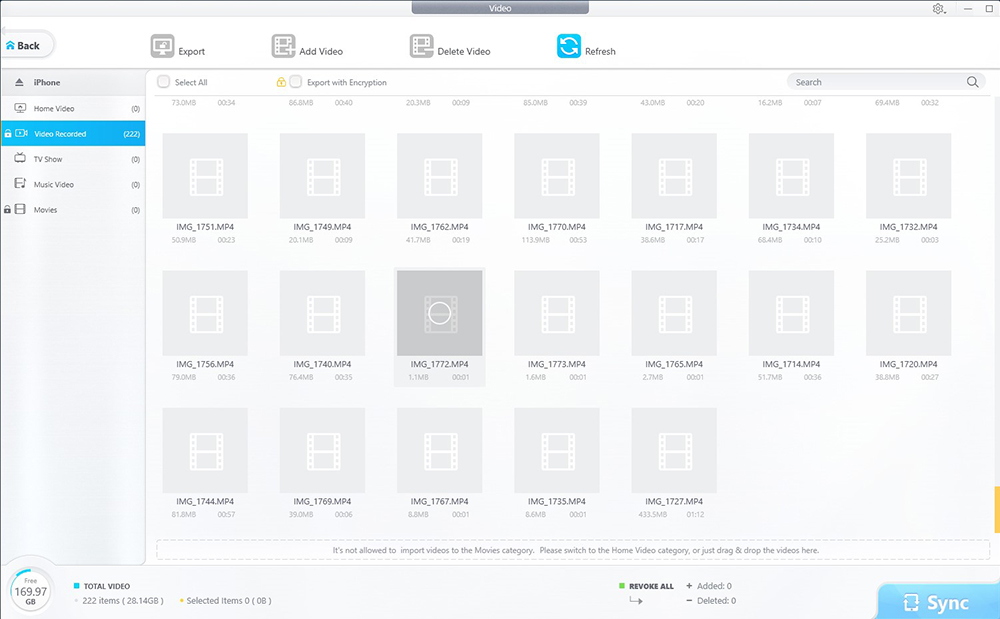 Backup: We don't have to tell about the importance of doing regular backups. Well, DearMob iPhone Manager lets you back up your iPhone or iPad via incremental backups. And as you can imagine, this tool lets you restore your files as well.
Data Security: Now, here's something that iTunes can't help you with. You can add photos and videos to your iOS device that are going to be encrypted. To decrypt them, you need to set a master password – so make sure not to forget it.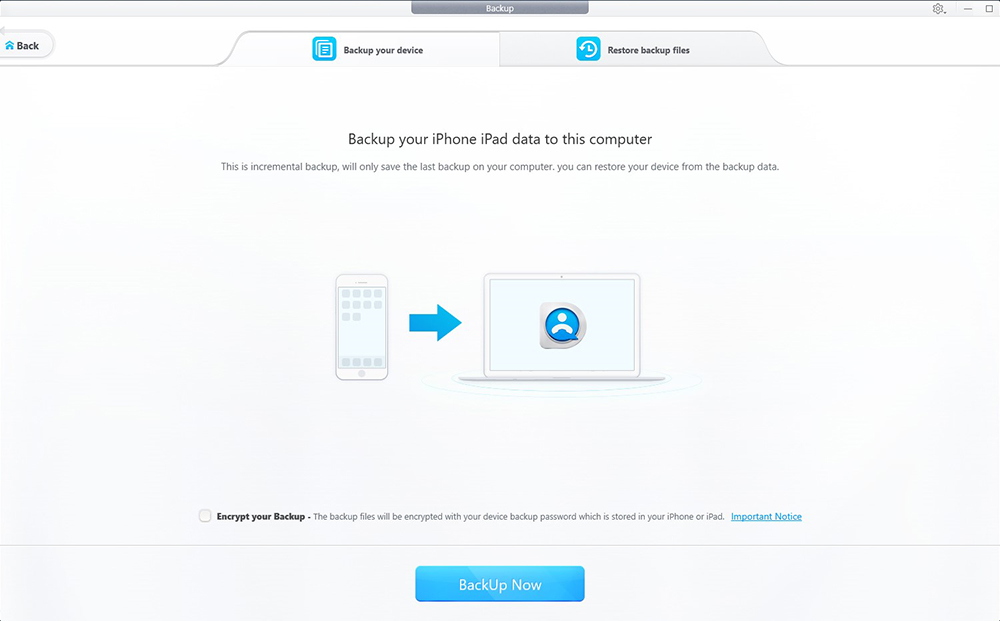 Contact, Podcast, Book & Voice: As their name implies, these are different types of data that you can synchronize. This is a good way to transfer those back to your computer. And we think that having the ability to easily transfer books to your iOS device is a major benefit (so you don't have to rely on the iTunes store anymore).
App: DearMob iPhone Manager lets you easily review apps that you have installed on your device. You can easily add new ones and delete existing ones.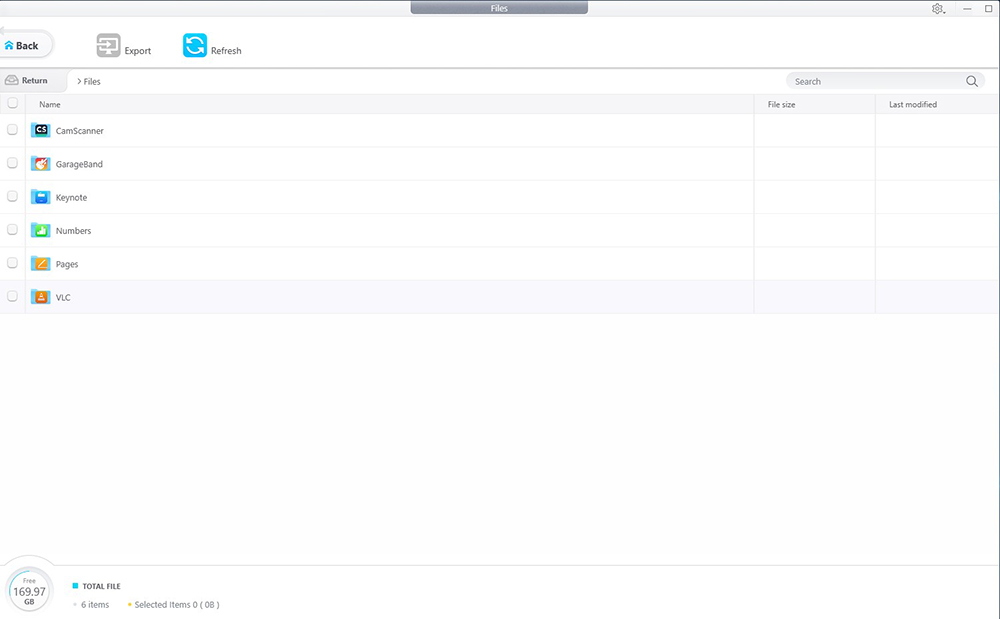 SMS & Calendar: You can export SMS messages along with any media contained. However, you can't use this application to send messages to someone. And when it comes to calendars, you can export and import new ones.
Bookmark: In case you have a library of websites in HTML or HTM formats, the application will let you import those to Safari. You can all add individual URLs.
Flash Drive: The final option allows you to use your iOS device as a flash drive. You can create folders and add files, export files as well as rename them.
Ease of Use
You don't have to be an expert to use this application. It comes with a simple UI design that's quite intuitive to use. Our Score: 10/10.
We are going to show you how this application works by guiding you through some of its features. We'll start at the beginning, even before you connect your iOS device to your computer. Let's get started.
First and foremost, you need to connect your iPhone or iPad to your computer. If this is the first time that you're doing this, you need to have the required drivers and you need iTunes installed as well.
Now, open DearMob iPhone Manager. Almost immediately, you'll see a message titled 'Trust This Computer'. This means that you'll see a message on your iOS device that you need to authorize this type of access. Once you do that, the iPhone Manager will have full access to your data.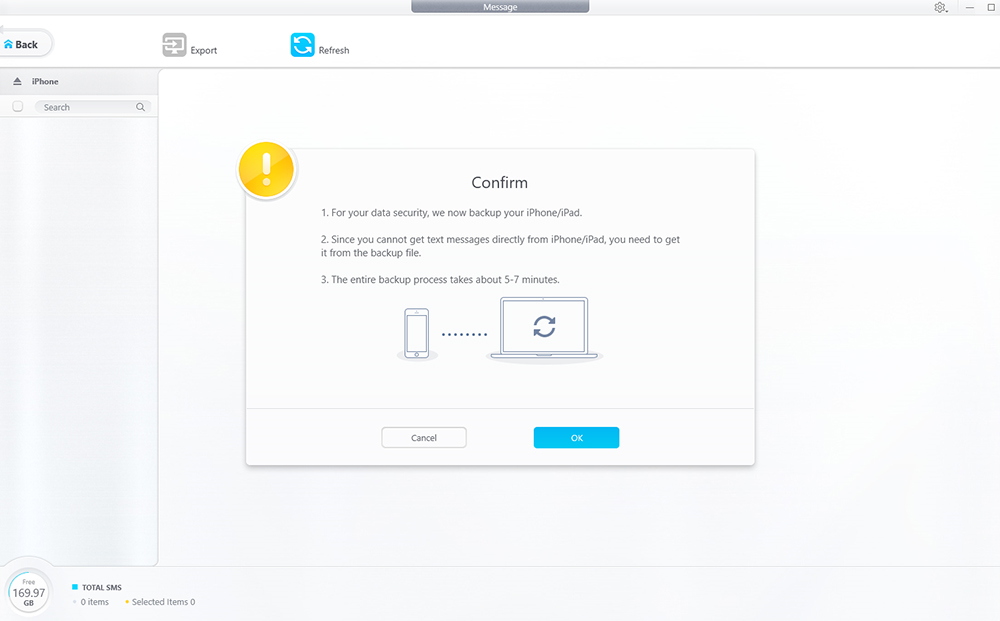 Now, feel free to use any of the available tools within this application. For example, we can open the Photo Transfer. It will take a few moments for the application to read your data, and you'll be free to make edits afterward.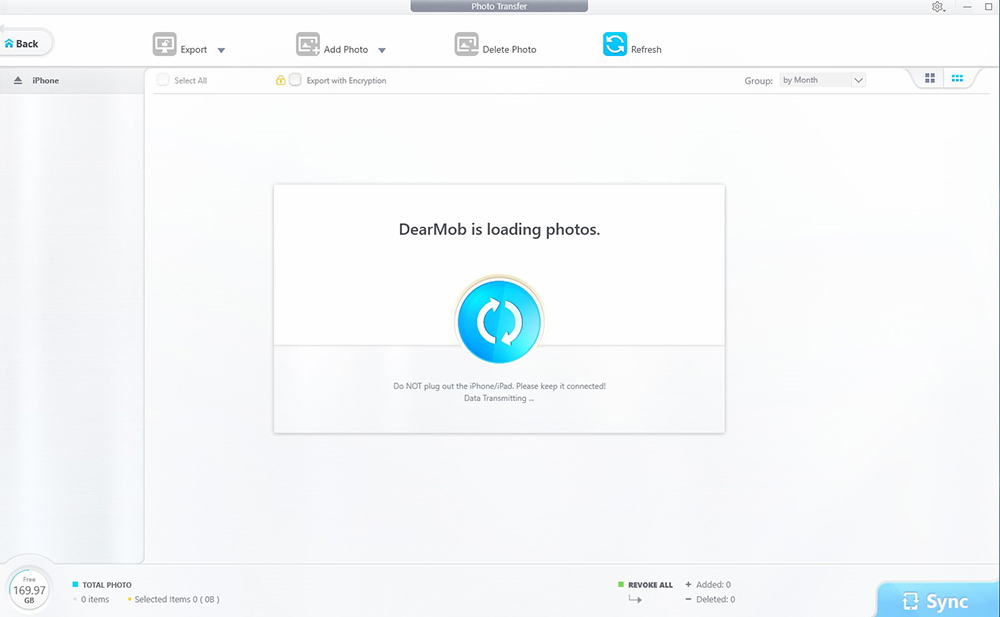 When it comes to photos, you can easily export your photos or import new ones by using the top-placed toolbar. Once you're happy with how everything looks like, click on 'Sync' in the bottom-right corner.
That's it! The same way you add photos, you can add videos, music, create backups, and more.
At any moment, feel free to check your iOS device's stats by clicking on the bottom-left placed overview. This is where you can see how much disk space you have, so keep this in mind.
Speed & Performance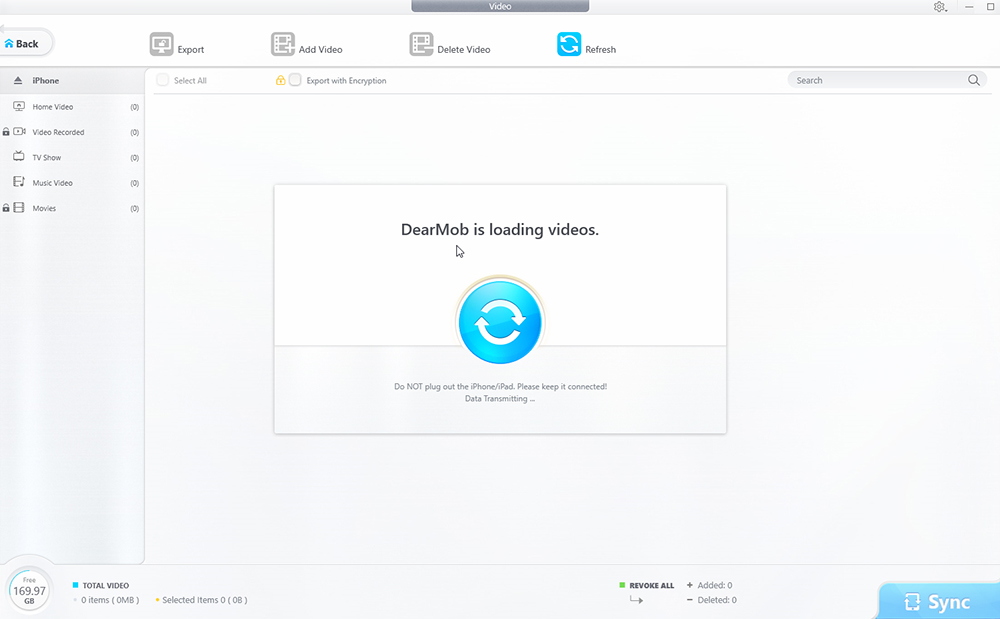 In comparison to iTunes, this application syncs your data equally fast. On top of that, we didn't encounter a single bug. Our Score: 10/10.
There are numerous factors that impact the speed of DearMob iPhone Manager. For example, how many photos you want to sync, or if you have numerous 4K videos that you also want to convert. So, if you have a top-tier iPhone model and want to convert high-resolution videos, be prepared to wait for quite some time for the process to end. However, this is something you can expect from any application that is similar to this one.
In general, it could be said that the iPhone Manager is doing its job well. It's fast and reliable. There aren't any annoyances when connecting iOS devices (which often happens with other applications) and we didn't encounter any bugs. Therefore, we give it the highest rating.
Customer Support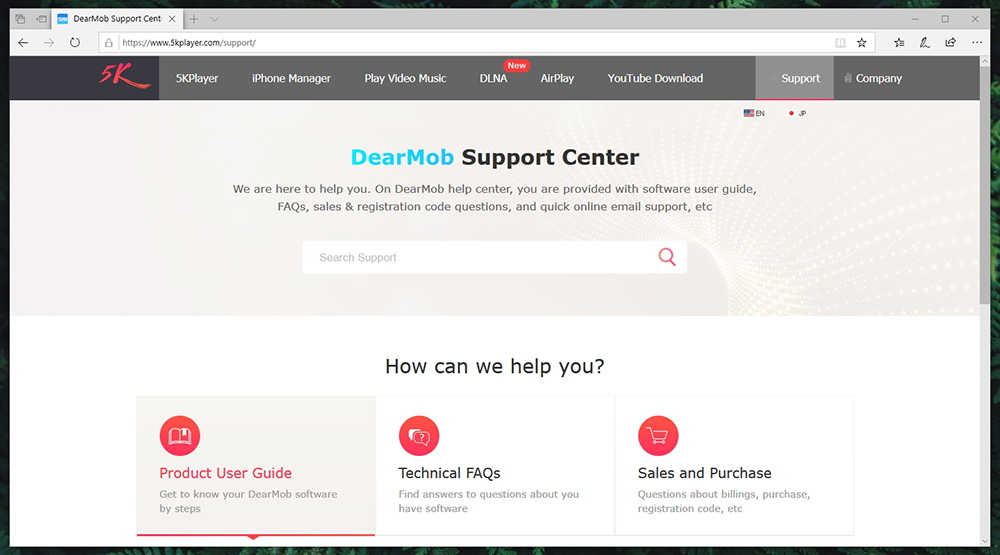 Even though there's plenty of support documentation, it's not always easy to find help. Therefore, we consider this to be a mixed bag. Our Score: 8.5/10.
In case you have additional questions or some doubts about this software, you can turn to the official support center. You might be confused a bit since '5K Player' is often mentioned, which is another product by the company behind this iPhone Manager. A nice way to get started is by reading a comprehensive guide that you can find both for Windows and MacOS.
There are also ways to contact the company by email. However, the company's About Us page is quite generic and doesn't show an address or telephone number. Still, this isn't something to be worried about since there are money-back guarantees and you can do the same via your PayPal account.
Pricing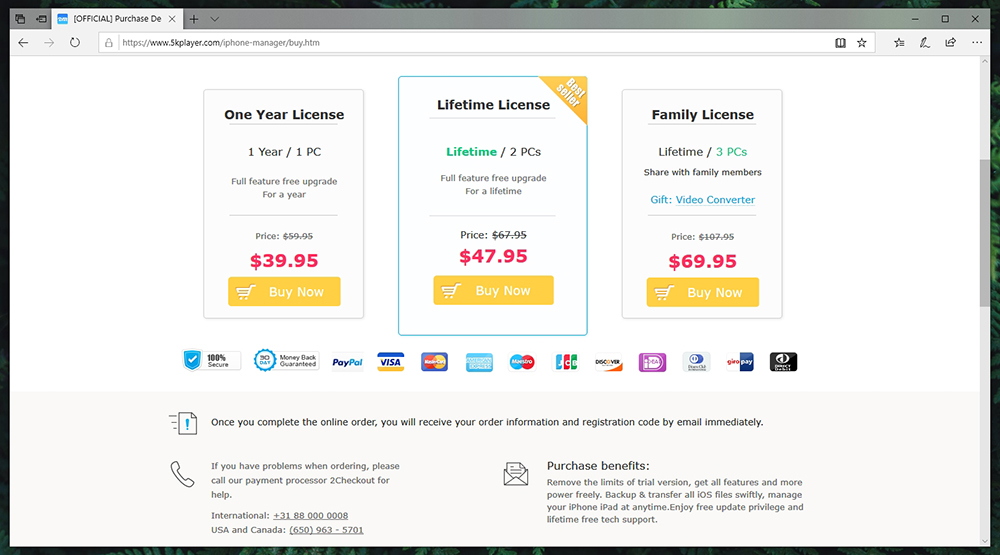 DearMob iPhone Manager isn't the most affordable option out there. However, it holds a lot of value which makes it a worthwhile purchase. Our Score: 9/10.
First of all, you should know that you can buy a license using any of 10+ payment methods. They're all 100% secure and the company's 30-day money-back guarantee applies to all of them. Next, let's see the price of this product.
A one-year license is priced at $39.95. You get one license for 1 computer, with free updates for a full year.
A lifetime license is priced at $47.95 and get you two licenses (for 2 computers) in addition to a lifetime of free updates.
A family license comes priced at $69.95 and this gets you licenses for 3 computers.
The Final Verdict
Without any doubt, DearMob iPhone Manager doesn't only replace iTunes. This is an all-in-one solution for controlling your iOS device and making sure that you keep your data under control. It's easy to use, covers different types of data, and works flawlessly.
PROS: Simple UI design; Plenty of useful tools; Backup solution; Transforms your iOS device into a USB device.
CONS: Not the most comprehensive support documentation.
OUR SCORE: 9.6 out of 10.
Final Thoughts
So, this is where we conclude our review of DearMob iPhone Manager. If there's anything else you'd like to know, don't hesitate to post your comment below.
If you made it this far, we'd like to ask you to share this article online. And you can also follow TechNadu on Facebook and Twitter. Thanks!