Sony has had it with Cyberpunk 2077's troublesome launch and is removing it from the store.
Everyone who has bought the game is to decide if they want a refund or not now.
Users have stormed social media with funny in-game clips showcasing a deluge of bugs.
Sony has decided to pull Cyberpunk 2077 from the PlayStation Store after numerous complaints and money-back requests from a large number of customers who were disappointed by the quality of the game. One of the most highly anticipated titles of the past couple of years has failed to impress console gamers, as it's plagued by flaws and problems that make enjoying it almost impossible.
Sony just had to do something about the situation, as the tech firm isn't known for giving back money to customers.
This delisting is damaging the developer's reputation, CD Projekt, and the stock price has recorded yet another steep fall today, indicative of how investors feel. The stock has lost over 40% of its value from the start of the month, which is an impressive dive.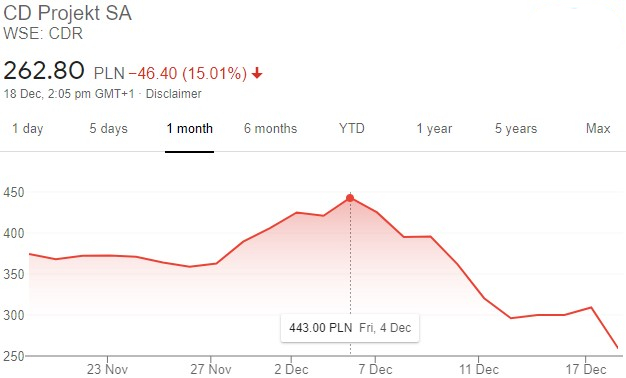 The company acknowledged its mistake in not allocating more resources to the development of the console version of the game, but at this point, all they can do is to offer refunds. There will be fixing patches out in the near future, but whether or not these can have a strongly positive impact on the player's experience and how quickly remains to be seen.
'Cyberpunk 2077' is actually not that bad on the PC, but the console versions of the game are truly highly problematic. Twitter has a trending hashtag with bugs from the game, and some posts are quite funny. We understand that people bought the game to enjoy its immersive story, and it can be very frustrating when they realized they were treated like paying beta testers.
At the same time, scammers are there to exploit the buzz and push ransomware masqueraded as the Android version of the game. Those who are gullible enough to believe this absurd claim download "CodeWare," a weak yet annoying ransomware.
Those who blundered can use the (hardcoded) key "21983453453435435738912738921" to decrypt their files, so there's no reason to pay anything to the actors. And finally, don't forget about the "free Cyberpunk 2077 downloads" that will suck you into a vicious cycle of frustration and exploitation.
If you want to play Cyberpunk 2077, we'd suggest that you get the PC version, buy it from the official channels of distribution, and patiently wait for updates that introduce more content and numerous bug fixes on the game. Even the PC version is lacking things like a properly functioning AI for the NPCs and a more "alive" world in general, so keep that in mind.