Amazon gives non-Prime members free shipping on orders above $25.
A Cheap Filler website helps you find additional low-cost items to reach your discount delivery rate on Amazon.
If you have ever shopped on Amazon you know that Prime members always get the good stuff. For example, a Prime member will get a free shipping for nearly any order out there, while you as a regular user need to calculate your orders for exactly $25 or above to receive the same feature.
The most common issue here is the fact that people usually end up with a $24.5 or $23 cart and then they spend additional half an hour searching for some low-cost things that they do not need in order to reach that $25 threshold.
Or even worse, they get caught up in their search for cheap goods so much that they end up spending over $50 for the stuff they really do not need at the moment.
It turns out that someone out there figured out that is a real problem and decided to make a tool that you can utilize in order to get what you want but also not overspend your money.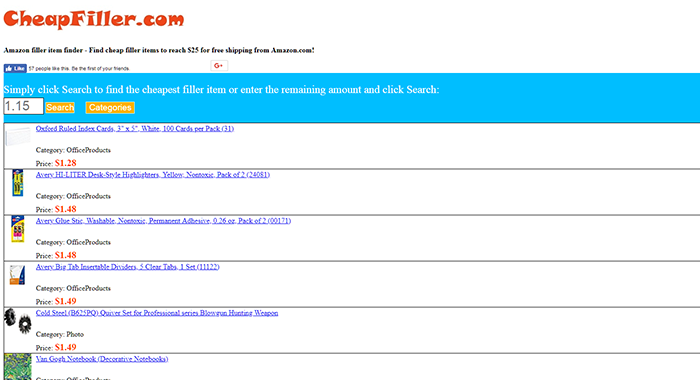 The website is called Cheap Filler, and it works as sort of a search engine for Amazon's products. It works really simple, you just need to enter the price you need in order to reach the $25 threshold and Cheap Filler will get you the results of the cheapest items for that price range.
Once you see the website's recommendations you can easily choose what you want and move on without spending too much time overthinking and getting stuck in the recommended products section.
Let's be honest here, Amazon wants you to spend as much time and money as you can on their website. So it is your responsibility as a consumer to restrain yourself and save a few bucks now and then.