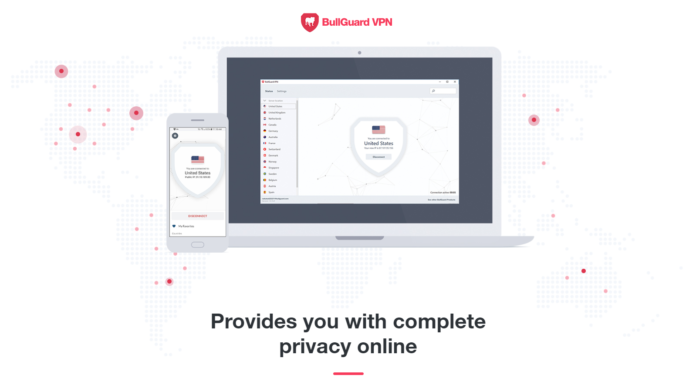 BullGuard launches a VPN service, and it promises easiness of use and powerful security.
This new VPN comes with some novel privacy features unique to the product.
The price is a bit on the higher range, and the subscription plans don't allow for much versatility.
BullGuard, the popular London-based computer security company that has been releasing anti-virus solutions since 2002, has only just entered the field of VPN services. Called "BullGuard VPN", the tool will be available for Windows, Mac, Android, and iOS allowing subscribers to seamlessly switch between devices while enjoying safe, unconditional, and anonymous internet surfing with military-grade encryption. For starters, BullGuard VPN supports 16 countries in Europe, Asia, and North America, while connecting to one of the available VPN servers is done through an easy to use, comfortable graphical user interface. The language support right now includes English, German, Danish, French, Dutch, and Spanish, so most people are already covered in terms of localization.
As a security developer, BullGuard is a reputable company, and as we highlighted in our review of their antivirus solution, their approach to product development and maintenance is robust and reliable. Coming to the VPN field, BullGuard is bringing some special features that are geared towards the security of the user. For example, the app automatically connects to a VPN server when the user picks a public Wi-Fi network, even if they forget to do it manually. Another precaution is the active prevention of the IP and sensitive user data broadcasting in the case that the VPN connection gets dropped for any reason. Finally, BullGuard VPN comes with advanced sniffing protection, so your passwords and browsing data are safe with it.
All that said the cost for BullGuard's new product is quite a steep one, set at $85 for a yearly subscription, supporting up to six devices for simultaneous use. The two-year plan comes with a 20% discount, while the three-year plan is discounted by 33%. There are no monthly plans, so the investment gets more significant, but still, for those who trust BullGuard this will not be an issue. It is important to clarify that the price for the BullGuard VPN product may vary depending on the location of the customer. If you want to get to know more details about how BullGuard VPN fairs against the competition, make sure to stay tuned, as our experts will test the product and prepare an in-depth review of it soon.
Until then, you may share your thoughts about BullGuard VPN in the comments section beneath. Also, don't forget to check our socials on Facebook and Twitter, where fresh tech stories are getting posted and discussed by our vivid community.