Unlike the official 'Roku Channel Store,' where you'll find thousands of different channels, there is another way to add new content types to your media streamer. We're talking about private Roku channels, which often come with unique types of content.
However, the question is - what are the best private and hidden Roku channels in 2022 that are truly worth your time? Considering that many of those might be broken or simply lack any usable content, we've decided to dig deep and find truly the best options right now.
So, if you continue reading this article, you'll find our recommendations for the hidden Roku channels that you need to try.
How to Add Private Channels on Roku?
We're sure you can't wait to get started. With that said, here's how to add any private channel on Roku.
First, go to my.roku.com - using a computer, tablet, or smartphone.
Sign in to your Roku account (the one used on your Roku media streaming device).
Check for the 'Manage Account' section.
Then, click on 'Add Channel With a Code.'
Now, provide a code and click on 'Add Channel.'
Roku will show you a prompt/warning. Click 'OK' to dismiss it.
Finally, click on 'Yes, Add Channel' to finalize the process.
In case you need a more detailed guide on adding hidden channels to your Roku, make sure to use the provided link (especially if you like screenshots to help you navigate your way through).
We've done the hard work of trying out dozens of hidden channels. And with that said, we present to you the 15 best private and hidden Roku channels in 2022.
At the moment, Twitch is where you'll find the most popular gamers who use the platform to live-stream their gameplay. With that said, this is the most popular place on the Web for gamers who like to stay on top of the latest stuff, watch others play, and sharpen their skills.
It's not surprising to see Twitch on Roku. However, we're talking about an unofficial (private) Roku channel here. So, what's surprising is that you'll get a whole slate of features while managing to access all of Twitch's content - without any limitations whatsoever.
If you're a gamer, have no doubt that Twitch.TV is one of the best private Roku channels in 2022. Try it out - it's definitely worth your time.
This is one of those channels that are dedicated to wilderness-related programming devoted to three categories of viewers - nature enthusiasts, hunters, and outdoor survivalists.
It's offering great content and encouraging people to experience nature in a whole new way. This Roku channel offers both on-demand and live broadcasts of programs like Alone in the Wilderness, Secrets of Stealth Camping, America's Wilderness, etc.
Even though Wilderness Channel might not bring new content regularly, there's plenty to watch right now. And also, it's been available for several years now, making it one of the rare private Roku channels that are incredibly stable in terms of their performance.
Red Bull has managed to build its brand around adrenaline-filled sports, and the company's TV network is an important part of that. However, what's surprising is that Red Bull TV is available on just about any platform out there - and that now includes Roku as well.
Red Bull TV allows you to check the latest events related to e-sports, skiing, high diving, motorsports, and more. All of that is available for free on the Web, which means you can also use this Roku channel without spending a dime.
Considering that Red Bull TV comes free of charge, you don't need any type of subscription for this channel. All you have to do is add it to your Roku account, and you're ready to go.
This private and hidden Roku channel is dedicated to iTunes podcasts, which come free of charge. You don't need to have iTunes installed on your computer since this Roku channel doesn't actually need an iTunes account to run.
Instead, we're talking about a channel that directly taps into iTunes' library of podcasts. As such, this is perhaps the best way to experience what iTunes podcasts offer, without any constraints of using the app on other platforms.
You'll get to browse various types of podcasts, including favorites (after you select your favorite podcasts), top podcasts, and you can also search for something specific. And also, these Roku channel serves both audio and video podcasts.
As its name implies, RokuCast is designed to help you cast HTML5 content from Chrome to your Roku player. As such, this system has two equally important sides.
First, you need to install this experimental Chrome extension from GitHub. Then, you need to install the private Roku channel that helps you view a history of recently cast videos.
We have to say that this implementation isn't the easiest one. However, with a bit of effort, you'll be able to play a large number of videos on your Roku by simply casting them from any computer you might have.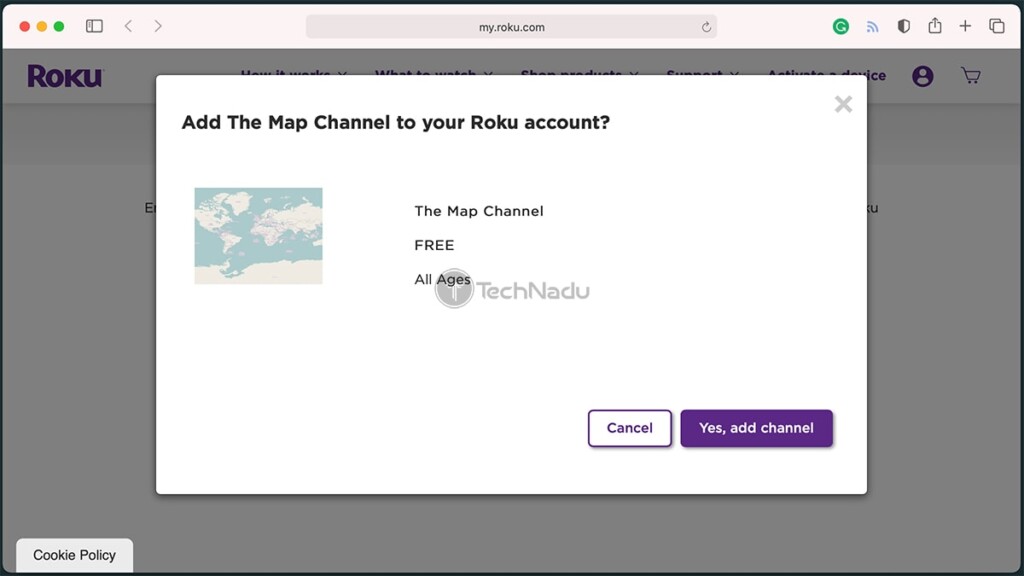 And now, here's something very special. If you're into geography, you're going to love The Map Channel. This private Roku channel comes with a whole bunch of maps, atlases, and similar databases that let you explore our planet. Furthermore, you can even go beyond our planet and explore what Moon, Mars, Mercury, Venus, Jupiter, and Saturn offer.
However, The Map Channel isn't only about geography. It comes with numerous overlays that rely on all kinds of databases. That's how you can see weather maps, flood maps, and similar. Of course, those are available for the US primarily, even though some European countries have been covered recently as well.
We have a really nice recommendation for those who are into astronomy. Called 'SpaceTime Free,' this private Roku channel uses publicly available content supplied by space agencies around the world.
However, the majority of its content comes from NASA, known for high-resolution footage that started to become hugely popular a few years back.
Right now, you'll find different types of content related to astronomy. The channel currently features the following categories: Deep Sky, Solar System, Space Travel, Historical, and Astrophysics.
Originally released in 1983, Lode Runner is a puzzle-oriented game. In case you're a long-term gamer, you might also know this game as 'Kong' or 'Miner.' Building upon its initial success, the Lode Runner series spans numerous games for different types of platforms and computers.
Please note that to play this game, you need an enhanced game remote for your Roku. You can choose from three different modes (Classic, Championship, or Professional) featuring hundreds of levels and various types of complexity.
We understand that some of you might enjoy updating Roku channels manually. However, there are also those who'd like to automate this process, and this is where 'Update My Channels' comes into play.
This is a private Roku channel designed to help you update other Roku channels without having to navigate the main screen.
Aside from forcing Roku channels to update with 'Update My Channels,' there's also another role for this channel. You can use it to update your Roku daily in the background so that you can always have the freshest content.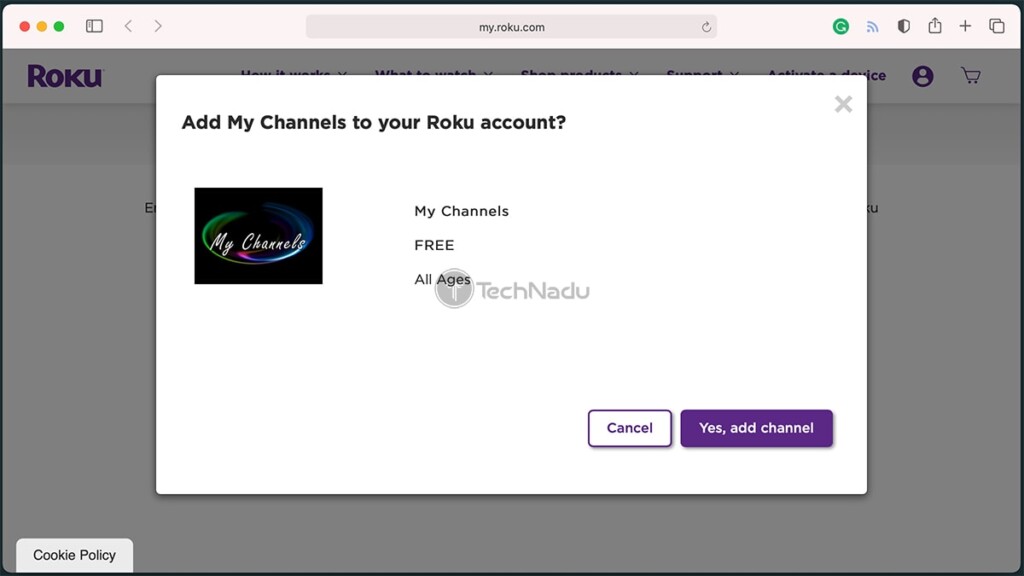 As you can see by now, some of the best private Roku channels aren't only about video content. The true power of these hidden channels for Roku lies in their functionality. For example, here we have My Channels, which comes as a solution to certain interface problems.
Using this Roku channel, you can improve Roku's standard menu by creating custom channel groups. That allows you to organize your Roku channels, which is something that the built-in software doesn't offer (just yet).
This app also lets you launch recently watched channels and also shows your most popular Roku channels in groups by those names. We're sure you're going to love using these new Roku functionalities, so make sure to give 'My Channels' a try.
There are thousands of YouTube videos designed to serve as relaxing backgrounds on your TV. Well, there's now a similar solution available on Roku.
Called 'Tropical Beach,' this is one of those Roku hidden channels that bring some peace into your home.
You can choose from several different videos, lasting from 30 minutes and up to 8 hours. As soon as you pick a video, you'll see a nature scene on your TV complemented by the sounds of nature. These are filmed with a stationary camera and run without any interruptions.
We've already featured several public domain movie channels in this article. However, it's always good to have an alternative.
With this said, the Silent Movie Channel is a perfect option if you're into old movies. There are plenty of different genres to choose from, and you'll find a healthy dose of classic silent films.
To get more information, you can follow the Silent Movie Channel on Facebook. Even though it doesn't receive updates all the time, this is a nice way to stay in touch with the developers of this private Roku channel.
In case you have music files stored in your Google Drive or Dropbox accounts, Synctrix will help you access and stream those via Roku. Therefore, this is a music player that relies on your own data - helping you access your audio collection across various TV platforms (such as Roku, Android TV, Fire TV, and similar).
For Synctrix to work, you'll need to rely on its Android app primarily. That's how you can access your Google Drive or Dropbox, organize your audio collection, create playlists, and similar. Then, you launch the Synctrix Roku channel and access those files. However, keep in mind that Synctrix on Roku is still in beta, so some unexpected behavior shouldn't surprise you.
MultiLive is a mixed bag of European TV channels. Right now, you'll find a handful of channels here, coming from the Netherlands, France, Cyprus, Luxembourg, and Berlin. There's also a TV channel from Haiti as well.
We understand that this might be a niche Roku channel, but we're sure that many of you want to check channels from outside the USA. And that's the reason why we've included MultiLive (Weedbox) on our list of the best private Roku channels.
We'll end our list of the private and hidden Roku channels with a simple recommendation. We all use weather apps on our smartphones, and many of us check the weather on smart TVs as well. Well, there's now a Roku private channel that comes with a sizeable list of features.
Weather Radar helps you check the local weather, satellite loops, as well as tropical cyclones and disturbance maps. All of this information is gathered from the US National Weather Service, so you can be sure that it's reliable and up to date.
Why Does Roku Have Private Channels?
Initially, private channels were used by developers to test their Roku channels before being made public. In other words, this is a way for developers to test their software.
Considering that Roku doesn't review private channels and that you can easily add any hidden channel, this led to some misuse. Today, many private Roku channels bring pirated content, which Roku is trying to remove as fast as possible.
Are Roku Private Channels Safe?
For the most part, private Roku channels are safe to use. However, you should still be careful about what types of content you access.
Keep in mind that Roku doesn't verify the contents of private Roku channels. Since some of those can serve copyrighted content, this leads to copyright infringement. If your ISP catches you streaming this type of content, you might find yourself in trouble.
In terms of encountering malware or someone hacking into your system, have no worries. Private Roku channels are designed to be 'sandboxed,' which means that they have no access to the rest of your Roku device.
Can You Get Banned for Using Private Roku Channels?
No, your Roku account won't be banned - even if Roku discovers that you're using a private channel that serves pirated content.
In that case, the channel you're using will be removed from your Roku. And also, your account won't be able to add any other non-certified channels in the future.
Can You Hide Private Channels on Roku?
Sadly, you can't hide individual Roku channels. Instead, you can only remove them.
Know that there are ways to block content using Roku's parental controls. Still, this isn't a solution to hide channels - as content can be blocked based on movie and TV ratings only.
How to Remove Private Channels from Roku Devices?
There are different ways to remove a Roku channel, so here's the simplest one:
On your Roku remote, press the Home button.
Now, move to the right and highlight the channel that you want to remove.
Press the Star button on your remote. This will open a new menu.
Select 'Remove Channel' and confirm your decision.
How to Watch Private Channels on Roku?
You can watch and interact with private channels like you usually would with any other Roku channel. So, here's what this process entails.
First, make sure to add a private channel to your Roku.
Then, return to Roku's home screen, where you should see new private channels once you add them (they'll be automatically added).
Select to open any channel - and interact with it. That's it!
This brings us to the end of our list of the best private channels for Roku in 2022. If you have any questions, make sure to post a comment below. And also, don't forget to share this article online. Thanks - and enjoy using Roku!