Bell Canada proposes the criminalization of pirate streaming and illicit IPTV services.
The Canadian government is currently developing a new relevant framework.
The same pressure is placed upon US lawmakers as well, as pirate IPTV grows larger.
Bell Canada, the Montreal-based telecommunications company who has been fighting piracy fiercely is now at it again, lobbying to render pirate IPTV streaming a crime, as well as to institutionalize site blocking. The government of Canada is currently in the process of formulating a new legislative framework that is developed by an external panel, and Bell is one of the players who have a heavy influence on that part. The fact that the submissions for consideration that the committee has in their hands remain private raises concerns about the possibility of losing internet freedom ground in Canada soon.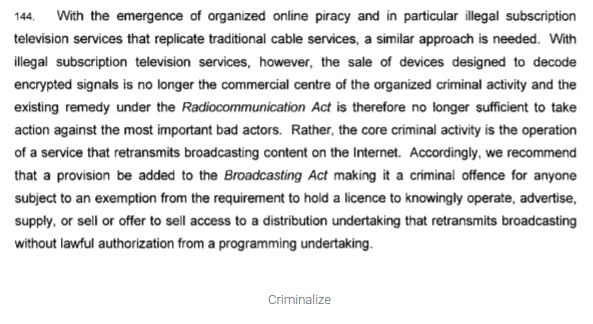 Thanks to the efforts of a University of Ottawa professor, Michael Geist, parts of Bell's proposal to the panel have been revealed, and they urge legislators to consider more decisive copyright protection measures, leveling up the offense of piracy from a misdemeanor to a felony. Bell supports their position by presenting stats that indicate how big of a problem pirate IPTV boxes have become for the country and makes correlations to the satellite black market boom that hit the world many years ago. Bell claims that illicit IPTV streaming can be deterred if a similar plan to what was implemented for satellite piracy is to be followed.
Self-Serving in the Extreme: Bell's Broadcast and Telecom Submission to the BTLR Revealed https://t.co/ZQByrOScUY pic.twitter.com/fi23ijER6e

— Michael Geist (@mgeist) May 28, 2019
Bell has previously requested the banning of VPNs that aid in copyright infringing activities, submitted complaints that resulted in Police raids, and generally remains very active in fighting pirates. While they don't believe that making IPTV streaming a crime will stop piracy entirely, they argue that it will reduce the relevant activities by about 40%, which would be significant in creating a breathing space for legitimate broadcasters.
Remember, at the beginning of the month, the exact same request was made through the heads of the NBA and UFC to the US lawmakers, enjoying support by the North Carolina Senator as well. Pirate IPTV services are in the spotlight right now, as their rapid growth and level of financial damage that they do to the broadcasting market, in general, cannot go unnoticed. That said, it is very likely that we will see pirate streaming getting criminalized in the US and Canada, and then to the rest of the world.
Do you believe that the lawmakers will render pirate streaming a criminal offense? Let us know what you think in the comments down below, or on our socials, on Facebook and Twitter.