Smartphones and tablets have become more powerful than ever and are capable of handling almost any workflow. However, the convenience of a PC cannot be disputed. Sure, you can lug around a laptop but what if you needed a simple solution that you can directly connect to a large screen for enhanced productivity? Enter the Mini PC Stick.
The Mini PC Stick format was first popularized by Intel with its Compute Stick and while we've found similar form factors that are tailored towards entertainment such as Amazon Fire TV Stick, there has been little competition to Intel's offering as an all-rounder PC device that can be slipped into a pocket. Azulle Access3 is one such Mini PC Stick that offers great productivity in a pocketable form factor. Sure, the Access3 is a versatile little computer but can it really be a worthwhile companion for day-to-day work? Let's find out in this review.
Before we move on, here's a quick rundown of the Access3's specifications.
Azulle Access3 Fanless Mini PC Stick
What's in the Box?: Access3 Mini PC; 5V/3A Power Adapter; HDMI Adapter; Quick Start Guide
Specifications: Intel Gemini Lake N4100 Quad Core CPU; Intel HD Graphics 600; 4 GB RAM; 32 GB eMMC storage;
Ports: 2x USB 3.0; 1x micro USB; 1x Gigabit Ethernet; 1x 3.5mm combo audio jack; 1x HDMI-out; 1x microSD card slot
Wireless: Dual-band Wi-Fi; Bluetooth 4.2
Operating System: Windows 10 Pro
Dimensions (W x H x D): 2 x 5.2 x 0.75 in
Design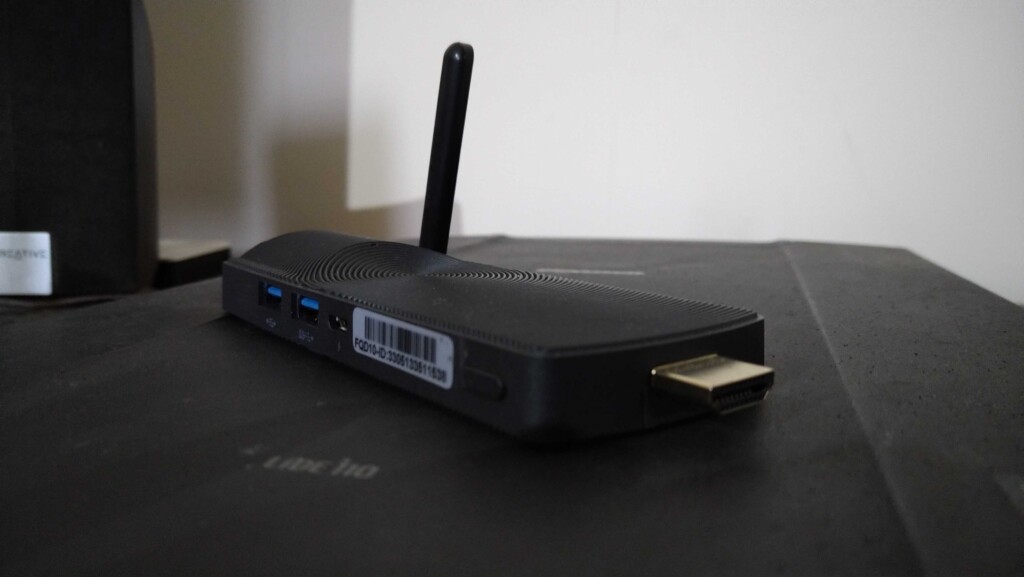 The Access3 sports a very convenient design. At just 5.2 inches tall, it should fit in any moderately sized pocket or a carry bag. The outer body is striated that helps in giving a good grip. There's a single LED light that glows blue when the device is turned on and red while in standby. The LED isn't too bright, though and it is tough to actually locate it unless you look for it. Unlike other Mini PC Sticks, we find an external antenna for Wi-Fi connectivity. It is a good solution that will aid better signal reception than fully internal ones.
On the front, we find a single HDMI-out port protruding from the stick. It is not retractable but can be directly inserted into a TV or monitor without any setup. For those displays whose HDMI ports are difficult to access, Azulle includes an HDMI adapter cable that helps using the Access3 at a distance from the TV. The only gripe is that this cable is very short and we really don't find any perceivable latency in using longer cables — at least, not for the intended use of this device.
Towards the right, we see two USB 3.0 ports and a micro USB port for power and in the bottom, we find a Gigabit Ethernet port surrounded by a 3.5 mm combo audio jack and a Kensington Lock slot.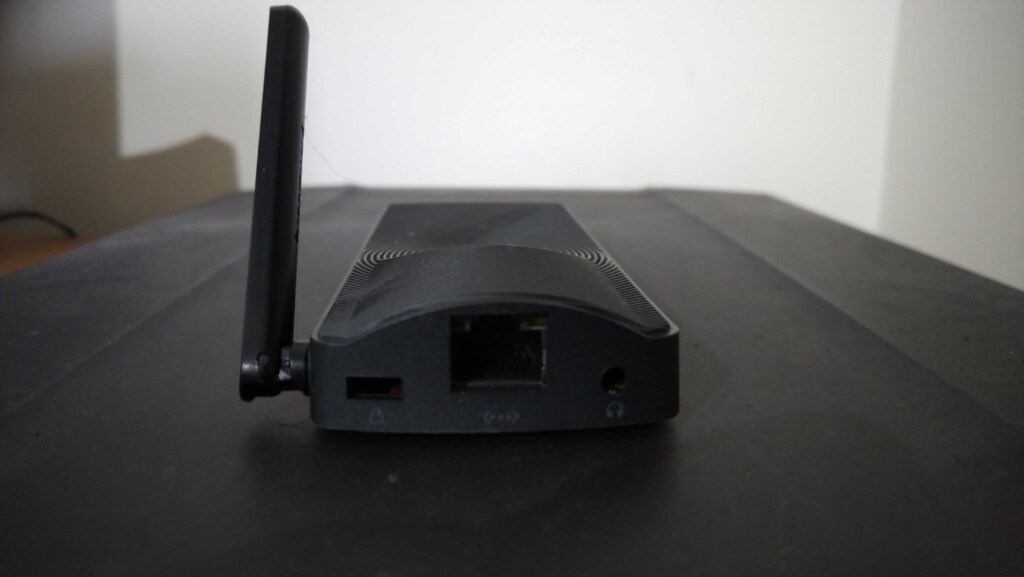 Moving to the left, we find the Wi-Fi antenna and a microSD card slot that supports cards up to 256 GB.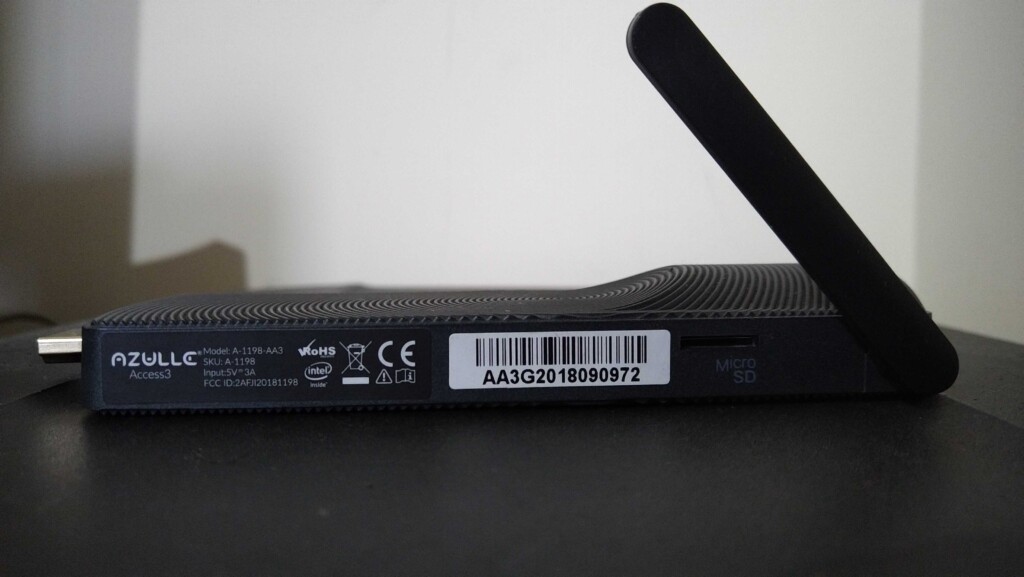 Overall, the design of the Access3 is clean, minimalist, and functional. It is not often we get to see a dedicated Gigabit Ethernet port and a Wi-Fi antenna in a mini PC stick so props to Azulle for this added convenience.
Performance
The Azulle Access3 comes pre-installed with Windows 10 Pro. There is an option to get Windows 10 IoT Enterprise version as well if you need. Our test device came with the Windows 10 Pro April 2018 Update (1803). Azulle is yet to offer the Windows 10 Pro 1809 image on the website so before running the benchmarks, we manually updated the device to the latest Windows 10 Pro October 2018 Update (1809) using the Media Creation Tool from Microsoft. We also ensured all device drivers are up to date including those for graphics, Wi-Fi, Bluetooth, and LAN. There weren't any new BIOS updates available from Azulle at the time of this writing.
The Access3 is powered by the Intel Celeron N4100 quad-core CPU and comes under the 2017 Goldmont Plus family. This CPU succeeds the previous Apollo Lake generation and is ideal for low-cost devices targeted at simple workflows. The Celeron N4100 is based on a 14nm process and works at a base clock of 1.1 GHz and can boost up to 2.4 MHz under load. The Gemini Lake generation comes with the integrated Intel UHD Graphics 600 with 12 execution units and a 700 MHz clock. This is mostly similar to the Intel HD Graphics 505 found in the previous Apollo Lake generation. The Intel UHD Graphics 600 comes with native VP9 and H.265 decoding support for 8-bit color depth videos.
The Access3 comes with only 32 GB of onboard storage of which around only 18 GB is available to the end user. Therefore, not many programs can be installed concurrently. There isn't any bloatware on the device luckily apart from a few programs to test out essential functions of the device. We evaluated the CPU, GPU, and storage performance of the device using a set of select benchmarks to get an idea as to what the Access3 is really capable of.
CPU Performance — Cinebench R15
Cinebench is a good benchmark for measuring single-core and multi-core CPU performance. The Celeron N4100 in the Acesss3 scored 67 points in the single-core test and 205 points in the multi-core test. The scores are similar to what is expected of this chip. Comparatively, the scores are just above a Haswell Intel Core i3-4030U when it comes to single-core performance and above a Broadwell Intel Core M-SY31 while comparing multi-core numbers.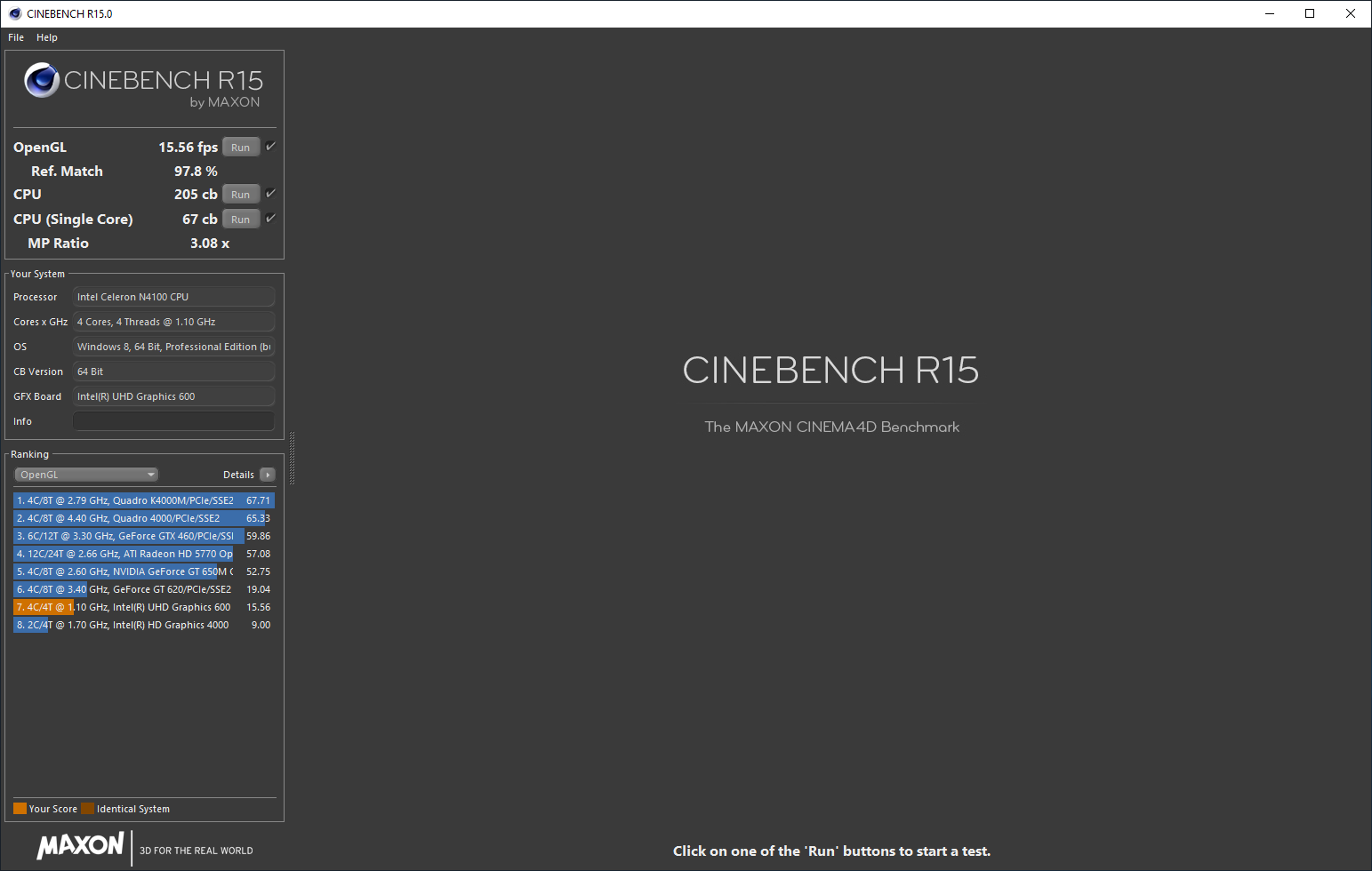 For the end-user, this means you will have enough power to do some light multitasking of productivity apps such as Office and email, or even light photo-editing using GIMP and also, to run the OS in general without too much of a perceivable lag. That said, you will not be able to run intensive apps such as Photoshop or InDesign without having to stare at the screen for ages.
GPU Performance — 3DMark
For evaluating the GPU, we ran a few benchmarks in the 3DMark suite. 3DMark contains multiple benchmarks tailored towards different devices so we chose to run the Cloud Gate, Fire Strike, and Ice Storm Extreme tests taking into account the specifications of the device.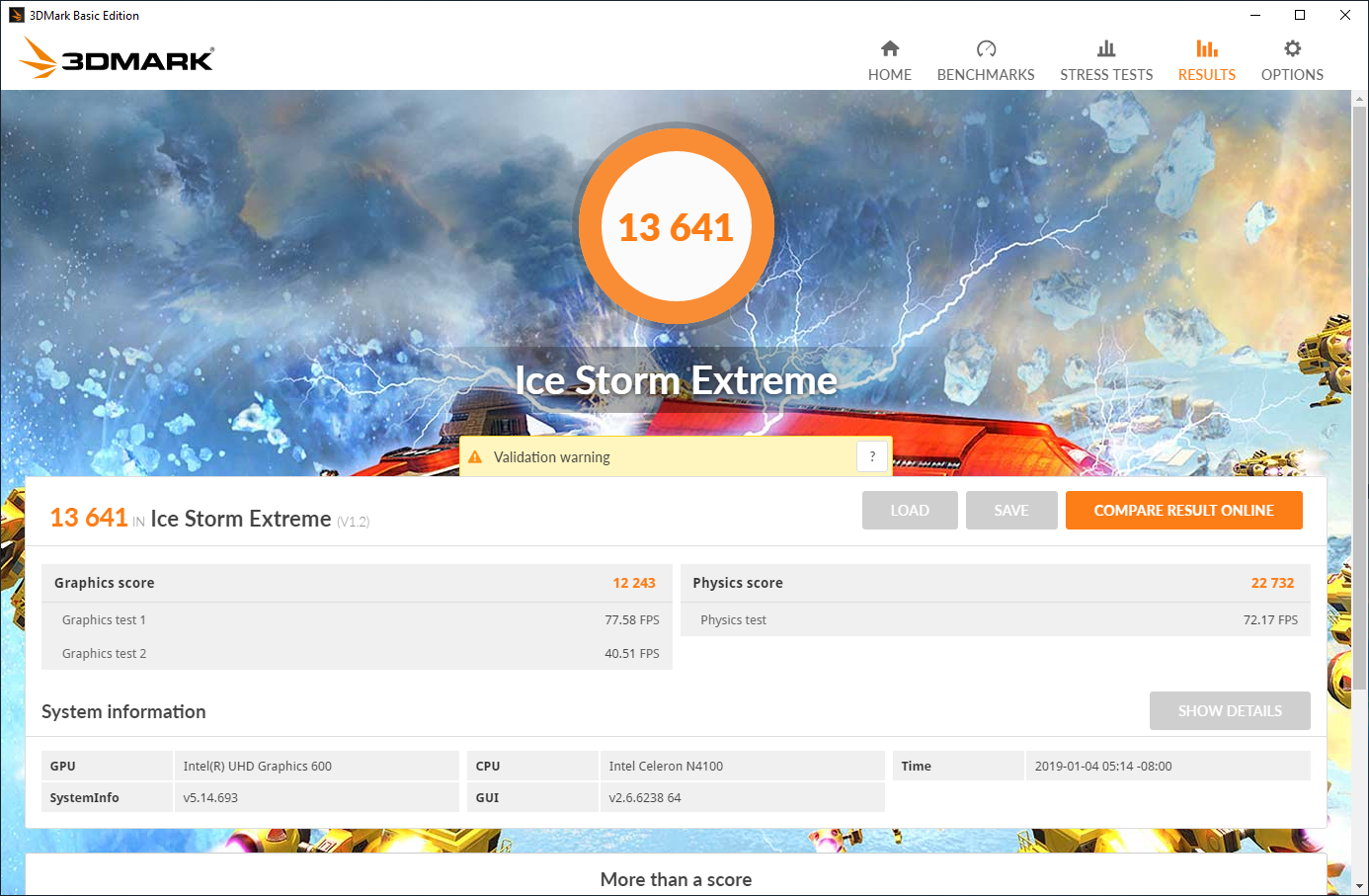 3DMark Cloud Gate is a test for notebooks and common home PCs that have GPUs supporting DirectX11. The test is run at 720p and includes both physics and graphics scores. The Celeron N4100 managed to score 2,821 overall points, which is just about expected.
Fire Strike is more tailored towards gaming PCs but it did help to confirm that the Access3 is not really a gaming machine as it managed to score just 377 points.
Ice Storm Extreme seems to be a more suitable benchmark for this device and the Intel UHD Graphics 600 has managed to score 13,641 with good FPS scores in the graphics and physics tests.
To sum up, the integrated graphics in the Access3 will do just fine for providing basic hardware acceleration in productivity apps or for providing hardware acceleration for 4K video decoding. However, the GPU is not suitable for anything more than casual gaming and therefore, expectations in that regard should be kept low.
Home and Office Performance — PCMark 10
PCMark simulates common productivity workloads categorized into Essentials, Productivity, and Digital Content Creation. It runs a suite of programs to mimic daily tasks such as video conferencing, photo retouching, word processing, spreadsheet data, and more. Scores are calculated for each category and an overall score is arrived at.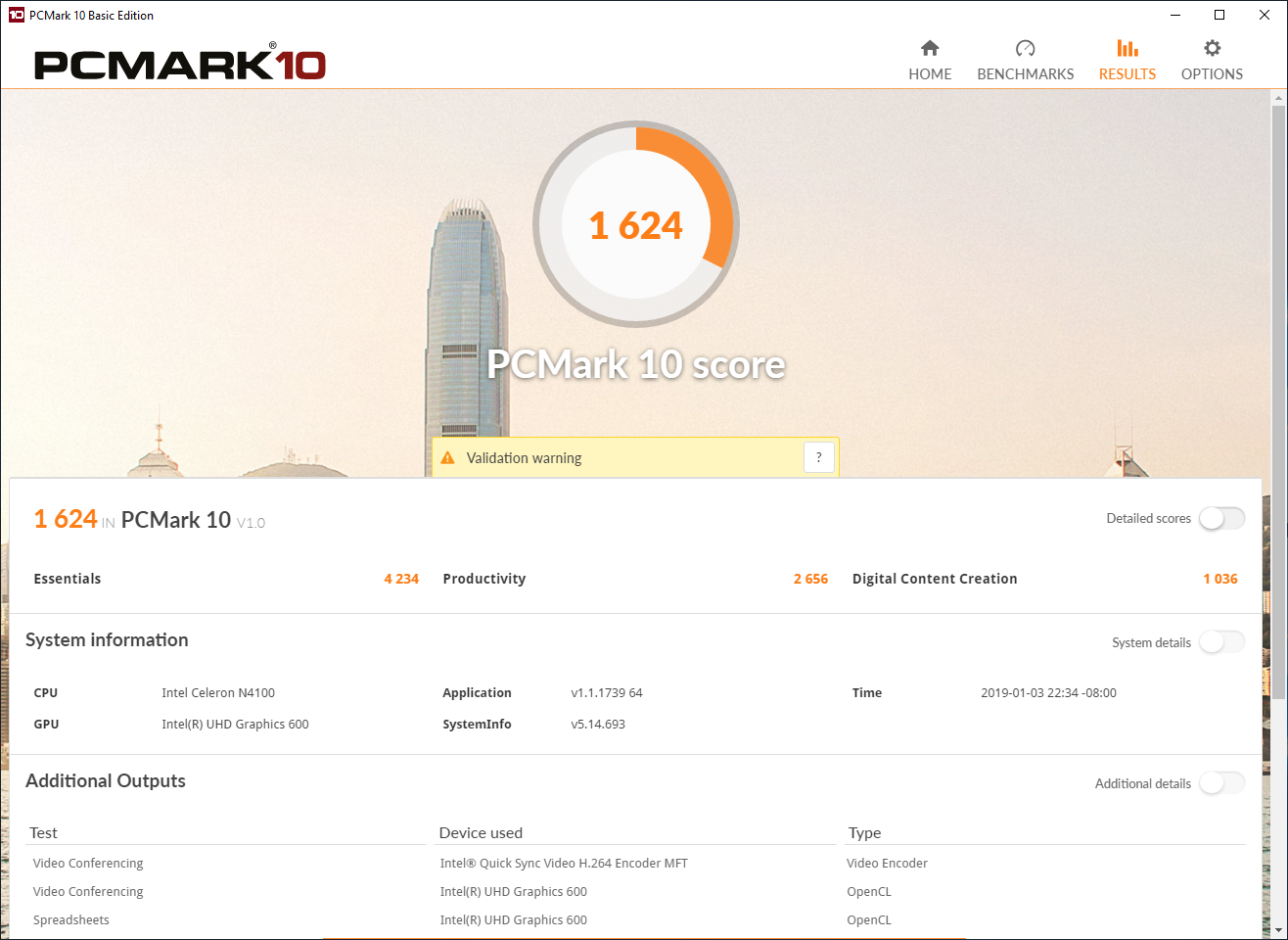 The Access3 managed to get an overall score of 1,624 in PCMark 10. In individual categories, it managed 4,234 points in Essentials, 2,656 points in Productivity, and 1,036 points in Digital Content Creation. So, overall, the Access3 is good for daily workflows that aren't too taxing on the system. The system felt snappy enough but once you start loading more and more tabs in the browser, things start to crawl.
Disk Performance — CrystalDiskMark
The Access3 comes with 32 GB or 64 GB of onboard eMMC storage. eMMC is flash-based storage but not as fast as a traditional SSD. Still, the eMMC in the Access3 sports read speeds up to 160 MBps and write speeds up to 107 MBps.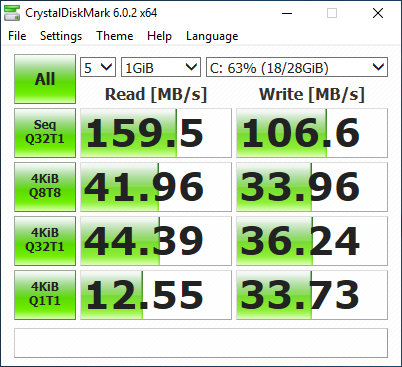 Thee scores are certainly not class-leading but are on par with any other eMMC storage out there. File copy is fast enough, but expect long loading times in fairly heavy programs. The low speeds are a bottleneck in another way as well. If you fill up the main RAM, Windows writes the paging file to disk and accessing this will be slower due to the low speeds of the eMMC card. Thus, expect long load times if you tax the device beyond a certain threshold.
Overall Experience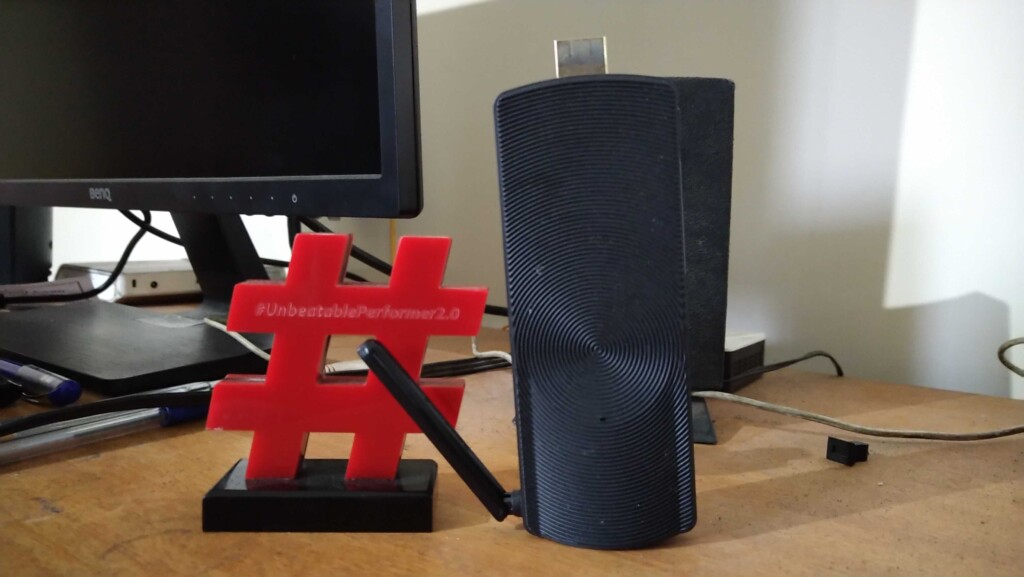 As detailed earlier, the Access3 is perfectly fine for routine tasks. This is certainly not a gaming machine in any remote way but most games from the Windows Store should work fine. We tried playing Asphalt 9 on the device and it ran pretty well at FHD high settings without any major hiccups. There was an occasional drop in frame rate but nothing too distracting for the casual gamer. Even games such as Minecraft should work but do not expect modern AAA games to run well even at 720p low settings. You can, however, give a shot with older AAA games such as Call of Duty: Modern Warfare II or earlier but bear in mind that you would need to dial down the settings and set the resolution to 720p if you'd like to see anything better than a slideshow.
Wireless performance is excellent and the Intel Wireless AC 3165 chip offers both 2.4 GHz and 5 GHz support. The device would easily hit the 50 Mbps mark when connected to the Wi-Fi hotspot, which is the maximum speed offered by the ISP.
For such low-power PCs, Microsoft Edge is a better browser than Google Chrome. It is intricately woven into the OS, is light on system resources, and is directly secured by the built-in Windows Defender software. The overall experience feels more fluid in Edge than in Chrome, which is more or less the same across most configurations. That said, many websites are made to target Chrome so they will function better in that browser. Using Chrome is not too bad but expect slowdowns the minute you start shuffling close to 10 plus tabs.
We did notice that the device does get fairly warm under load so we'd suggest that you allow it to properly cool down before pocketing it to minimize the risk of self-injury. You will, of course, need to carry a keyboard and mouse but these days, we get compact foldable keyboards that can work wirelessly so this shouldn't be a hassle. For those who are couch potatoes, an even better option would be to go for the optional Lynk remote that combines a remote with voice capabilities and a fully functional backlit QWERTY keyboard.
Overall, the Access3 is a great travel companion and is certainly a better way to be productive on the go.
Pricing and Warranty
The Azulle Access3 retails for around $280 but you can now get it for around $160. We say it is a very good price for such a capable device. Assuming that you already have access to a TV or monitor with an HDMI port, you only would need to factor in a few additional peripherals such as a keyboard and mouse, and also a microSD card for storing data and programs.
Azulle offers a one year warranty on the Access3 and a variety of customer service options such as live chat, telephone, and email. The Azulle website also provides the latest software and driver updates but we felt that the Access3's product support page could be a bit more detailed.
Verdict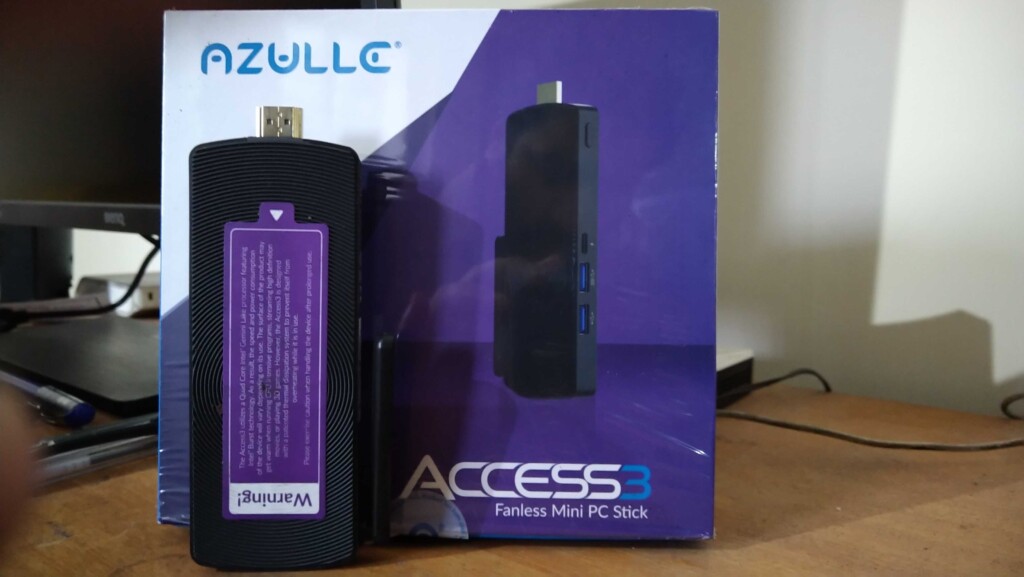 The Azulle Access3 brings some much-needed action into the otherwise dull Mini PC Stick category. There aren't too many such devices to choose from apart from the Intel Compute Stick and the Kangaroo Portable Desktop. Sure, you also have the Amazon Fire TV Stick based on Fire OS and the Asus Chrome bit based on Chrome OS but for those looking at a full desktop PC solution, the options are limited. Thankfully, the Access3 addresses this deficiency to an extent and performs admirably well for daily tasks. It boasts of a port selection not found in many stick PCs and features high performing components relative to the price.
While an x86 CPU scales well, ARM-based CPUs are slowly gaining inroads into the personal computing space and Windows 10 on ARM is also improving in terms of app compatibility. We would like to see Azulle introduce a capable Windows 10 on ARM PC Stick in the near future.
If you are looking for a compact PC solution that you can pocket wherever you go, the Azulle Access3 is the one to opt for.
Pros: Great for daily productivity; Excellent port selection; Fast Wi-Fi; Compact and durable construction; External antenna
Cons: Status LED light can be a bit more conspicuous; Average eMMC performance; Not suitable for gaming
Final Score: 9 / 10
That wraps up our review of the Azulle Access3 Mini PC Stick. We hope that this review could give a glimpse into the design and performance of the product. If you have any questions, feel free to let us know in the comments below and we will get back to you as soon as possible.
Finally, we'd like to ask you to share this article online. Also, don't forget to follow us on Facebook and Twitter. Thanks!