Apple's continues its push towards AR - Augmented Reality with a new app called Measure and an all-new Memoji;
The company's digital assist is poised to become much smarter, and more helpful in your everyday use of iOS;
iOS 12 will be out in the fall, with the first developer beta being released today. 
Like every year, Apple's annual WWDC event started on Monday with keynotes from CEO Tim Cook and other top executives at Apple. As it was widely expected, Apple released a ton of features including new iOS 12.
The major point of focus was still – no prizes for guessing – iOS. Senior Vice President of software engineering at Apple, Craig Federighi did the honors of unveiling iOS 12, the latest software version for iPhones and iPads. The software will be rolled out for free later this year and will be compatible with all devices that are compatible with iOS 11.
Federighi impressed upon the improved speeds and other key performances of iOS 12. Besides, the senior company rep also announced a range of features and apps that will come bundled with the upgrade. Here is a roundup of some of the biggest takeaways from the event.
Siri Shortcuts
The new Siri Shortcuts app integrated into iOS 12 will allow users to ask Siri to perform customized actions upon receiving commands. From here on, Siri can generate live traffic reports and play your best music when you say "Siri, driving back home."
The feature bears a remarkable resemblance to Workflow, a service that Apple acquired only last year. Resemblances with IFTTT, the automated "recipe" connecting app can't also be denied.
Group FaceTime
How about this? You can now get a third (and a fourth) person to join a call on FaceTime!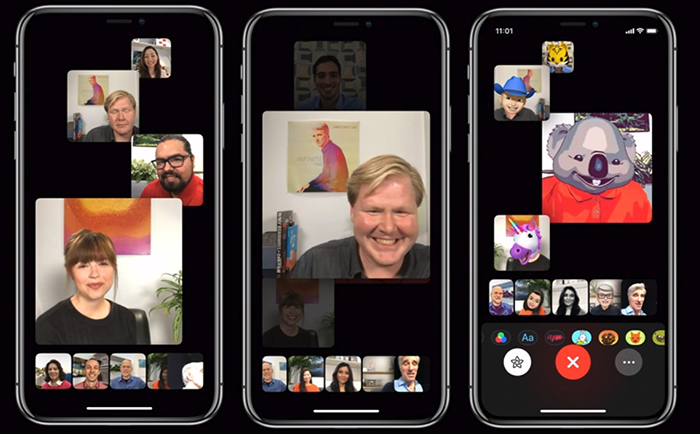 It is for the first time that Apple has rolled out the Group FaceTime feature on iOS. Right at the first go, it will support up to 32 people in a single conversation. Call participants will be able to use Memoji options and the interface will expand the face of the present speaker automatically.
Do Not Disturb and Screen Time
The new Screen Time app on Apple will let users view how frequently their phones are used including a breakdown of different apps. iOS users will also be presented with detailed reports on the most frequently used apps.
Users can also set time limits for different apps using the Screen Time feature. These time limits will also allow parents to call timeouts for their kids' application usage.
Federighi commented: "We think this is going to be helpful for many people, but especially for some kids. We think this will help families achieve a balance that's right for them."
Another similar feature is the Do Not Disturb function that allows users to mute all notifications for an hour, the whole night, or at specific locations. Together, both these features are Apple's attempt at tackling the growing concerns over smartphone overuse.
Animoji and Memoji
With iOS 12, Apple is ushering the era of Animojis. The Animojis will include expansive characters like a T-Rex and a koala among others. Plus, iPhone users can create their very own Animojis. The company is calling these Memojis. In many ways, this will be similar to Nintendo's Mii and Snap's Bitmoji.
The Animojis can be made to look strikingly similar to the real-world appearance of users including but not limited to props like costumes and hats.
Waze in CarPlay and Google Maps
Making into CarPlay are third-party apps like Waze and Google Maps (finally!). Yes, Apple's in-car interface has finally got the facelift it deserved for so long.
Measure - A New iOS App
The Measure app is a breakaway application that relies on Apple's work in augmented reality to actually measure objects in the real world. You can use it to measure picture frames, kitchen sinks, furniture, and more. We say this will go down as a great addition to Apple's armory and will be especially relevant for DIY enthusiasts, builders, woodworkers, and other handymen!
That ends our set on the best and biggest rollouts by Apple in WWDC. We hope you will enjoy your experience on iOS 12 as and when it comes to Apple devices. Watch this space for more updates on Apple and other things tech!