The YouTube TV app is no longer available on the Roku channel list, as the contract between the two hasn't been renewed.
The two entities are accusing each other of proposing unreasonable terms and negotiating aggressively.
Roku devices with the YouTube TV app installed may continue using it, albeit with several limitations.
A few days ago, Roku warned its customers that YouTube TV might soon depart from the platform, as they were going through difficult negotiations with Google over the renewal of their contract. Roku called Google's proposed terms "unfair", claiming that the search giant wanted to manipulate consumer search results, inflate the cost of Roku products, and violate established industry data practices.
From its side, Google responded by disregarding these claims, calling them false and baseless, and added that Roku often engages in these tactics to set the stage for better negotiation outcomes. However, as YouTube TV spokesperson Mariana De Felice stated, they will continue to work in good faith with Roku, focusing on ensuring high quality and consistent experience for their viewers on the Roku platform.
Today, Google posted an update on the matter, informing their members on Roku that an agreement with the platform to renew the contract hasn't been reached. According to Google, they proposed the same terms that Roku agreed with and accepted in the past, but the other side allegedly wanted to negotiate a separate deal that encompasses the main YouTube app. Google states they can't give Roku special treatment and risk breaking YouTube experience on Roku devices (no support for AV1), so they've reached a dead-end.
Roku informed its customers that "Google chose to let the YouTube TV contract expire" and that they are still working on a resolution while always standing up for them, which is why they couldn't accept Google's anticompetitive requirements. So, all in all, the one accuses the other over bad negotiation methods and unfair proposals, and we, of course, have no way to tell who is being honest here, and it doesn't matter anyway.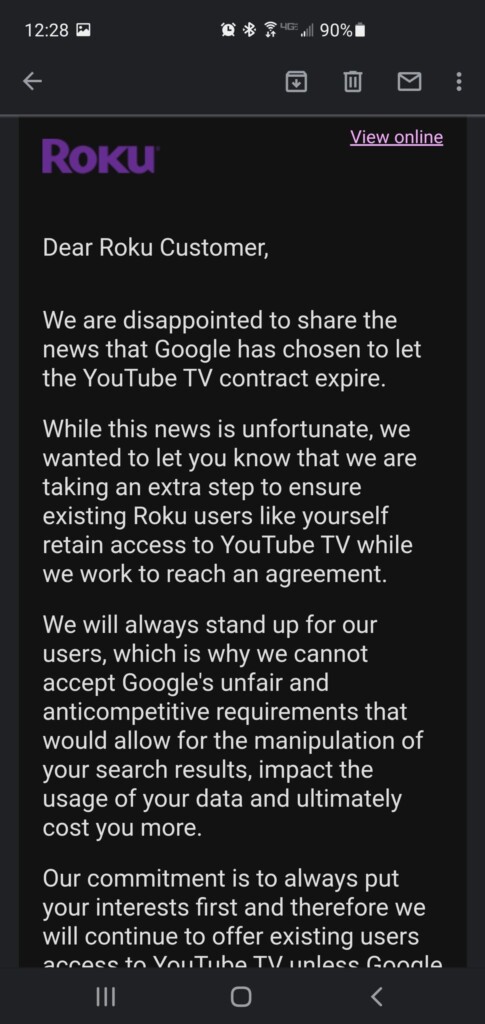 Both Google and Roku have to lose from not finding an agreement, and the owners of Roku devices are obviously in the epicenter of this loss. For now, YouTube TV is no longer available on the Roku channel store, but those who had it installed on their Roku devices may continue using it. However, they won't be able to perform new downloads, create new subscriptions, etc. Roku officially suggests that its customers uninstall the YouTube TV app from their devices, so they aren't going to offer a workaround, as expected, as that would be illegal anyway.