YouTube Kids received a new update that brings content catered towards older kids.
The app also includes more parental controls that allow parents to control what their kids see.
Children with parent-approved content enabled apps will not be able to access any other videos.
YouTube is releasing a major update to the YouTube Kids app that allows parents even greater control over what their kids get to see online. Grownups can now customize the app to now include only parent-approved content. Separate profiles can be created for multiple children, and pre-approved videos will be accessible only.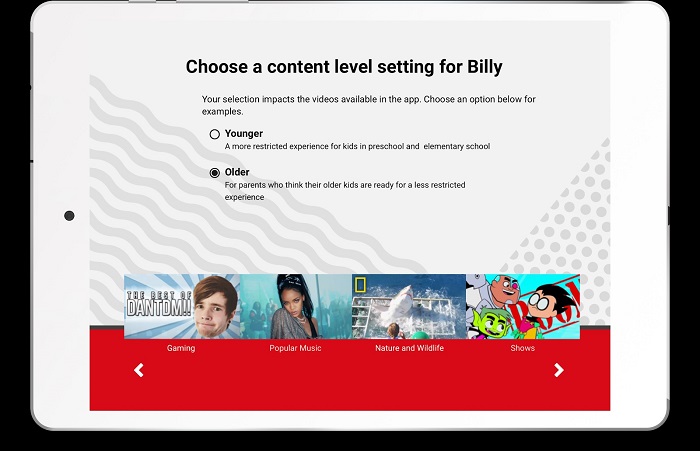 Instead of relying on the curation by the YouTube Kids team, parents can handpick every single video or channel that they want to be accessible to their child. The app is currently rolling out to Android devices and will be available to iOS users soon. A new "+" button has been added to the app that allows parents to quickly add videos to their collection. Parents can also prevent kids from manually searching for videos.
The new update focuses on offering a much more customized experience that can cater to the needs of all kinds of families. YouTube revealed in an announcement "We work hard to make videos in the app family friendly, but no system is perfect. It's always possible that a parent may find something they don't want their child to watch in the "Younger" or "Older" experiences."
YouTube Kids is also tweaking the user experience for 8-12-year olds with the new update. The platform has added new content and popular videos from multiple genres that kids may be interested in. Parents simply need to tap on the "Older" option when setting up their child's profile and age-appropriate content will be suggested by the app. The full suite of children's videos including sing-alongs and age-appropriate learning videos will be included in the new section as well. The new feature is available in the United States only currently with a global launch scheduled for the near future.
What do you think about the new YouTube Kids features? Let us know in the comments below. Also, to get instant tech updates, follow TechNadu's Facebook page, and Twitter handle.