YouTube is making it easier for creators on the platform to host charitable campaigns to bring communities together with new tools.
The video sharing platform will receive Fundraisers, Community Fundraisers, Super Chat for Good and Campaign Matching as part of the new initiative.
All of the features are currently in beta and will be available to all YouTubers in the near future.
Google is trying to integrate charitable events and community campaigns with its new YouTube Giving initiative. Many creators on the tech giant's video sharing platform often host charity events and fundraisers, and Google is trying to integrate such campaigns to make donations easier for users.
Google revealed in an announcement "Our inspiration for building YouTube Giving tools has been you — the way you use your voices to create impact on important issues, whether helping out in a crisis or championing a cause. Over the coming months, we'll listen to your feedback on these beta features and continue to expand access to more creators."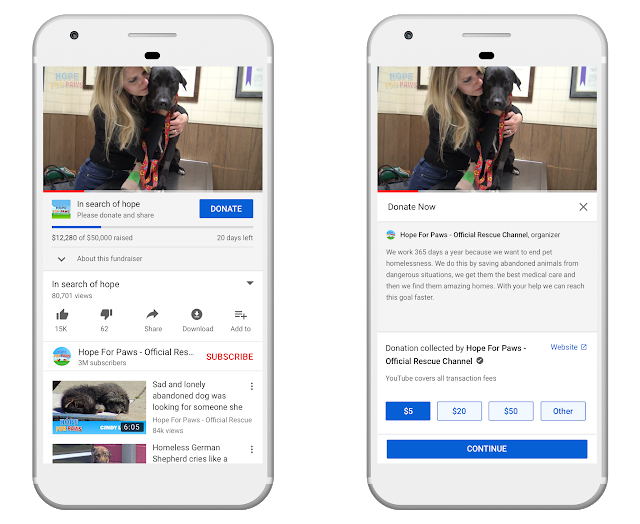 A new Fundraisers feature is being added, and it will be available to users from the US and Canada only as of now. All creators who qualify under the US-registered 501(c)(3) nonprofits and embed fundraising campaigns on their channels and live streams. A Donate button will be added when using the feature, allowing users to directly donate to charitable causes instead of relying on third-parties. Google will take care of payment processing and logistics to make things easier for both creators on YouTube and viewers.
A Community Fundraisers feature is also being added to YouTube which is limited to US creators qualifying under the same US-registered 501(c)(3) nonprofits as the flagship Fundraisers feature. It allows multiple creators to come together and host a fundraiser. The collective donations will reflect on the channels of all collaborating creators allowing users to track progress made by the community towards charitable efforts.
Creators will also be able to amplify their efforts with a campaign matching feature that allows multiple creators to receive matching pledges in a bid to inspire more fans to contribute. YouTube will also introduce a new Super Chat for the Good feature for selling merchandise and digital goods and services that contribute towards charity. The charities need to be registered in the US under section 501(c)(3) to be eligible for receiving donations.
What do you think about the new YouTube Giving initiative by Google? Let us know in the comments below. Get instant updates on TechNadu's Facebook page, or Twitter handle.