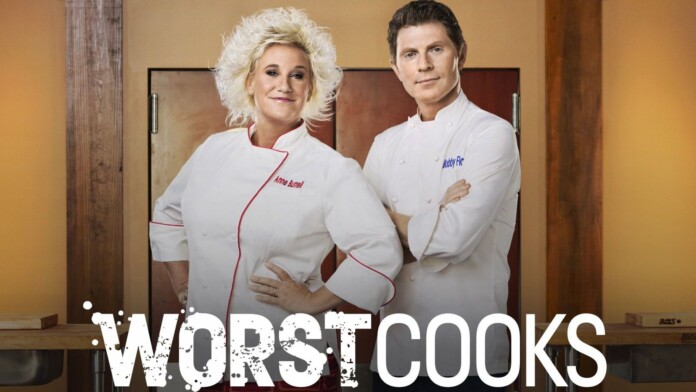 Anytime you say you can't possibly cook, remember that there are people in the United States who thought they were the worst and still managed to learn something when they put their mind to it. The Worst Cooks in America is coming back to the Food Network for a new season, and if you want to watch it online, we're going to help you out.
The first time the Worst Cooks in America aired on the Food Network was back in January 2010. It's been quite a journey since then, but the show is now returning for yet another season so they can maybe convince you that you are not a lost cause in the kitchen.
Season 17 will premiere on August 4th, and it will feature Bobby Flay and Anne Burrell as hosts. The show will take over the 9 PM. time-slot, so you get it to watch before bed. Let's learn more about how you can watch the Worst Cooks in America online.
How to Watch the Worst Cooks in America Online?
For quite a few years now live TV platforms have given people a new way to entertain themselves. Unfortunately for those who often travel abroad, they are unable to take the contents they pay for with them because there are licensing deals in place that prevents them from doing so. As soon as you cross the border, your IP address will give away your location and you will get blocked. Since this whole situation is tied to your IP address, you can easily change it if you simply subscribe to VPN service. We're going to walk you through it.
The first thing you need to take care of is to figure out which VPN you're going to use. We've been reviewing these tools for many years now and we can recommend you go with ExpressVPN which has servers all over the world and tight security and privacy features. So start by visiting ExpressVPN and subscribe to the service.
Then you have to download the app that's right for your device and install it. Follow up by launching the app and logging into your brand new account.
Then you have to look for a server that is located within the United States so we can connect to it.
As soon as the connection is established you can go ahead and load the light TV platform that you chose to watch the Worst Cooks in America on such as Sling TV.
Can You Watch the Worst Cooks in America on the Food Network's Website?
Yes, the Food Network does feature a live stream on its website that you can watch. The thing is you can't access it unless you have credentials from your TV provider, whether that's a cable company or a live TV service. We do think that it's best to go to live TV service, of course, because it will grant you access to a lot more channels and a lot more content.
How to Watch the Worst Cooks in America Without Cable?
We live in the digital era, so it makes perfect sense to also transition to watching TV online. Live TV platforms are not only a lot cheaper than cable plans are, but they also go without contracts, which means you can unsubscribe at any moment in time without any kind of repercussions. We think the best part is the fact that you can start watching your shows wherever you may be when they begin airing which can be at the office or when you're on the bus or on vacation. All you need is a supported device like a smartphone and an internet connection. Let's see what live TV platforms you can watch your favorite show on.
fuboTV – The first one that makes our list is fuboTV, which is a great platform for sports fans but also for families thanks to the recent channel additions. There is only one bundle of channels here called fubo, which features the Food Network. If you want to customize your plan, it's possible to add plenty of channel packs and quite a few premium networks.
Sling TV – The next one that makes our list is Sling TV, which is a great service that comes with three bundles to choose from, namely Orange, Blue, and Orange+Blue. You will find that the Food Network is actually part of all three bundles so you can choose the one you like the most for the channel combination. Do keep in mind that your choice will also influence the number of simultaneous streams you get, with Orange having the least, namely only one, and Orange+Blue having four simultaneous streams. There are plenty of packs with channels grouped by a theme that you can add to your plan as well as premium networks and à la carte channels.
Philo – Another platform to make our list is Philo, which features a single bundle called 58 Channels. The Food Network is part of the bundle, and there's nowhere else it could be because there are actually no extra packs to add or any premium networks to pay for.
Hulu – The next live TV service we're going to put on our list is Hulu which we're pretty sure you've heard of before. The live TV service covers dozens of channels, including the Food Network, as well as access to the video-on-demand library. If you want to make the plan your own, you can add a couple of packs, as well as several premium networks such as Showtime or HBO.
YouTube TV – Next up we have YouTube TV, which is a great service that comes with some neat features for subscribers, such as unlimited Cloud DVR storage space. The subscription price covers access to plenty of networks, including the Food Network. There are no extra packs on YouTube TV, but there are quite a few premium networks.
PlayStation Vue – We also have PlayStation Vue on our list, which is an excellent service with some really great features such as enoughCloud DVR storage space for 500 programs and five simultaneous streams, which is more than we can say about any of its competitors. You will find that there are four bundles to choose from here, namely Access, Core, Elite, and Ultra. The Food Network is part of all four of them, so you get to choose the one that has the rights child combination and the right price. There are only a couple of extra packs that you can add to PlayStation Vue and several premium networks. You will get better prices on these if you are also PlayStation Plus subscribers.
DirecTV Now – The list also features DirecTV Now, which is a service with seven bundles. Two of them were added recently namely Plus and Max, while the other five – Entertainment, Choice, Xtra, Ultimate, and Optimo Mas – have been around for a long time but were given a new name. You won't find the Food Network in the two recently-added packs, but you will find it in the other five bundles. If you're looking to customize your plan a bit, there are a couple of packs featuring Spanish channels, three international packs, and a few premium networks.
Can You Binge-Watch the Worst Cooks in America?
You most certainly can do that because there are 16 seasons that have aired so far and another one is landing on TV soon. You won't be able to do it on the Food Network's website, however, because that one doesn't carry the episodes, but you can watch it on Hulu which features seven seasons.
You also have the option of purchasing episodes or full seasons of the Worst Cooks in America from platforms like Google Play, YouTube, iTunes, Amazon Prime, Microsoft Store, and Vudu. You should check each of the links we provide you with because they may have deals running that might get you access to these for a lot cheaper.
We would love to hear back from you so you can tell us which live TV platform you ended up choosing in order to watch the Worst Cooks in America, as well as plenty of other shows. Please drop us a note in the comments section below the article and share the article online with friends and family so they can find a new way to watch TV. Follow TechNadu on Facebook and Twitter to get access to more tech news, guides, reviews, and interviews.