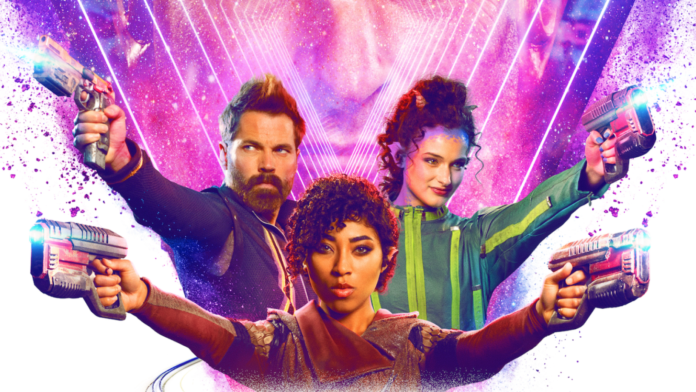 There's a really cool new sci-fi TV series heading for the Syfy network this month, and it's based on the Vault comic book series. Vagrant Queen will premier soon, and we plan to watch the show online, so join us in figuring out what's the best platform to do that.
As mentioned, Vagrant Queen is based on a comic book series written by Magdalene Visaggio. The show features Adriyan Rae as Elida, the main character, as well as Tim Rozon, Alex McGregor, and Paul du Toit.
The story follows Elida, a scavenger and an outlaw, who returns to her broken kingdom and takes on lots of new responsibilities and adventures.
When and Where to Watch Vagrant Queen?
The first season of Vagrant Queen will premiere on SyFy on March 27th. You get to watch new episodes every Friday, starting at 10 PM.
How Can I Live Stream Vagrant Queen?
Watching TV online is something that we all enjoy doing because it's something that gives us loads of freedom to be anywhere we need to be while still keeping up with our favorite content. Thankfully, there are plenty of live TV platforms nowadays that enable us to cut the cord and enjoy watching loads of content anywhere we travel. One of the best ways to watch Vagrant Queen over on SyFy is to subscribe to Hulu, which is a really cool single bundle service. Start your 7-day free trial of Hulu now!
Besides the main bundle, there are also a couple of channel packs that you can add to your subscription, as well as several premium networks, including HBO and Showtime. One of the cool things about subscribing to Hulu's Live TV service is that you also get to watch anything available on-demand on the service. Hulu works on pretty much any device you have at home, including iOS and Android devices, Apple TV, Android TV, Fire TV, Chromecast, Roku, and more. (Note: Hulu is a service that only works in the United States, so if you're traveling abroad, you will need to use a VPN to access any of the content. You can click here to get a step by step guide of how you can enjoy Hulu from abroad.)
Here's how you can watch Vagrant Queen using Hulu:
The first thing to do here is to visit Hulu's Live TV platform website and to tap on the "Sign Up Now" button. You will get redirected to a page where you have to provide your personal information in order to set up an account.
Then, you need to start building up your subscription by choosing the Live TV plan any channel packs you want or premium networks. You can also choose add-ons to help expand the cloudy DVR storage space or the number of simultaneous streams supported by your account.
The last thing they need is to enter your card details so they can bill you when the free trial is complete.
Other Ways to Watch Vagrant Queen Online
fuboTV – fuboTV is a reliable option for those who want to watch TV online because it's a single-bundle service that carries dozens of networks. Start your 7-day free trial of fuboTV now! If you want even more content, they have quite a few channel packs that you can get, as well as several premium networks.
Sling TV – If you want to be able to fully customize your live TV subscription, then you should definitely look into Sling TV, which is is a service that has three bundles available to start with. Syfy is only part of two of them, namely Blue and Orange + Blue, and you need to know there are some differences between these bundles. Obviously, there is a price difference, and they also have different networks, but they also have different perks. Blue subscribers can watch content on up to three devices at the same time, while Orange + Blue subscribers can watch on up to four devices simultaneously. Start your Sling TV subscription with a discount! You then get to customize the subscription extensively by adding any of the channel packs they have to offer or premium networks from the really long list.
How Can I Watch Vagrant Queen When Traveling Outside of the United States?
Traveling right now maybe a little bit difficult, but if you do have to, there are some ways that you can watch the content you do back home. First of all, you need to know that live TV platforms and streaming services are all geo-blocked. This means that your access will get blocked as soon as your IP shows you are no longer in the United States. It can be rather annoying and disrupting, but there are things you can do to fix the problem, such as changing your IP address with the help of a VPN. It will help trick the website into thinking you are back in the United States rather than anywhere else in the world. We can recommend using ExpressVPN because this is a very great tool that has thousands of servers all over the world, which makes it super easy to use.
Here's how you can use ExpressVPN to watch Vagrant Queen:
The first thing you need to do here is to visit the ExpressVPN website (49% OFF) to set up an account. Doing this will only take a few minutes, and then you'll be able to use the tool whenever you need it. You also get to enjoy a 30-day money-back guarantee on ExpressVPN, so you can ask for a refund if there are any issues with your subscription whatsoever.
You now get to download the app and to install it on your device. Launch the tool and log into your account as soon as possible, so you have the app ready at a moment's notice.
Look for a server located in the United States and connect to it.
The app will inform you when the connection has been established, and you can move forward and launch Hulu so you can start watching Vagrant Queen.
Can I Watch Vagrant Queen on the Network's Website
Luckily for you, the Syfy website comes with or live stream that you can access. To do this, however, you will need to use credentials from your TV provider to log into an account. The TV provider in question is one of the live TV services we mentioned above or cable company. (Note: The Syfy live stream is geo-blocked, so if you're going to watch it from abroad, you will need a VPN. You can click here to find out more details about the steps you need to take.)
Can I Binge-Watch Vagrant Queen?
As soon as more Vagrant Queen episodes start piling up, you will be able to enjoy them in bulk on the Syfy website, or maybe even on Hulu, as soon as the show gets uploaded. To watch any of the episodes on the Syfy website, you will still need to log in to an account to unblock the content.
Can I Purchase Vagrant Queen Episodes?
Buying episodes or full seasons of shows, including Vagrant Queen, is possible to do through a series of platforms such as Google Play, YouTube, iTunes, Microsoft Store, Amazon Prime, and Vudu. Make sure you visit all of them after the show airs, in case any has a discount available for you so you can save some money.