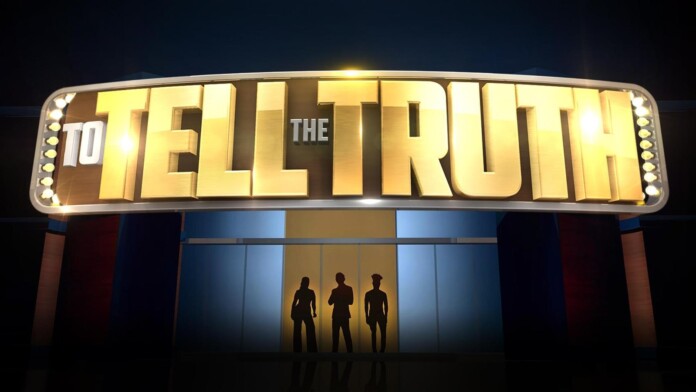 To Tell The Truth is coming back for its fifth season on ABC and the 29th since its conception. We plan to watch To Tell The Truth online, so let's go figure out how we're going to do this.
The first time To Tell The Truth aired was back in 1956. We've had it going from network to network over the years before it finally landed on ABC in 2016. In the newest version, we get celebrities trying to figure out whether certain individuals were telling the truth or not.
On ABC, the show is hosted by Anthony Anderson, whom you know from the black-ish series, and we'll also get to enjoy the commentary and the banter with Anderson's mother, called Mama Doris.
Wh-wh-what's up tomorrow?! An all-new night of game show fun on ABC 😉 #ToTellTheTruth returns tomorrow! pic.twitter.com/I00Utddg5G

— To Tell the Truth (@TellTruthABC) May 20, 2020
When and Where to Watch To Tell The Truth?
To Tell The Truth is returning to ABC on May 21st. New episodes are available starting at 10 PM every Thursday.
How Can I Live Stream To Tell The Truth?
Watching To Tell The Truth online is relatively easy because all these services have become available in the past few years to allow us to watch all the TV we want over the internet. One of our favorite platforms to view ABC content is Hulu, which offers a single bundle of Networks. Start your free trial on Hulu now!
Besides the dozens of channels available in the main bundle on Hulu, you can also add various channel packs and premium networks, so you can have a lot more fun with more content. Another thing we should mention about Hulu is that, when you subscribe to its Live TV service, they also grant you access to the Hulu On-Demand library – so you basically have two platforms at once. There are a ton of Hulu apps that you can get for your devices, including for iOS and Android smartphones and tablets, Apple TV, Android TV, Fire TV, Chromecast, Roku, PlayStation 4, Xbox One, and more. (Note: ABC is one of the few channels that broadcast in select markets only. If you happen to live in an area with no ABC coverage, even over the internet, you can use a VPN to connect to a nearby server and enjoy all the channels available in that particular location – including ABC. Click here to get more details on all the steps you need to take to make this a possibility.)
Here's how you can start your free trial of Hulu:
The first step on your list needs to be visiting the Hulu Live TV website and tapping on the "Sign Up Now" button. These will direct you to a new area where you have to provide personal information in order to set up an account.
You then get to build up your subscription by picking the Live TV plan and adding channel packs you find interesting, as well as premium networks. They also have several add-ons available if you want to expand the cloud DVR storage space capacity or the number of simultaneous streams on your account.
Finally, provide your card details, so they can bill you if you decide to hang on when your free trial is complete.
Other Ways to Watch To Tell The Truth Online
YouTube TV – Another platform that will enable you to watch To Tell The Truth on ABC is YouTube TV, which has a single bundle of networks. There are a ton of channels available here, and only a single bundle you can find them all in. There are no channel packs here, but there are a few premium networks you might want to add. One really cool thing about YouTube TV is that, when you subscribe to the live TV service, you get unlimited Cloud DVR storage space and three simultaneous streams.
How Can I Watch To Tell The Truth When Traveling Outside of the United States?
If you want to watch To Tell The Truth and you are outside of the United States, you should know that you can't do it as easily as you would in the United States because all these services, including live TV and streaming platforms, are all geo-blocked. The blockade is in place because all of them signed deals that clearly indicate they can only stream content within the United States. That being said, you can bypass the situation with the help of a VPN that will change your IP address in a few moments. We recommend ExpressVPN because this is a great tool that has thousands of servers all over the world and some really great privacy features.
Here's how you can use ExpressVPN to watch To Tell The Truth anywhere in the world:
First off, you're going to have to visit the ExpressVPN website and set up an account. Before subscribing to ExpressVPN (49% OFF), we should tell you that they have a 30-day money-back guarantee policy, so if you find there are any issues with your account, you can always get your money back.
Download the app for your device and install it. Launch the tool and log in to your account, so the app becomes available to use at a moment's notice.
Look for a server located in the United States and connect to it.
When the connection is established, you can go ahead and launch Hulu so you can start watching To Tell The Truth on ABC.
Can I Watch To Tell The Truth Live on the Network's Website?
If you want to watch To Tell The Truth live on the ABC website, you will be able to do that because there is a live stream available. In order to access this live stream, you need to log in to an account, for which you'll need credentials from your current TV provider. You can use the credentials from the live TV platforms we mentioned above or those from a cable company. The only condition is that your TV subscription includes access to ABC content. (Note: The ABC live stream is also geo-blocked, so if you're going to access it from abroad, you should keep in mind that you will need to use a VPN. You can click here to get all the details you need to have to make this possible.)
Can I Watch To Tell The Truth With a TV Antenna?
Watching To Tell The Truth with a TV antenna shouldn't be a problem because ABC is one of the few channels that broadcast over-the-air. It means that you can easily use a TV antenna to watch all the content. Thankfully, TV antennas are relatively cheap, so you shouldn't have any issues with buying one.
However, before you make a purchase, you should visit a site like NoCable so that you can check whether or not ABC broadcasts in your specific region. If the answer is yes, you should also look at the other nearby broadcast stations to discover how far from your home they are. Based on this information, you'll be able to figure out what range your device should cover so that you can watch all the networks in your vicinity. Make sure you also check the devices we included above in case they have the features you need.
How Can I Binge-Watch To Tell The Truth?
If you want to binge-watch To Tell The Truth, you should go ahead and check the ABC website and see what episodes they have available. The show will also likely become available to stream on Hulu, so you can check there as well.
Can I Purchase To Tell The Truth Episodes?
We've already mentioned that To Tell The Truth has been available for a really long time, and you will be able to find many of these seasons up for sale on multiple platforms, such as iTunes, Microsoft Store, and Amazon Prime. Before you buy anything, you should visit them all to check whether any of these services has deals for the specific content you're looking to buy.