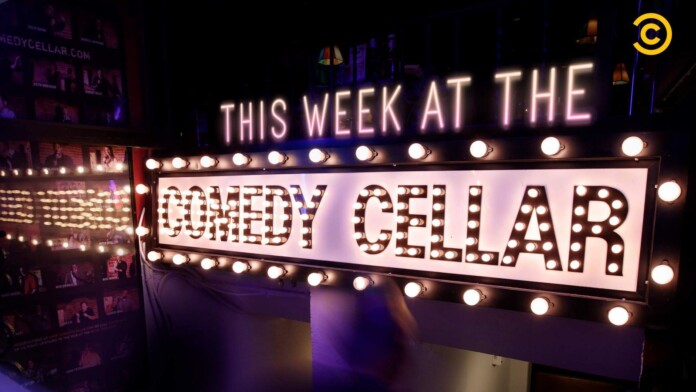 If you're a fan of stand-up comedy, you have undoubtedly heard of the Comedy Cellar which is a club in New York City where everyone who's anyone in the business has gone on stage. The Comedy Central channel features a show that's called This Week at the Comedy Cellar that puts the spotlight on rising stars and established legends equally. If you want to watch the show online, we can give you a helping hand.
Among the regular performers at the Comedy Cellar are Dave Chappelle, Aziz Ansari, Jon Stewart, Chris Rock, Kevin Hart, Amy Schumer, Sarah Silverman, and many many others. Basically, if you get to go on stage at the Comedy Cellar you may be onto something and paving your way towards fame.
The first time This Week at the Comedy Cellar aired was back in 2018, and the show is now returning for a second season. In fact, the new episode will start airing on July 19th, and you can catch them both online and on TV. The season will air at 11 p.m., so you just need to pick the right platform to watch the channel and tune in at the right time.
How to Watch This Week at the Comedy Cellar Online?
For quite a few years now, we have all discovered how comfortable watching TV online can be, so it's no surprise that these platforms have become quite popular. Unlike other online tools, however, you can't watch these when you go abroad, which can be quite annoying for many people. On the other hand, this happens due to the existence of licensing deals, so they're pretty standard. To circumvent the geographical blockade you need to look for a VPN service to subscribe to so you can easily change your IP address to trick the system.
The first thing you need to do is to pick a VPN service that will work for your needs. We can recommend going for ExpressVPN which is easily one of the best tools of this kind on the market. Start by visiting ExpressVPN so you can subscribe to the service.
Then you can download the app that's right for your device and install it. Follow up by launching the app and logging into your account.
Then you need to find a server that's located within the United States and connect to it.
When the connection is established, you can move forward and load the live TV platform that helps you watch the Comedy Central channel, such as Sling TV.
Can You Watch This Week at the Comedy Cellar on Comedy Central's Website?
Yes, that is possible because Comedy Central's website features a live stream that you can access. In order to actually get access to this, however, you're going to need to log into an account with the help of your credentials from the TV provider of your choice. The TV provider can be either a cable company or a live TV service, but your plan needs to feature the Comedy Central. We suggest you subscribe to a live TV service because that will make it easier for you to watch This Week at the Comedy Cellar as well as other Comedy Central shows.
How to Watch This Week at the Comedy Cellar Without Cable?
People love watching TV on the Internet because it makes their lives easier. Live TV platforms are not only cheaper than cable plans are, but they are also free of contract, so you can unsubscribe at any given moment. The best part, however, is that you can watch TV wherever you may be, as long as you have as little as a smartphone and an internet connection. Let's see what platforms can help you watch This Week at the Comedy Cellar.
fuboTV – First on our list is fuboTV, which is a platform that was built with sports lovers in mind, giving that it features dozens of dedicated channels. The main bundle is called fubo and it features the Comedy Central, along with dozens of other channels. If you want to customize your platform, you can add loads of channel packs and several premium networks.
Sling TV – We continue our list with Sling TV, which is one of the most versatile platforms, with three bundles to choose from called Orange, Blue, and Orange+Blue. When looking for Comedy Central however your choices will be limited to the Blue and Orange+Blue bundles. Keep in mind that the bundle you're going to choose will influence the number of simultaneous streams you're going to be able to enjoy here, with the Orange + Blue bundle giving subscribers the possibility to watch on for different devices at once. If you need to customize your plan, you can add plenty of channel packs and several premium networks and à la carte channels.
Philo – The next item on our list is Philo, which is a single-bundle platform that is pretty simplistic. There is a single bundle here called 58 Channels which costs $20 per month and, of course, you're going to find Comedy Central. There are no customization options on Philo, meaning that there are no extra packs, no premium networks, and not even any extra features to add.
DirecTV Now – We also have DirecTV Now on the list, which is the platform that is quite versatile thanks to the large number of bundles subscribers can choose from. Two of these bundles were added earlier this year, namely Plus and Max, while the other five bundles have been around for a lot longer but were given a new name and the new price. These are called Entertainment, Choice, Xtra, Ultimate, and Optimo Mas. You will find the Comedy Central on most of these bundles, namely on Plus, Max, Entertainment, Choice, Xtra, and Ultimate. If you want to further customize your plan, it is possible to add a couple of packs featuring Spanish channels, three international packs, and several premium networks.
Can You Binge-Watch This Week at the Comedy Cellar?
The first season of This Week at the Comedy Cellar is already available on Comedy Central's website so you can watch them all whenever you feel like it. In order to do this, you will have to log into an account for which will need credentials from your TV provider. All the live TV services we already mentioned that featured Comedy Central, mainly fuboTV, Sling TV, Philo, and DirecTV Now can be used to log into the Comedy Central.
There is also the possibility of purchasing the episodes and the full seasons of this week at the comedy cellar through various platforms such as Google Play, YouTube, iTunes, Microsoft Store, Vudu, Amazon Prime, and will do. You should make sure to check all the links be provided you with because the platforms may run various deals which will get you a better price.
We would love to hear back from you so you can tell us which live TV platform you chose to watch Comedy Central and implicitly This Week at the Comedy Cellar. Please drop us a note in the comments section below the article and share it with friends and family so they can find a new way to watch the show as well. You can also follow TechNadu on Facebook and Twitter to get more tech news, guides, reviews, and interviews.