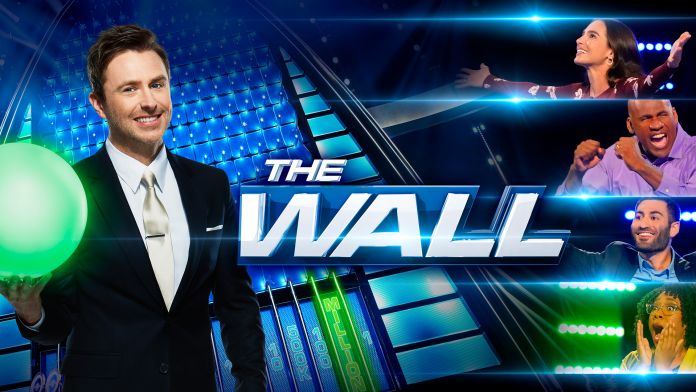 Game shows are all the rage during the summer months as everyone is looking for lighter content to watch, and The Wall is exactly that kind of show. If you want to watch The Wall live online, we know just how you can do that.
The Wall is an NBC game show that first aired back in 2016. The show is hosted by stand-up comedian and actor Chris Hardwick. Since the first two seasons each had 20 episodes each, the third one will follow suit. The Wall comes back to the small screens on June 20 on NBC at 8 PM.
Let's get this money! 🤑 #NBCTheWall is BACK for another season. pic.twitter.com/W75MpxYJ1u

— The Wall (@NBCTheWall) May 12, 2019
The show features a 40 ft pegboard with 15 slots in the lower part where various dollar amounts are marked. Contestants can drop the ball if they answer a trivia question correctly, and depending on where the ball drops, they get a certain amount of money, or they can lose it all. The potential top prize is of over $12 million.
How to Watch The Wall Online?
Nowadays, we can watch loads of content online, from all corners of the world. When it comes to Live TV platforms and streaming services, there are some limitations, however, since licensing deals can't permit broadcasts to take place outside the US. The geoblock is strictly tied to a person's IP address, however, and those are super easy to change. In fact, all you need to do is to subscribe to a VPN service which will help change your IP so you appear to be within the United States. Here's what you need to do.
First, you have to figure out which VPN is the right one for you. We've reviewed dozens of these tools over the years, so we can confidently recommend you go for ExpressVPN. This one has thousands of servers across the world and tight security features, which makes it a perfect choice. Start with a visit to ExpressVPN's website where you can subscribe to the service by following the steps described by the site.
Next, you can download and install the app that's right for your device. As soon as the process is complete, you can launch the app and log into your account.
You can now search for a US-based server – there are dozens of those available. When you find your favorite, simply connect to it.
As soon as the connection is established, you can load the live TV platform you chose to watch The Wall on, such as Sling TV. Tune in to NBC at the right time and see if the contestants manage to leave home with any money.
Note: This is a show that's broadcast by NBC, which means you may have some issues with actually watching NBC. The channel is available in "select markets" which means that you may even be unable to watch the show, depending on where you live. If that happens, you can use the above-mentioned VPN to connect to a server that's located in a city that does "get" NBC, such as New York City, or Chicago. Connect to that one and the platform should serve you channels available in that particular location instead.
Can You Watch The Wall on NBC's Website?
You sure can. NBC features a live stream on its website where you can enjoy the show. What you need to keep in mind, however, is that you need credentials to log in. So, even if you can access the stream, you still need to use credentials from your TV provider, whether a cable company or a live TV service. Since we're looking into how to watch The Wall live online, we do suggest you subscribe to a live TV service anyway.
How to Watch The Wall Without Cable?
It's great that you can watch TV online nowadays since you get so much freedom when you do this. Plus, live TV subscriptions are far cheaper than cable is, and you get to cancel your subscription whenever you no longer like the platform or your budget no longer permits. Of course, you can also watch TV wherever you may be as long as you have your smartphone, at the very least, and an Internet connection.
fuboTV – At the top of the list, we have fuboTV, which is a great single-bundle platform that mainly focuses on sports channels, but has recently expanded its entertainment portfolio. The single bundle is called fubo and includes dozens of channels, including NBC. In the event that you want more content, you can add loads by choosing from the one's fuboTV offers, or any of the premium networks.
Sling TV – We have Sling TV next, which is a platform that offers loads of customization options. You can start off by choosing one of the three bundles they offer – Orange, Blue, and Orange + Blue. More content is available by adding the many channel packs they offer, or the premium networks. NBC is a major channel that is present in the Blue and Orange + Blue bundles. We do suggest you go for the latter, however, since the bundle you choose is tightly tied to the number of simultaneous streams you get to watch the content on.
Hulu – We have Hulu next, a great platform that we're pretty sure you're familiar with. The live TV bundle costs $44.99 per month and includes access to dozens of channels, as well as the full Video on Demand library that Hulu is famous for. NBC is present in the main bundle, but if you do want more content, you can find some in the channel packs they offer, or via the premium networks, you can add to the subscription.
YouTube TV – Another single-bundle platform we are particularly fond of is YouTube TV, which comes with some great features served to subscribers, such as unlimited cloud DVR storage space. NBC is part of the main bundle since there is no other way to add channels, no extra packs at all. There are, however, a bunch of premium networks available for those who want more.
DirecTV Now – We have DirecTV Now next, a versatile platform with seven bundles to choose from. Two of the bundles were added in Spring this year, namely Plus and Max, while the other five have been around for a very long time, but they were renamed to Entertainment, Choice, Xtra, Ultimate, and Optimo Mas, and given a much larger price tag. NBC is a channel that is present in all seven bundles, so you can pick the one that has the right channel combo or the right price for your monthly budget. There are some extras you can get, such as the two packs featuring Spanish channels, the three international packs, or the premium networks.
PlayStation Vue – We also have PlayStation Vue on the list – a great service that we particularly enjoyed during the review period because it offers subscribers some great features, such as enough cloud DVR storage room for 500 programs, or five simultaneous streams. There are four bundles to choose between – Access, Core, Elite, and Ultra. NBC is part of all four bundles, so simply pick the one you like best. There are two packs you can add if you need even more channels or quite a few premium networks. If you're a PlayStation Plus subscribers, you'll get better prices for some of these add-ons.
Can You Watch NBC With a TV Antenna?
Absolutely. NBC is one of the few channels that still broadcast over the air, so you can watch it if you have a TV antenna. Cord cutters have been particularly fond of these devices over the years because they are cheap and you get to watch TV for free. The only downside we can find is that you only get to enjoy a couple of dozens of channels, but since it's free, you don't get to complain too much.
No products found.
Before you make any decisions, however, we do suggest you visit a site like NoCable which will tell you which channels are available over the air in your particular area. Plus, you'll also find out how strong their signal is, which should help you figure out what range to look for in an antenna. We've already given you a recommendation – an antenna that is well viewed by users – but you can do your own research, of course.
Can You Binge on The Wall?
Right now, The Wall episodes aren't present on the NBC website, although they were not too long ago. Quite likely, they will return to the page when The Wall's third season premieres. As it is, new episodes will become available for free for a limited time period and you won't even have to log into an account to watch them.
We can't wait to hear all about the platform you ended up choosing to watch TV on from here on out. So, please drop us a note in the comments section below. Share the article online if you have the time and follow TechNadu on our socials – Facebook and Twitter – for more guides, reviews, tech news, and interviews.