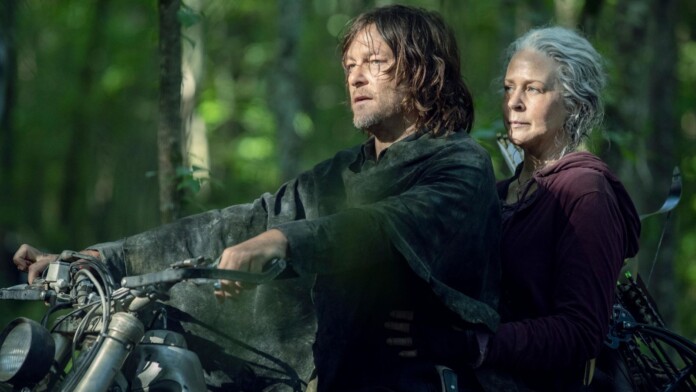 There seems like there is no end in sight for The Walking Dead, which can only be good news for the fans of the show. As the new season of the show begins, we are eager to watch it all online and find the best platform to do it all.
The Walking Dead first premiered back in 2010 and it has been a growing franchise, with multiple spin-offs, and a ton of games and the whole culture that has grown around the show.
Even in a forest fire Michonne looks like a badass 😍 #TheWalkingDead pic.twitter.com/TezmcrDyyv

— The Walking Dead (@TheWalkingDead) October 7, 2019
Even though they're barely in the 10th season, the producers of the show are planning to keep it going for at least another 10 seasons. That being said, their dreams might even come true because the show has already been renewed for an 11th season before the current one even started.
When and Where to Watch The Walking Dead?
The 10th season begins on October 6th and it will air on AMC, starting with 9 PM. Therefore, the show is taking back its Sunday evening crown and inviting everyone to join in and watch the new episodes even after the serious changes that took place in season nine, such as the departure of one of the show's main characters, namely Rick Grimes, played by Andrew Lincoln.
How Can I Live Stream The Walking Dead?
In this day and age, it is easier than ever to watch TV online, including shows that are broadcasted by AMC. In fact, we advise you to check out fuboTV, which is one of the best platforms that will get you to enjoy The Walking Dead online. Start your 7-Day free trial on fuboTV today! One of the best parts about this service is that it has over 100 channels in its main bundle.
If you want to add more content, especially sports networks, you can definitely add more channel packs and premium networks. fuboTV is a service that works on a wide range of devices, including Amazon Fire TV, Android TV, Apple TV, Chromecast, Roku, Samsung Smart TVs, as well as iOS and Android phones and tablets. (Note: fuboTV is a great service that will only help you watch the shows when you are within the United States. If you happen to travel abroad you're going to need to use a VPN to access any of the content. Click here to learn how you can do this in just a few steps.)
Here's what you need to know to start your 7-Day free trial on fuboTV:
The first thing you have to do is to visit fuboTV's website and tap the big "Start free trial" button that you can find on the page.
Then, you have to start creating your account by providing your email address and a password. Alternatively, you can also use social login buttons from Facebook and Twitter.
Then, you have to pick the bundle that you want to go for. fubo Standard is the main, one with over 100 channels and nothing more. The Family, Family Deluxe, and Premium plans include the fubo Standard bundle and extra features that you can get for a better price.
You now can customize your platform by adding any of the available channel packs and premium networks, as well as add-ons to expand your storage space or to add another screen to watch TV on.
You can then fill in your credit card details so they can start up the payment process. You won't actually get billed until the 7-Day free trial is complete.
Other Ways to Watch The Walking Dead
Sling TV – Another platform that you can check out is Sling TV, which features AMC in all of its three bundles – Orange, Blue, and Orange + Blue. Your choice regarding the bundle will also influence the number of devices you can watch content on, as the Orange subscribers only get one screen, Blue subscribers get three of them, and Orange + Blue subscribers get to watch four simultaneous streams. Start your Sling TV subscription by saving 40% OFF the first month. You can also customize your plan extensively by adding channel packs based on your preferences, and premium networks.
Philo – You can also check out Philo, which only has one bundle of channels and it features 58 channels, including AMC. Start your 7-day free trial on Philo today! There are no channel packs to add here, and no premium networks or add-ons, so what you see is what you get.
What Can I Do to Watch Walking Dead Outside of the United States?
One thing that you may have already noticed is that when you travel abroad is you do not have access to the same things you do when you are at home. Live TV platforms and streaming services must respect licensing deals so they cannot grant you access to the platforms when you are not within the United States. This can be quite inconvenient, but there are ways to overcome the problem by using a VPN to change your IP address and trick the site into thinking you're still in the United States. We only recommend the very best, so you can check out ExpressVPN for the job.
Here is what you need to do to use ExpressVPN to watch The Walking Dead when traveling outside of the United States:
First, you have to visit ExpressVPN and subscribe to the service (49% OFF). The whole process only takes a few minutes and you should keep in mind that they offer a 30-day money-back guarantee so you can ask for a refund if the service does not suit your needs.
You then have to download the app that was made for your device and to install it. Launch the tool and login to your account as soon as possible.
You can then pick a server that is located in the United States and connect to it.
When the connection is established you can load fuboTV and start watching The Walking Dead on AMC.
Can I Watch The Walking Dead on the AMC Website?
That is something that you can do because the AMC website features a live stream that you can access. In order to do this, you have to log into an account by using credentials from your TV provider. The provider can either be a live TV service or a cable company, but the AMC needs proof that you are paying for a subscription somewhere that includes their channel. (Note: The AMC website and live stream are geo-blocked, so you will have to use a VPN to bypass the problem. Click here to learn how you can do this.)
Can I Binge-watch The Walking Dead?
That is something that you can do because The Walking Dead is present on the AMC website, at the very least with a few episodes. You can also check The Walking Dead over on Netflix and binge all the episodes there.
Can I Purchase Walking Dead Episodes?
That is something that you can do because The Walking Dead episodes are available to buy from platforms like Google Play, YouTube, iTunes, Microsoft Store, Amazon Prime, or Vudu. You should check all the links before making any purchases because they may have better deals available for you, and get to save some money.
We would love to hear back from you so you can tell us which platform you chose to watch The Walking Dead on, and what you hope to see in this new season. Drop us a note in the comments section below the article. Share the article online with friends and family and follow TechNadu on Facebook and Twitter for more tech news, guides, reviews, and interviews.