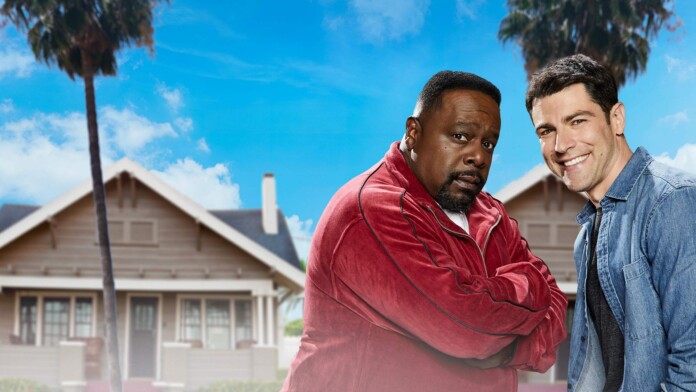 If you're ready to watch the second season of The Neighborhood, then we suggest you start watching online this year. With the premiere coming soon, let's get ready and find out the best way to do this.
The Neighborhood premiered back in October 2018, and it was renewed before the first season even ended, marking the success of the show.
Season and Series Premieres begin on Monday, September 23 on @CBS. Well alright! #TheNeighborhood pic.twitter.com/llWNhwDy3k

— The Neighborhood (@TheNeighborhood) September 5, 2019
The show follows a white family moving into a neighborhood in Los Angeles that has mostly African-American residents. Extremely neighborly, Dave Johnson (played by Max Greenfield), has to deal with lots of new people who don't always appreciate his way of being. Cedric the Entertainer plays Calvin Butler, his next-door neighbor.
When and Where to Watch The Neighborhood?
The second season of The Neighborhood will premiere on September 23rd, 2019, and it will air on Mondays at 8/7c on CBS. It is unclear exactly how many episodes the show will have this season, but given how the first one featured 21 episodes, we think it's going to be along the same lines.
How Can I Livestream The Neighborhood?
Watching The Neighborhood online is one of the easiest things you can do nowadays, especially since there are so many platforms that can help you out here. Since this is a CBS show, you'll be able to easily stream The Neighborhood by using CBS All Access. The platform provides people with access to the full live stream, as well as the on-demand library, which is quite impressive given the large number of shows signed by the network.
There are two plans you can get, as you can either pay $5.99 per month and watch some ads, or $9.99 and avoid the ads completely. CBS All Access has apps for Apple TV, Android TV, Google Chromecast, Fire TV, Samsung Smart TVs, Roku, iOS and Android smartphones and tablets, PS4, Xbox One, PlayStation 4, and it also works on Windows 10. (Note: CBS All Access is a platform that only works in the United States, so if you travel abroad, you're going to have to use a VPN if you want to watch the content you paid for. Click here to learn how to do this easily!)
Here is what you need to do to set up an account and start your 7-day free trial on CBS All Access:
Start by visiting CBS All Access and tapping on the big "Try It Free" button.
You'll get redirected to a page where you have to choose whether you want the "Limited Commercials" plan or the "Commercial Free" plan. The latter also comes with the ability to download videos and play offline. Both come with a 7-day free trial. If you'll choose to pay for the full year, you'll get 15% OFF – $59.99 for the Limited Commercials plan and $99.99 for the Commercial Free plan.
Now it's time to fill in your account details – name, address, city, state, zip code, as well as the credit card number, expiration date, and CVV. If you have any coupons you can add them in here.
Tap on "Start CBS All Access" button and you can enjoy the service. You won't get billed until the free trial is over.
That's it! Go and enjoy watching The Neighborhood and all other CBS shows live!
Other Ways to Watch The Neighborhood on CBS
Amazon Prime – One of the ways you can add CBS All Access is by adding the channel to your Amazon Prime subscription. The subscription price is the same here as if you were to subscribe individually, but you'd only pay a single bill like this for both Amazon and CBS. Start your 30-day free trial on Amazon Prime!
fuboTV – We have fuboTV next, which is a single-bundle platform featuring about a hundred channels, and CBS is part of the deal. You can customize your plan by adding channel packs and premium networks, as well as extra features like the possibility to add an extra screen to watch on, or the possibility to record up to 500 hours of video to the cloud. Start your 7-day free trial on fuboTV!
AT&T TV Now – We have AT&T TV Now, which was formerly known as DirecTV Now. The platform comes with seven bundles – Plus and Max were added earlier this year, while Entertainment, Choice, Xtra, Ultimate, and Optimo Mas were given price upgrades and new names. CBS is part of all seven bundles, so you just have to choose the one you like best.
How to Watch The Neighborhood When I Am Outside of the United States?
Whether we're talking about live TV platforms or streaming services, they all have to abide by licensing deals. This usually translates into being unable to watch content when traveling abroad because your access to the sites is blocked. The issue can be bypassed quite easily by using a VPN to change your IP address so the site thinks you are in the United States. On TechNadu we only recommend the very best, so you should look into ExpressVPN, which has thousands of servers and top security and privacy features.
Here is everything you need to do to bypass the geographical blockade and watch The Neighborhood from whatever corner of the world you may be in:
First, you need to subscribe to ExpressVPN (49% OFF) after visiting their website and walking through the steps to get an account. The platform offers a 30-day money-back guarantee, so you can always ask for a refund if you don't enjoy the service.
Now it's time to download the app that is right for your device and install it. Launch the app and log into your new account.
ExpressVPN features a couple of dozens of US-based servers, so pick one of them to connect to.
Once the connection is established, you can load CBS All Access and go watch the show!
Can I Watch The Neighborhood on the CBS Website?
Well, the CBS website no longer features a live stream for you to enjoy, so you'll need to subscribe to CBS All Access or choose one of the live TV platforms we mentioned. (Note: CBS is a channel that is available in select markets so if you happen to live in an area that does not have access to the channel, you can use the VPN to connect to a server located in a city that does have CBS coverage. When connected, the site will provide you with access to the channels that are available in that specific area instead. Click here to find out how to do this.)
Can I Watch The Neighborhood with a TV Antenna?
Yes, that is something that you can do, but it does depend on where you live. CBS is a channel that continues to broadcast over the air so you'll be able to use an antenna to watch. TV Antennas are super easy to use and they're relatively cheap to purchase, which makes them easy favorites among cord-cutters. Plus, you can watch dozens of TV channels for free, so what's not to love?
We suggest you visit a site such as NoCable before making any purchases to see whether or not CBS is an option in your particular location. The site will also give you information about how far off the broadcast signal comes from, so you'll get to figure out what range you need in an antenna. We already gave you a suggestion in terms of antennas, but you can do your own research if you want more options.
Can I Binge-Watch The Neighborhood?
With the second season of The Neighborhood heading our way, there's no surprise that you'd want to watch the show's previous seasons. You'll find that you can stream the episodes on CBS All Access if you want. Unfortunately, the show isn't present in any of the more famous streaming services like Netflix or Hulu.
There's also the option of purchasing the episodes from platforms like Amazon Prime, Google Play, YouTube, Vudu, iTunes, and Microsoft Store. You should make sure to check all the links before making any purchases as they may have better deals to offer so you'll save some money.
What platform did you choose to watch The Neighborhood on? Drop us a note in the comments section below the article and share it with friends and family so they can find a better way to watch The Neighborhood online too. Follow TechNadu on Facebook and Twitter for more tech news, guides, reviews, and interviews.