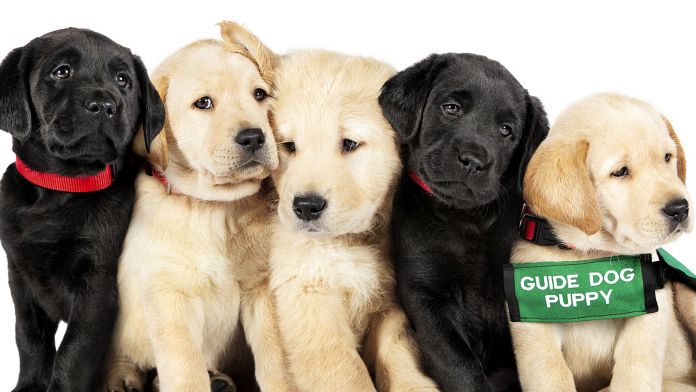 So, who wants to watch some puppies get trained to become guide dogs? All of you? Great, because Disney+ is getting exactly this type of show right before Christmas. We are planning to watch Pick of the Litter online, and we will teach you how to do it too.
Pick of the Litter is a docu-series that will follow six puppies as they are trained to become guide dogs. Becoming a guide dog is not only something that puppies are trained for, but it's also something that lies in their personality.
This season we will watch Pacino, Tulane, Paco, Amara, Raffi, and Tartan take on the training and try to become a guide dog over 20 months. Of course, surprises are everywhere, and the pups suddenly start to do something they weren't supposed to be doing and showing behaviors that they hadn't shown before, which makes things a bit too difficult for our trainers.
When and Where to Watch Pick of the Litter?
If you're going to watch Pick of the Litter, you can head over to Disney+. The show will premiere on the network on December 20th, so you still have a little bit more waiting to do. Nonetheless, you can get excited about the show already. It's unclear exactly how many episodes the show will have, but we are going to get them once per week, just like with all the other Disney+ Originals.
How Can I Live Stream Pick of the Litter?
Pick of the Litter is a show that was specifically created for Disney+, so the only way that you can watch it is by subscribing to the brand new service. Disney+ launched on November 12th in the United States, Canada, and The Netherlands, and on November 19th in Australia and New Zealand. US customers will have to pay $6.99 per month or $69.99 per year to get Disney+. The price will vary depending on the country you live in. US customers also have the option of picking a bundle that includes Disney+, Hulu, and ESPN+ for just $12.99 per month. Start your 7-day free trial on Disney+ today!
The great news about Disney+ is that it works with pretty much any device that you have at home. There is a dedicated app available for Roku devices, Apple TV, Android TV, Amazon Fire TV, iOS and Android phones and tablets, Chromecast, Xbox One, and PlayStation 4. You can also watch from your computer, on your browser. (Note: One thing that you should be aware of is that each market gets its own shows and movies, so not all of the content that is available in the United States is available where you live. Therefore, you should check your platform to see whether or not the show you want to watch is available there.)
Here's how you can set up your Disney+ account:
The first thing you need to do is to visit the Disney+ page so you can press on the "Start free trial" button. US customers can also go for the bundle that includes Disney+, ESPN+, and Hulu.
You will then be required to provide an email address and to set up a password so you can create your account.
Then, you will have to set up your payment details. This means you either pick whether to pay for the service once per month or for the full year. You can also choose between using your credit card or your PayPal address to start your subscription.
You are now ready to start watching Pick of the Litter as soon as the show becomes available.
How Can I Watch Pick of the Litter When Traveling Abroad?
Since Pick of the Litter is a show that is set to premiere right around the Holidays, we completely understand if you won't be home, and you'll be traveling abroad instead. The problem when you do this is that live TV platforms and streaming services such as Disney+ will not allow you to access the content when you're traveling. This happens because there are licensing deals in place, and they haven't opened up the content for other countries.
The bad part is that your access will get restricted too, even if you have an account set up on Disney+. The issue can be fixed relatively easy by using a VPN to change your IP address so that you appear to be in the United States. We can recommend you use ExpressVPN because it's easily one of the best tools on the market, and it will enable you to choose servers from the United States, Canada, The Netherlands, Australia, and New Zealand.
Here's how you can set up ExpressVPN so you can enjoy watching Pick of the Litter anywhere you may go:
The first thing you're going to have to do is to visit the ExpressVPN (49% OFF), so you can start your subscription. The whole process will only take a couple of minutes of your time, and then you will be good to go. You should also probably know that ExpressVPN offers a 30-day money-back guarantee, so if you don't enjoy the service for any particular reason, you can ask for a refund.
Then, you will need to download the app that was created for your device and to install it. Once the process is complete, you can launch the tool and log into your account.
It's then time to look for a server that is located in the country where you created your Disney+ account.
As soon as the connection has been established, you can go ahead and launch Disney+ so you can start watching your new favorite show.
Are There Other Ways to Watch Pick of the Litter?
Unfortunately for everyone, this show is created specifically for Disney+, which means that this is also the only way that you can enjoy it. When the show starts airing, we're going to be able to check whether or not its episodes are available to purchase so you can own them. So far, the shows that have already appeared on Disney+ are not yet available for purchase, but that may change at a later time.
We cannot wait to hear back from you, so you can tell us how you find Disney+ to be. Drop us a note in the comments section below the article, and share it with friends and family so they can read it too. Follow TechNadu on Facebook and Twitter for more tech news, guides, reviews, and interviews.