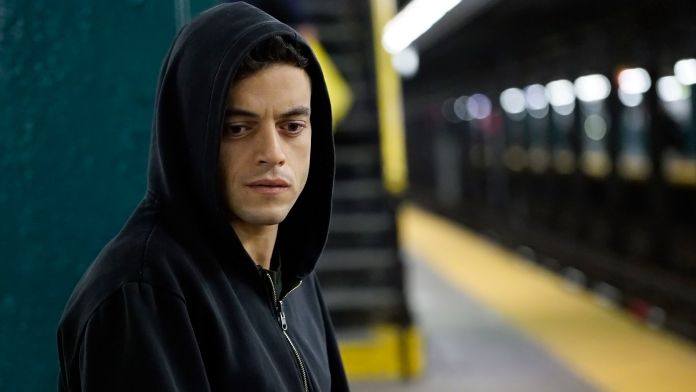 Mr. Robot is having a last run on TV screens this fall, as it returns for the fourth and final season. We're planning to watch the show online, and we hope you'll join in too.
Mr. Robot is a critically acclaimed show that already won the Golden Globe for Best TV Drama Series, received six Emmy nominations, and more. In the meantime, show star Rami Malek has already snubbed an Oscar for his portrayal of Freddie Mercury in Bohemian Rhapsody.
It's our last chance to save the world, friend. The Final Season of #MrRobot premieres 10.6 on @USA_Network. pic.twitter.com/1hG9UOs6PJ

— Mr. Robot (@whoismrrobot) August 27, 2019
Malek portrays Elliot Alderson, a young man who is a cybersecurity engineer that struggles with social anxiety, dissociative identity disorder, and depression. He connects to people by hacking them, and he's a sort of cyber-vigilante. His character goes through a lot during the three seasons that have aired so far, and we expect the final one to be just as exciting, although not many details have been released yet. The trailer isn't helping much either.
The show first aired on June 2015, so it's been a bit of a journey. This particular season has been on pause for quite some time, especially since the third one had its finale in December 2017. Given the time-gap, people were expecting the fourth season sometime in 2018, but we guess late is better than never.
When and Where to Watch Mr. Robot?
The show has been on the USA Network for a few years now and it's now returning to the small screens. Mr. Robot will land back on TV on October 6, so you'll be able to watch the new episodes on Sundays at 10 PM.
How Can I Live Stream Mr. Robot?
Watching TV online is the way to go nowadays, and fuboTV is a great option for anyone who's looking to find a better way to consume shows and other TV content, so go ahead and start your 7-day free trial of fuboTV. fuboTV was built as a way for football fans to watch games online, but in the years since its launch, it has evolved past this, adding loads of family-friendly channels. USA Network is part of the many channels available here, so you get to enjoy Mr. Robot easily.
fuboTV's main bundle is the one that features USA Network, but if you want to add more content, know that there are plenty of extra packs that you can add. The subscription also includes access to two simultaneous streams and the ability to record up to 30 hours of video to the cloud. fuboTV works on pretty much all your devices, except gaming consoles – Amazon Fire TV, Android phones and tablets, Android TV, Apple TV, Google Chromecast, iOS phones and tablets, Roku, and Samsung Smart TVs.(Note: fuboTV and all other live TV platforms are only available in the United States. If you plan to go abroad and still want access, you're going to need the help of a VPN to bypass the blockade. Here's how you can do that.)
Here's how to sign up for fuboTV's 7-day free trial in order to watch Mr. Robot online:
Visit fuboTV's website and tap the big "Start Free Trial" button at the top right corner.
Next, you need to use your email address to sign up for an account. Provide a strong password (here's how to create one, if you need help) or use the Google or Facebook social login buttons.
Pick the plan you want to go with. Fubo Standard is the easiest and cheapest solution, offering the bare-bones main bundle. Family, Family Deluxe, and Premium bundle up the main pack with extra packs, premium networks, and extra features.
After picking the Standard pack, you can add extra features if you want. It's possible to expand your cloud DVR storage space to 500 hours and to add another screen to watch simultaneously on.
Once you've made up your mind, you can complete the purchase by filling in your card details. Start your fuboTV 7-day trial now!
You're all set! Let's watch Mr. Robot online!
Other services That Can Help You Watch Mr. Robot
Sling TV – This one's a great platform that features three bundles, with the USA Network present in two of the bundles – Blue and Orange + Blue. Start your 7-day trial! You'll also be saving money right now, as they offer 40% off for the first month.
PlayStation Vue – One of our favorites is PlayStation Vue, where USA Network is present in all four bundles. Subscribers can enjoy some great features, like the ability to watch content on up to five devices at once and to record some 500 programs to the cloud.
What Can I Do to Watch Mr. Robot When Outside of the United States?
Sometimes, when we see how easy it is to watch content like Mr. Robot online, we take these services for granted and believe they'll work everywhere we go. Unfortunately, whether we're talking about fuboTV, Sling TV, or PlayStation Vue – these services are all geoblocked due to licensing deals. As soon as you go outside of the US, you need to use a VPN service to change your IP address in order to trick the site into thinking you're still in the US. ExpressVPN is one of the best VPNs tools on the market, and the only one we recommend our readers.
Here's what you need to know to bypass the geo-blockade in order to watch Mr. Robot outside of the US.
First, you must subscribe to ExpressVPN (49% OFF) after visiting the service's website. ExpressVPN features thousands of servers all over the world, and dozens in the US alone. There's a 30-day money-back guarantee so you'll get your money back if you don't like the service.
Download the app for your device and install it. Launch the tool and log into your account.
Pick a server that's located in the US and connect to it. It should only take a few seconds.
When the connection is established, load fuboTV and tune in to USA Network to watch Mr. Robot.
Can I Watch Mr. Robot on USA Network's Website?
USA Network's website does feature a live stream so you can watch Mr. Robot live on their site. In order to gain access to this stream, however, you'll need to log in to an account by using credentials from your TV provider, including fuboTV, Sling TV, and PlayStation Vue, but also cable providers if you have yet to join the cord-cutters ranks.
They also have an app if you want to check out live streams and video-on-demand content when on the go. The USA Network app works on iOS phones and tablets, Android phones and tablets, Apple TV, Roku, Xbox One S, and Amazon Fire TV. The app also requires your TV provider credentials to log into an account. Both the site and the app are geoblocked, so if you're going to leave the US for any reason, you're going to need to use ExpressVPN to bypass the blockade and unlock access to these, so check out how to do that.
Can I Binge-Watch Mr. Robot?
Yes, that is something that you could do because you'll find episodes quite easy to check out. While the USA website does feature some recaps and pics, they don't actually feature the episodes that have aired. Instead, you'll be able to watch those if you're an Amazon Prime subscriber. Neither Netflix or Hulu feature the show, so you'll have to resort to Amazon Prime where your subscription will grant you free access to the episodes.
Can I Purchase Mr. Robot Episodes?
Another option is to purchase the episodes from platforms like Google Play, YouTube, Amazon Prime, iTunes, Microsoft Store, or Vudu. Check all the links to make sure you get the best deal before you make the purchase.
We would love to hear back from you so we'll know how you're going to watch the fourth season of Mr. Robot, so please drop us a note in the comments section below the article and tell us all the details. Share the article online with friends and family and follow TechNadu on Facebook and Twitter for more tech news, guides, reviews, and interviews.