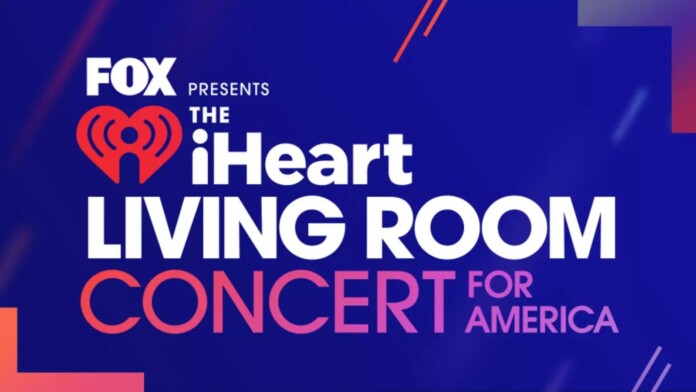 The iHeart Media Music Radio awards may not be happening anymore due to the Coronavirus outbreak. Still, they are teaming up with Fox for something called Living Room Concert for America. We're going to watch Living Room Concert for America online, and we think that you should be doing the very same thing.
The host for the event will be none other than the great Elton John, who will invite various artists to play for those who are at home. Therefore, we are going to get to enjoy concerts from Alicia Keys, Backstreet Boys, Billie Eilish, Billie Joe Armstrong, Mariah Carey, Tim McGraw, and many more.
The artists won't actually join Elton John in a specific location, but they will appear and perform from their own homes using their phones, and cameras, and various equipment they have.
When and Where to Watch Living Room Concert for America?
The concert will air on March 29th on Fox, starting at 9 PM. Basically, the show will take place in the broadcast slot that was originally reserved for the iHeartRadio Music Awards. What's better, however, is that there will be no commercials during the show. Nonetheless, viewers will be encouraged to support some charities.
How Can I Live Stream Living Room Concert for America?
We all spend way more time than we care to admit online, whether we do it for work or for pleasure. While we already consume a lot of content over the internet, it also makes sense to watch TV in the same way because it gives us a lot more room to take the content we loved with us wherever it is that we need to be, even if that's at work or on vacation. Live TV platforms also work on a wide range of devices, so you can easily switch between them if the need arises. One of the best platforms for you to watch the Living Room Concert for America is Hulu, which has a single bundle of networks to offer. Start your 7-day free trial of Hulu now!
If you want even more content, they have a couple of channel packs available, as well as several premium networks that you will want to check out. Since this is Hulu we are talking about, we also have to mention that your live TV subscription also brings you access to the Hulu on-demand library that everyone knows. Hulu also works on pretty much any device to have at home, including iOS and Android devices, Apple TV, Android TV, Fire TV, Chromecast, Roku, PlayStation 4, and more. (Note: Fox is one of the channels that broadcast and select markets only, so if you happen to live in an area where you do not get coverage for Fox, you can simply use a VPN to access a server that's in a nearby city where Fox is an option. You can click here to get more details on the topic.)
Here's how you can start your 7-day free trial on Hulu now:
First, you're going to have to visit Hulu Live TV web page and to tap on the "Sign Up Now" button to get things going. This will direct you to a new page where you have to provide your personal information to set up an account.
Then, you get to build up your subscription by adding any of the channel packs or premium networks you want on top of the Live TV plan.
Finally, they need your card details so they can bill you once the free trial is complete.
Other Ways to Watch Living Room Concert for America Online
Sling TV – For those who want to watch Living Room Concert for America online, we can also recommend Sling TV, which is a really cool platform that has a ton of customization options available. There are three bundles available, but Fox is only present in two of them, namely Blue and Orange + Blue. When making your decision, here you need to be well aware of the fact that Blue subscribers can only watch content on three devices at the same time, while Orange + Blue subscribers get four simultaneous streams. Start your Sling TV subscription with a discount! There are also a ton of channel packs and premium networks that you can definitely add when you customize your account.
fuboTV – There is also fuboTV one the list, which has loads of networks crammed into a single bundle. Fox is part of this bundle, and you will find loads of others as well. Start your 7-day free trial of fuboTV now! If you want even more, then you can definitely add any of the channel packs and premium networks they have to offer.
How Can I Watch Living Room Concert for America When Traveling Abroad?
We know that traveling isn't exactly something that you want to do right now, but if you are somewhere abroad, you know already that live TV platforms and streaming services in the United States are geo-blocked. This happens because the contracts that they have to prevent them from streaming content in areas that are not covered – which is pretty much anywhere outside of the United States.
The problem has an easy fix because it simply requires that you change your IP address, so you appear to be in the United States. You can do this with the help of a VPN, and we always recommend ExpressVPN, because it's just one of the best tools on the market today. On top of the thousands of servers they have available, they also use strong encryption protocols to help protect your data.
Here's how you can use ExpressVPN to watch Living Room Concert for America:
The first thing you have to do here is to subscribe to ExpressVPN (49% OFF), which is something that will just take a few moments. You need to know that on ExpressVPN, you can take advantage of a 30-day money-back guarantee if you have any issues with your subscription. Still, we don't think will be the case, given our experience with the service.
Then you need to download the app for your device and to install it. You can follow up by launching the tool and logging into your brand new account, so the app is always available.
Then, you need to find a server that is located in the United States so you can connect to it.
The app will tell you when the connection has been established, and you can go ahead and load Hulu so you can start watching the show on Fox.
Can I Watch Living Room Concert for America on the Network's Website?
Well, that is certainly a possibility because the Fox website comes with a live stream. In order to access this live stream, you will need to use credentials from what TV provider so you can log in to an account. The credentials can be from a live TV service or cable company if you haven't cut to the cord just yet. (Note: The live stream on the Fox website is geo-blocked, so it cannot be accessed freely from abroad. Therefore, you will need a VPN for the job. Click here to get all the details you need to make this work.)
Can I Watch Living Room Concert for America With a TV Antenna?
Watching Living Room Concert for America with a TV antenna is something that you can easily do because Fox is one of the channels that broadcast over-the-air. TV antennas are relatively cheap, and they help you watch dozens of local networks for free, which makes them favorites among cord-cutters for obvious reasons.
We do think that, before you buy an antenna, you visit a site like NoCable. This way, you can figure out what range you need your device to have by checking out how far the broadcast stations are from your home, but also if Fox even broadcasts in your area. Check out the list of devices above in case you find one you like.