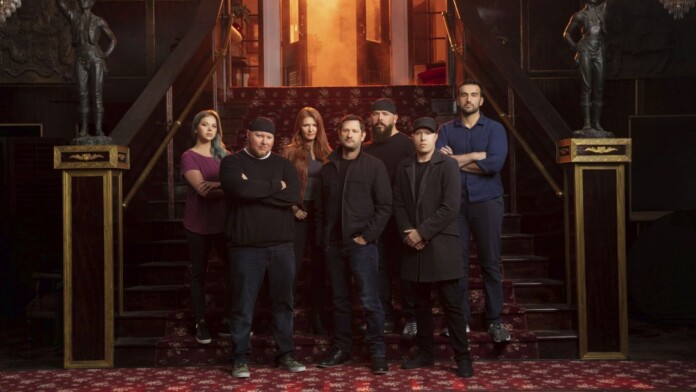 It has been quite a journey through the years, but the Ghost Hunters is back. Fifteen years after its original premiere, Ghost Hunters is coming to A&E for a new season, and this time we can help you watch it all online.
Ghost Hunters is an American paranormal reality TV series that premiered back in 2004 on Syfy. The show ran until 2016 when the network dropped it. The show is now getting renewed and going to a new network, with the new season scheduled to premiere on A&E on August 21st.
According to the announcement, the new series with feature more forensic experts, historical records, and new technology that has become available since the last time the show was on the air. The new Ghost Hunters, however, will also seek to please die-hard fans of the show even now that it is available on a new network. Let's learn more about how we can watch this show.
How to Watch Ghost Hunters Online?
We are now consuming more content online than ever before and we have become quite spoiled that we can take this content anywhere we go. The reality is not precisely so because live TV platforms, for instance, need to abide by licensing deals, which means that you can't watch your shows when you go abroad. Your IP address will tell the platform your actual location, and you will get blocked. If you want to watch Ghost Hunters on and you're going to have to subscribe to a VPN service in order to bypass the blockade. We're going to help you through it.
Start by figuring out which VPN you're going to use. We can recommend going for ExpressVPN, which is one of the best on the market with thousands of servers to choose from. Visit ExpressVPN's website to subscribe to the service in a few easy steps.
Download the app for your device and install it. You can then launch the app and log into your account.
It's now time to look for a server that is located within the United States, which should be pretty easy since there are dozens available.
When the connection is established, you can load the live TV platform that you chose to watch Ghost Hunters on such as Philo. Tune in at the right time, and enjoy the show.
Can You Watch Ghost Hunters Live on A&E's Website?
No, that's not possible because the A&E website does not feature a live stream to access. Don't worry though, you can still watch the show by using a live TV service.
How to Watch Ghost Hunters Without Cable?
It is absolutely great that in this day and age we can watch TV over the internet. Live TV platforms are great, and they offer much better prices than cable does. There is also no contract involved so you can unsubscribe at any time without any risks. The best part is that you get to watch your shows wherever you may be when they start airing whether that's on the bus or at work as you simply need as little as a smartphone and an internet connection. Let's see which live TV platforms can help you watch Ghost Hunters.
fuboTV – We're kicking off the list with fuboTV which is a platform that was designed with sports lovers in mind because it has dozens of dedicated channels. Thankfully there are also loads of entertainment networks due to recent efforts from the platform. A&E is part of the main bundle called fubo so you'll get easy access to Ghost Hunters. You can add loads of packs if you want more content, or some premium networks if those are more your thing.
Sling TV – We continue with Sling TV which has a platform that features three bundles to start off with, called Orange, Blue, and Orange+Blue. The channel you need to watch Ghost Hunters is available in all three bundles, so we get to choose the one you like best. Keep in mind that your choice will also influence the number of simultaneous streams you can get, with Orange subscribers getting one stream, Blue subscribers getting three streams, and Orange+Blue subscribers getting four of them. You can then add loads of channel packs grouped by theme and various premium networks.
Philo – We continue with Philo, which is a single bundle platform that offers a pretty straightforward deal. There are 58 Channels in the single bundle they offer, and it only cost $20 per month. There are no extra packs to add, no premium networks, or feature enhancement. What you see is what you get.
Hulu – The list also features Hulu which is a platform we are pretty sure you've heard of before. The live TV service provides access to dozens of channels, as well as the video-on-demand library that they feature. The bundle does feature A&E so you can watch Ghost Hunters quite easily. If you must customize your service, is it possible to add a couple of channel packs and a bunch of premium networks.
DirecTV Now – We conclude our list with DirecTV Now which is a platform that features seven bundles nowadays. Two of them, namely Plus and Max, were added earlier this spring, but neither feature A&E. The other five bundles got a new name – Entertainment, Choice, Xtra, Ultimate, and Optimo Mas – and all of them feature A&E so you can pick whichever one you like best to watch the Ghost Hunters. There are also a couple of packs featuring Spanish channels, three international packs, and a few premium networks such as HBO and Showtime.
Can You Binge-Watch Ghost Hunters?
Yes, that is possible, but you're going to have to pay for it. The Ghost Hunters show isn't available on Hulu or Netflix right now, and you can't even watch for more seasons on Syfy or A&E. The new episodes will become available to watch on A&E when they start streaming but not before.
If you want to watch older seasons, you're going to have to resort to purchasing the episodes or the full season from platforms like Amazon Prime, Google Play, YouTube, iTunes, and Vudu. We've given you a few links you can access, and we advise you to visit them all because these platforms may have deals available for you at the time of your purchase, so it's best to check for the better price.
We are just as excited as you are for Ghost Hunters to return so we hope you will share with us which live TV platform you chose to watch it on. Please drop us a comment in the section below the article and share it online with friends and family so they can enjoy it too. Follow TechNadu on Facebook and Twitter to get access to more tech news, guides, reviews, and interviews.