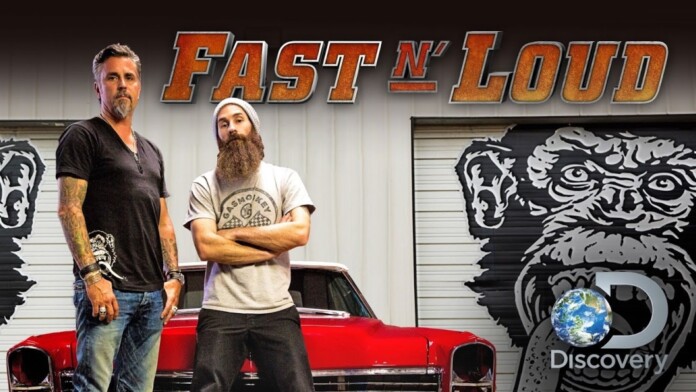 Fast N' Loud is undoubtedly not a new name for anyone who loves cars, especially since the show has been around for quite a while. We are going to watch the new season of Fast N' Loud online, so join us in figuring out how you can do that as well.
The first time Fast N' Loud aired was back in 2012, and it certainly has made an impact seeing as how it's going to be the 16th season that will premiere soon. The show features Richard Rawlings and his crew at the Gas Monkey Garage.
The show focuses on Rawlings and his team looking for run-down cars that you think would best be torn to pieces, and they restore them for profit. They managed to pull off some really impressive restorations, so we're just going to keep on watching because it's just so entertaining and hypnotizing.
When and Where to Watch Fast N' Loud?
The 16th season of Fast N' Loud will premiere on the Discovery Channel on March 30th, 2020. You'll get to watch new episodes starting at 10 PM, which is already pretty awesome.
How Can I Live Stream Fast N' Loud?
If you want to make sure you keep up with the latest episodes from Fast N' Loud, you need to make sure you're regularly available to watch your show. Of course, that's always easier to do when you have a live TV platform that you can take with you when you travel or when you go to work, as you only need a smart device to enjoy your content. One of the best platforms to help you enjoy Fast N' Loud online is Hulu, which has a single bundle of networks to offer. Either way, it holds the Discovery Channel along with dozens of other networks, so it's suitable for this purpose. Start your 7-day free trial of Hulu now!
If you want even more content, you can add a couple of channel packs that are available here, as well as several premium networks, like HBO or Showtime. Hulu works on pretty much any device you have at home, including iOS and Android phones and tablets, Apple TV, Android TV, Fire TV, Chromecast, Roku, and more. (Note: Hulu is a service that is only available in the United States, so if you're going to travel abroad, you will need a VPN to access it. You can click here to get all the details on the steps you need to take.)
Here's how you can start your Hulu 7-day free trial now:
The first thing you need to do is to visit Hulu Live TV web page and tap on the "Sign Up Now" button. You will get redirected to a new page where you have to provide your personal information, including your email address and a password.
You then get to start building up your subscription. You can now add the Live TV plan and any channel packs they have available, premium networks or more add-ons to help expand the cloud DVR storage space or the number of devices you can watch content simultaneously on.
They also need to have your card details, so they can bill you if you want to keep your subscription once the free trial is complete.
Other Ways to Watch Fast N' Loud Online
fuboTV – fuboTV is a really cool single bundle service that has dozens of networks in its offer, including the Discovery Channel. Start your 7-day free trial of fuboTV now! There are a lot of customization options available here, although we do have to point out they mainly have a list full of sports networks, given fuboTV's original purpose, which was to help folks watch their favorite sports.
Philo – There's also the option of Philo, which is a really friendly platform that has loads of networks organized in a single bundle. Start your 7-day free trial of Philo now! There are no channel packs and no premium networks available here, but you do get one of the best prices on the market now.
Sling TV – Sling TV is a modern service that comes with a lot of customization options to allow you to build the subscription however you see fit. There are three bundles of channels available here, but the Discovery Channel is only available in two of them, namely Blue and Orange + Blue. Your choice in bundles will influence the number of simultaneous streams you get to enjoy, with the Blue subscribers getting three concurrent streams, and Orange + Blue subscribers getting four of them. Start your Sling TV subscription with a discount! You can then add any channel packs they have available, and there are a lot of those, as well as premium networks.
How Can I Watch Fast N' Loud When Traveling Outside of the United States?
For those of you who travel outside of the United States, we need to say that live TV platforms and streaming services are all geo-blocked. It means that, unless your IP address reflects that you are within the United States, your access will be barred from any of the platforms you love. This happens because there are licensing deals in place that clearly state where the platforms are allowed to stream content and where they aren't. For the most part, that list only includes the United States. Therefore, you're going to need a VPN that can help change your IP address, so you appear to be in the United States regardless of your actual location.
We can recommend ExpressVPN, which is one of the best tools on the market today, with thousands of servers all over the world and some truly great privacy features to help keep you safe from any prying eyes.
Here's how you can use ExpressVPN to watch Fast N' Loud anywhere:
The first thing you need to do here is to subscribe to ExpressVPN (49% OFF), which you can do once you visit their website. Setting up your account will take a few minutes to complete, and you need to be aware that ExpressVPN has a 30-day money-back guarantee policy, so it is possible to ask for a refund if you have any issues.
Then, you need to start downloading the apps for your devices and installing them. Launch the tool and log into your account, so the app is ready to use.
Find one of the US-based servers and connect to it.
The app will inform you when the connection has been established, so you can go ahead and launch Hulu to start watching Fast N' Loud anywhere you travel.
Can I Watch Fast N' Loud on the Network's Website?
You most certainly can do that! The Discovery Channel website comes with a live stream that you can easily access. To do this, you will need to log in to an account with the help of credentials from your TV provider. The TV provider can be one of the services we just discussed or a cable company for those who haven't cut the cord yet. (Note: If you're going to access the live stream when you're traveling outside of the United States, you will need a VPN. You can click here to get all the details you need and see what you have to do.)
Can I Binge-Watch Fast N' Loud?
Sure, you can! There are 15 Fast N' Loud seasons that have already aired, and a new one is only just beginning. Depending on whether you're a new fan or a seasoned one, you'll get to watch lots of content online. You will find episodes available to stream on Discovery's website, as well as on Hulu.
Can I Purchase Fast N' Loud Episodes?
Well, that is certainly a possibility because the Fast N' Loud episodes are available to buy from multiple platforms, including Google Play, YouTube, iTunes, Microsoft Store, Amazon Prime, and Vudu. You should make sure to check all of them out, in case you find any discount available for you.