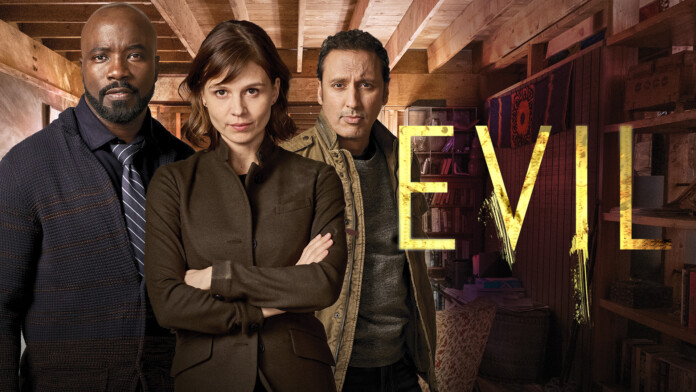 New shows are always fun to watch because you get to take the story from zero and work through it over the years. Watching the new CBS show called Evil online is exactly what we are planning to do.
Evil features Katja Herbers and Mike Colter in the main roles, and they play a skeptical forensic psychologist and a priest, looking to investigate supernatural incidents. That's a pretty exciting premise, and the results are already in, as people are more and more excited about each incoming episode.
Mixing in police work and supernatural give the show a great twist, especially following the success of shows like Supernatural on The CW and the slew of the detective movies that are on pretty much all networks nowadays. The show has had such a great response so far, that CBS has already renewed it for a second season.
When and Where to Watch Evil?
Evil premiered on September 26th on CBS, and you can watch new episodes every Thursday at 10 PM. It's unclear exactly how many episodes the show's first season will have, but there are probably going to be around 20 or 22.
How Can I Live Stream Evil?
We have all become so used to consume all types of content online because it's just easier, and you don't even need to switch devices unless you really want to. So, watching TV online is something that makes perfect sense, and it enables us to have a lot more freedom of movement. If you're going to watch Evil online, we suggest you go for CBS All Access because it's the easiest way to do it. You can start your CBS All Access 7-day free trial today!
On CBS All Access, there are two plans that you can try out, namely Limited Commercials and Commercial Free. Limited Commercials will cost you $5.99 per month or $59.99 per year, while Commercial-Free will cost you $9.99 per month or $99.99 per year. There is a CBS All Access app for most of your devices, including Apple TV, Android TV, Fire TV, Chromecast, Samsung Smart TVs, Roku, PlayStation 4, Xbox One, and, of course, iOS and Android smartphones and tablets. (Note: CBS All Access is a platform that only works in the United States, so if you're going to watch the show when traveling outside of the country, you're going to need to use a VPN. Click here to learn what you have to do.)
Here's what you need to do to set up your CBS All Access account and start your 7-day free trial:
The first thing you have to do is to visit the CBS All Access website and find the "Try it free" button that you will find on the page. Once you click on that button, you will get redirected to a page where you have to choose whether you're going to go for the Limited Commercials or the Commercial Free plan.
Once you do that, if you're going to pay for the full year, you can tick the box below the plans.
You will then be required to fill in your details, including your name and address, and payment data. You won't actually get charged until the 7-day free trial is over, but you do have to provide information.
Finally, tap the "Start CBS All Access" button on the page, and you're done. Tune in on Thursdays and watch new episodes of Evil!
Other Ways to Watch Evil
fuboTV – One of the best platforms on the market to feature CBS is fuboTV. Start your 7-day free trial on fuboTV today! There is a single bundle of channels here, but you can add a bunch of channel packs if you so desire, so you can customize your subscription.
Hulu – Next up, we have Hulu, which is the name we are sure you are familiar with, a platform that they've launched a while back, and it features CBS in the main bundle. Start your 7-day free trial on Hulu now! When you subscribe to Hulu live TV service, you'll also get to enjoy the video-on-demand library that they've been building for years. Aside from the main bundle, you can also add a couple of channel packs and several premium networks to your subscription.
Amazon Prime – While Amazon Prime isn't exactly your live TV platform, you can still add CBS All Access to your subscription, so you pay for a single source. Start your 30-day free trial on Amazon Prime today! There are other premium services that you can add to your Amazon Prime subscription, such as HBO or Showtime, to name a few.
What Can I Do to Watch Evil Outside of the United States?
When you travel outside of the United States, you need to be aware that live TV platforms and streaming services will block your access. This happens because all of them have license deals in place signed with the providers of all these beautiful shows. This means that they are not allowed to broadcast content beyond US borders, which is why you will get blocked whenever your IP shows you are no longer in the United States. The obvious solution is changing your IP address, which is super easy to do by using a VPN. When it comes to VPNs, we can only recommend the very best, which is ExpressVPN. They have thousands of servers across the world, dozens of them in the United States, and some really great privacy features to help you stay hidden.
Here's how you can use ExpressVPN to unblock Evil and any other similar show:
The first thing you have to do is to subscribe to ExpressVPN (49% OFF) after visiting their website. The whole process will only take you a couple of minutes, and you can set up your account quite easily. ExpressVPN comes with a 30-day money-back guarantee so you can ask for a refund if you don't enjoy the service.
Then, you have to download the app and install it on your device, before launching the tool and logging into your new account.
Then it's time to pick a server that is located in the United States and to connect to it.
As soon as the process is complete, you can go ahead and launch CBS All Access so you can start watching Evil.
Can I Watch Evil on the CBS Website?
Unfortunately, that's not something that you can do because there is no longer a live stream on the CBS website. The live stream was moved to the CBS All Access platform, so you can't do what you do for most other TV networks with a website, which is to use your TV provider credentials to log into an account. (Note: CBS is a channel that is only available in select markets, so you may not be able to access it even with a live TV platform. If that's the case for you, you can use a VPN to change your IP address so that you appear to be in a different city where CBS is available. Click here to learn how you can use a VPN.)
Can I Watch Evil With a TV Antenna?
That is something that you can do because CBS continues to broadcast over-the-air. You can watch any of its shows with the help of a TV antenna, which is pretty great. These antennas are relatively cheap to purchase, and they enable you to watch dozens of local TV channels for free.
Before you buy any of these devices, we suggest you visit a site such as NoCable so you can figure out whether or not CBS is even available in your particular area. Since TV antennas don't use the internet, there's no workaround for the location problem here. The site will also give you more information about what range you need your device to have, so you can reach all the channels that are broadcast around. Check out the antennas we suggested above and see if you enjoy any of them.
Can I Binge-Watch Evil?
That is something that you can easily do by subscribing to the CBS All Access platform, where you will find all the episodes from Evil. The most recent episode will also be available to watch on the regular CBS website, where you will need to log in to an account by using credentials from your TV provider.
Can I Purchase Evil Episodes?
Yes, this is something that you are able to do by visiting platforms like Google Play, YouTube, iTunes, Microsoft Store, Amazon Prime, and Vudu. You should make sure to check all the links available because either of them may have a better deal available for you for these episodes.
We cannot wait to hear what you think about Evil, so please drop us a note in the comments section below the article. Share the article with friends and family and follow TechNadu on Facebook and Twitter for more tech news, guides, reviews, and interviews.