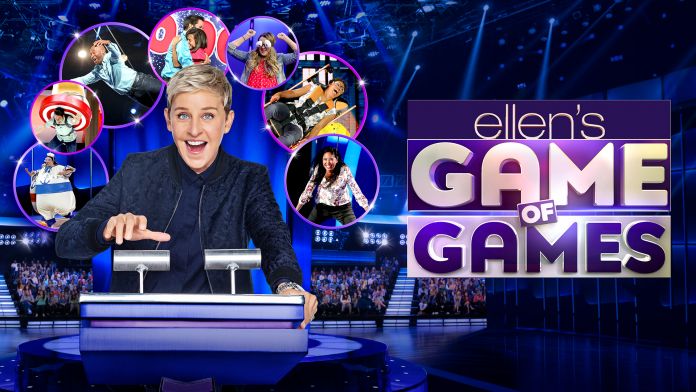 Ellen DeGeneres is one of those people who everyone loves because she's just so fun. Besides her daytime show, she also has a bunch of sideshows, including Ellen's Game of Games, which is returning for a third season soon, and we plan to watch it all online.
Ellen's Game of Games has been around since 2017, and it's made of hour-long episodes full of fun and awards. Whether it is something like Musical Chairs or the Dizzy Dash, Ellen's Game of Games has you covered.
I'm pretty sure what comes next is you drop. Hey. #KnoworGo #GameofGames pic.twitter.com/E59K03o4Z7

— Ellen DeGeneres (@TheEllenShow) November 28, 2019
After most of the contestants have been eliminated, the last remaining player gets to try Hot Hands for a chance to win $100,000. It's all quite hilarious, and it's enough to watch an episode to put you in a good mood, so it's just the perfect way to relax.
When and Where to Watch Ellen's Game of Games?
Ellen's Game of Games is set to premiere on January 7th, 2020, and you will be able to watch new episodes every Thursday at 8 PM on NBC. It's unclear exactly how many episodes the show will have, as the first season had eight of them, and the second one had 13. Either way, we are here for fun.
How Can I Live Stream Ellen's Game of Games?
Watching content online is something that we all do easier and easier every passing day because there are more ways to enjoy our favorite things. Live TV platforms have been launched in the past few years to help you enjoy TV online, which is pretty awesome. When it comes to watching NBC online, we suggest you go for fuboTV, which is one of the best platforms currently on the market. The service enables people to watch a ton of channels, including NBC, through the main bundle. If you require more content, then you can add a bunch of channel packs and premium networks to your subscription.
Start your 7-day free trial on fuboTV today! You should know that the fuboTV app works on pretty much any devices you have at home, including Apple TV, Android TV, Android and iOS phones and tablets, Chromecast, Roku, and more. (Note: NBC is one of the channels that is only available in select markets, which means that when you use a live TV service, you may be unable to enjoy your favorite shows because you live in a place that gets no coverage. If this happens to you, you can simply use a VPN to connect to a server that's located in a city where NBC is available. Click here to learn exactly what you have to do.)
Here's what you have to do to set up fuboTV so you can start watching Ellen's Game of Games:
The first thing that should make it on your list is setting up an account after visiting the fuboTV website. Find the "Start free trial" button and tap on it.
Next, you will have to provide your email address and a password so you can start setting up your account. It's also possible to use the social login buttons from Facebook and Twitter.
Set up your subscription by choosing the bundle that you want to go for. fubo Standard is the main bundle that includes over 70 channels, while the Family and Ultra packs include all the channels from fubo Standard, and various extra channel packs, premium networks, or add-ons at discount prices.
Once you've made your choice, you have to move on and pick additional channel packs and premium networks, if you want any. You can also add some features to expand the Cloud storage space or the number of devices you can watch content on.
Finally, you have to provide your card details so they can set up the payment process.
Other Ways to Watch Ellen's Game of Games
Hulu – We have Hulu on our list next, and it's a great service that will help you enjoy a ton of content, especially since it gathers dozens of channels in a single bundle. NBC is part of this bundle, but you can get more content by adding any of the available channel packs or premium networks. Start your 7-day free trial on Hulu today! One of the great things about subscribing to Hulu's live TV service is that you also get access to the video-on-demand library so you can enjoy the best of both worlds.
Sling TV – We also have Sling TV on the list, and it's a great service that will allow people to watch a ton of content. Even though there are three bundles available here, you will find NBC in only two of them, namely Blue, and Orange + Blue. Your choice in the bundle will influence the number of devices you can watch content on, with subscribers of the Blue bundle getting three simultaneous streams, and subscribers of the Orange + Blue bundle getting four of them. Start your Sling TV subscription by saving 40% OFF the first month. Besides the main bundle, you can add a ton of channel packs and premium networks so you can enjoy it even more content.
How Can I Watch Ellen's Game of Games When Traveling Outside of the United States?
If you happen to travel beyond US borders on a regular basis, you probably already know that life TV platforms and streaming services are blocked once you leave the United States. This happens because there are licensing deals in place that prevent these companies from streaming content in other countries. This can be quite annoying, especially when you just want to catch up with your favorite shows, but it's something that happens all the time, so it's not exactly out of the ordinary. You can bypass the situation quite easily, however, by using a VPN to change your IP address so that you appear to be in the United States. We can recommend you use ExpressVPN, which is one of the best tools on the market today, with thousands of servers across the world, and tight security and privacy features.
How you can set up ExpressVPN so you can watch Ellen's Game of Games:
First, you are going to have to subscribe to ExpressVPN (49% OFF) after visiting their website, which is something that should be quite easy to do. The whole process will take you a couple of minutes, and then you are good to go. You should be aware of the fact that there is a 30-day money-back guarantee policy in place, which will enable you to ask for a refund if the need arises.
Download the app that was created for your device and install it. Launch the tool and log in to your account when that process is complete.
Now, you need to look for a server that is located in the United States so you can connect to it.
As soon as the connection has been established, you can go on and load fuboTV so you can start watching Ellen's Game of Games anytime you want.
Can I Watch Ellen's Game of Games on the NBC Website?
This is something that you will be able to do, considering that the NBC website features a live stream that you can access. In order to do this, you will need to use credentials from your TV provider to log into an account. There is also an NBC app that is worth mentioning, and you can check that out as well. (Note: The NBC app and the website are both geo-blocked, so if you're going to travel beyond US borders and want to have access to them, you're going to have to use a VPN for the job. Click here to learn more about how you can use a VPN.)
Can I Watch Ellen's Game of Games With a TV Antenna?
This is something that you will also be able to do because NBC is a channel that broadcasts over-the-air so you can enjoy it with the help of a TV antenna. Antennas are cheap to purchase, which makes them a favorite of many people who have decided to cut the cord so they can save some money. You can watch a couple of channels in this manner, although it does depend on where you live.
[TVantennashows]
That being said, we suggest you visit a site such as NoCable, which can tell you more about the networks that broadcast in your location by checking out your ZIP code. It will also tell you how far all the broadcast stations are, so you will know what range you need your device to have so you can enjoy as many networks as possible. Make sure to check the devices we listed above, in case any of them have the features that you need.
Can I Binge-Watch Ellen's Game of Games?
This is actually something that you will be able to do because you will find episodes from the show available to stream on the NBC website. If you have a Hulu subscription, you can also find the shows that are available there, even with basic streaming service subscriptions.
We cannot wait to hear back from you, so please drop us a note in the comment section below the article, and share it with friends and family so they can read it too. Follow TechNadu on Facebook and Twitter for more tech news, guides, reviews, and interviews.