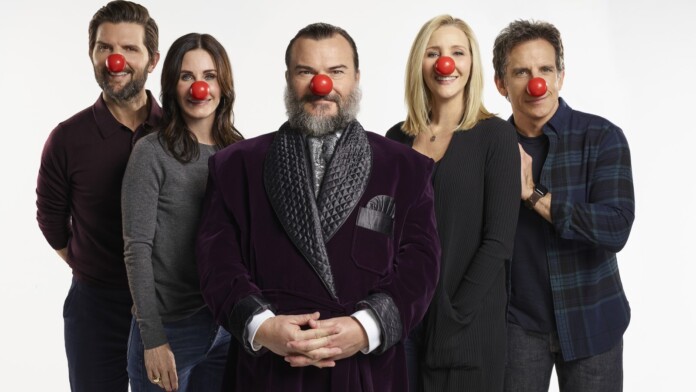 We're going to have loads of fun with some of our favorite actors on Red Nose Day. This time, we're getting a special Escape Room with celebrities, and we cannot wait to watch it online.
Celebrity Escape Room will be hosted by Jack Black, who will trap Courteney Cox, Lisa Kudrow, Ben Stiller, and Adam Scott in a special event on NBC. The four of them will have to work together to decipher the clues and solve puzzles to gain their freedom before the time runs out. It is pretty much like any other escape room on the planet, but this time we get to have fun watching it from our homes.
It will last for an hour, and it's going to be on the Red Nose Day fundraiser that the network organizes annually.
See Ben Stiller, Jack Black, Courteney Cox, Lisa Kudrow, and Adam Scott race against the clock in #CelebrityEscapeRoom, a #RedNoseDay event, this Thursday on NBC. 🔴 pic.twitter.com/k5ogkggtFl

— NBC Entertainment (@nbc) May 18, 2020
When and Where to Watch Celebrity Escape Room?
Celebrity Escape Room will air on May 21st on NBC. Make sure to tune in at 8 PM so that you can watch these celebrities trying to find their way outside of the special room.
How Can I Live Stream Celebrity Escape Room?
Thanks to the many live TV platforms that have been launched in recent years, it has become easier than ever to watch TV over the internet. We use it to see loads of programs that we love while using our favorite devices, whether we're talking about our smartphones or laptops, for instance. One of our favorite platforms to watch Celebrity Escape Room on is Hulu, which has a single bundle of networks. Start your free trial of Hulu now!
Besides the dozens of networks you find in the main bundle, you can also add a bunch of channel packs to your subscription, so you can watch even more content. There are also plenty of premium networks you can add to your subscription. When you subscribe to the Hulu Live TV service, they also give you access to the Hulu On-Demand library, so you have two platforms to enjoy. Hulu works on loads of devices, including iOS and Android smartphones and tablets, Apple TV, Android TV, Fire TV, Chromecast, Roku, PlayStation 4, Xbox One, and more. (Note: NBC only works in select markets, so you can use a VPN to connect if you live outside of their target. Hulu is not available outside the United States, so you will have to use a VPN to a nearby server to watch NBC and any other local networks. You can click here to get all the details you need to have.)
Here's how you can start your free trial of Hulu:
You're going to have to visit Hulu's Live TV webpage and tap on the "Sign Up Now" button. This will direct you to a new area where you have to provide your personal information in order to set up an account.
You will then be directed to a new area where you have to fill in your personal information, such as your email address and a password.
You can then build up your subscription by choosing the Live TV plan and any channel packs or premium networks you are interested in.
Finally, they need to have your card details on hand so they can bill you when the free trial is complete.
Other Ways to Watch Celebrity Escape Room Online
Sling TV – A really cool platform to watch Celebrity Escape Room on is Sling TV, which has a ton of customization options. There are three bundles available here, namely Orange, Blue, and Orange + Blue, but NBC is only part of two of them, namely Blue and Orange + Blue. Your choice in bundles will influence the number of simultaneous streams allowed on your account, with Blue subscribers getting three, and Orange + Blue subscribers getting four of them. There are also a lot of channel packs that you can add to your subscription in order to customize it. Get $10 off (first month only) on Sling TV Now!
fuboTV – We also have fuboTV on the list, and this service has a single bundle of networks. Start your free trial on fuboTV now! On top of all the networks – including NBC – that you will find in the main bundle, you can still add channel packs and premium networks to your account. fuboTV has a ton of sports channels, so you will certainly enjoy some of those as well.
How Can I Watch Celebrity Escape Room When Traveling Outside of the United States?
If you're currently outside of the United States and want to make sure you catch up with Celebrity Escape Room from wherever you are, you should know that you will need a little bit of extra help. Live TV platforms and streaming services in the United States are geo-blocked, which means that you cannot access them as easily as you do at home because they will not allow your access when your IP shows you are not in the United States. The solution to your problem is to change your IP address, which only takes a few seconds. For this job, you should use a VPN. We can recommend ExpressVPN, which is one of the best on the market, featuring thousands of servers all over the world and some great privacy features.
Here's how you can use ExpressVPN to watch Celebrity Escape Room anywhere:
First, go ahead and subscribe to ExpressVPN (49% OFF) once you visit their website. ExpressVPN offers a 30-day money-back guarantee policy, so if you have any issues with your account, you can always ask for a refund.
Download the app and install it on your device. Make sure to launch the tool soon after, so the app becomes available to use immediately.
Look for one of the US-based servers and connect to it.
When the app informs that the connection has been established, you can go ahead and launch Hulu so you can start watching Celebrity Escape Room.
Can I Watch Celebrity Escape Room Live on the Network's Website?
It is easy to watch Celebrity Escape Room on the NBC website because there is a live stream available there for you to enjoy. To access the live stream, however, you will need to log in to an account. For this, you need credentials from your TV provider. The TV provider we are discussing can be one of the live TV services we already talked about or a cable company if you haven't cut the cord yet. (Note: The NBC live stream is geo-blocked, so if you're going to access it from abroad, you should use VPN. You can click here to get all the details you need to have to make this work.)
Can I Watch Celebrity Escape Room with a TV Antenna?
Yes! Yes! You can surely use a TV antenna to watch Celebrity Escape Room because NBC is a channel that continues to broadcast over-the-air. TV antennas are easy to use, and they are relatively cheap, meaning it shouldn't be too much of a burden. These devices will allow you to watch local channels for free, so this is certainly something you should be looking into.
However, before you make a decision, you should check whether or not NBC airs in your particular region. To do this, you should check a site like NoCable so that you can discover all the networks that broadcast over-the-air in your neighborhood. This will also help you figure out how far the broadcast stations around you are so that you will know exactly what range your device should cover before buying it. Make sure you also check the devices we listed above in case any of them have the right range and features for you.
Can I Watch Celebrity Escape Room at a Later Time?
Watching the Celebrity Escape Room special at a later time should be entirely possible when NBC uploads it to the website. NBC content is usually free to stream for anyone, so you may even get away without logging into an account.