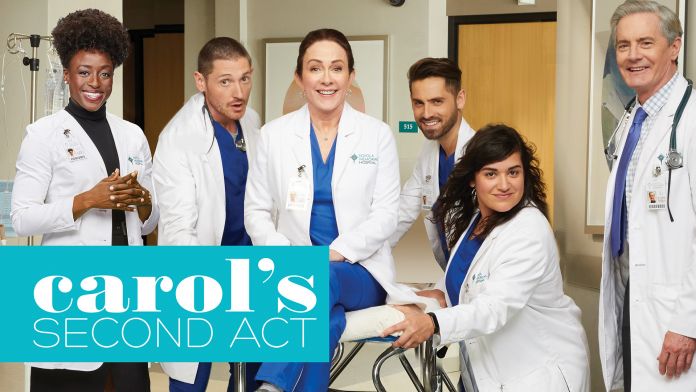 It's always fun to keep up with a good sitcom, and Carol's Second Act is just kicking off, and it's already a hit. In fact, we plan to watch Carol's Second Act online, and we invite you to find the best way to do this as well.
Carol Kenney is a woman who has already raised two children, and who loves teaching. At one point after divorcing her husband and retiring from teaching, she finds that she needs to follow a passion that she always had, and starts her journey to become a doctor. Obviously, she's the oldest resident in town, which makes things quite hilarious in the hospital. The main role is played by Patricia Heaton, but you can also find other names we are sure you're familiar with in this show, such as Ashley Tisdale, and Kyle MacLachlan.
Sometimes the talented cast of #CarolsSecondAct gets a tickle in their funny bone. Enjoy these laugh-out-loud bloopers from the first two episodes of the new comedy and watch all-new episodes Thursdays at 9:30/8:30c on CBS. pic.twitter.com/dED8ka4PO8

— CBS (@CBS) October 25, 2019
The show is a great example of people starting over, even when others decide that not much else can be done – in order to switch career paths, for instance.
When and Where to Watch Carol's Second Act?
Carol's Second Act kicked off on CBS on September 26th, 2019, and you get to watch new episodes every Thursday, starting at 9:30 PM. It's unclear how many episodes have been ordered so far, but we expect there will be over 20 of them.
How Can I Live Stream Carol's Second Act?
Watching Carol's Second Act online is something that you can easily do nowadays because there are so many live TV platforms that will help you enjoy the show. The best way to do this is through CBS All Access, which is the network's own streaming platform. You can start your 7-day free trial on CBS All Access now!
There are two subscription types on CBS All Access, namely Limited Commercials, and Commercial Free. For Limited Commercials, you will pay $5.99 per month or $59.99 per year, while Commercial-Free will cost you $9.99 per month or $99.99 per year. Both plans will enable you to watch a lot of content, including everything that CBS has created over the years. The CBS All Access app works on a wide range of devices, including Apple TV, Android TV, Fire TV, Chromecast, Samsung Smart TVs, Roku, and iOS and Android phones and tablets. There are also apps for PlayStation 4 and Xbox One, effectively rounding up pretty much all the devices on the market today. (Note: CBS All Access only works in the United States, so if you are going to watch the show when traveling outside of the United States, you're going to have to use a VPN to make things work. Click here to learn how you can do this.)
Here's what you need to do to start your 7-day free trial on CBS All Access:
You have to start by visiting the CBS All Access website and tapping the "Try it free" button that you will find on the page.
You will get directed to a page where you can pick the plan that you want to go for, which can either be Limited Commercials or Commercial Free. If you're going to pay for the full year, you have to check the box below the plans.
Then, it's time to fill in your details, including your name and address, as well as your credit card information. Keep in mind that they won't charge you anything until the 7-day free trial is over.
The last thing you have to do is to tap the "Start CBS All Access" button on the bottom of the page and tune in to watch Carol's Second Act.
Other Ways to Watch Carol's Second Act
fuboTV – One of the great ways that you can watch the show is with the help of fuboTV, which is an awesome platform with a single bundle of channels that includes CBS. Start your 7-day free trial on fuboTV today! There are a lot of ways that you can customize your subscription here, including by adding channel packs and premium networks.
Hulu – We also have Hulu on the list, and their live TV platform is pretty awesome, as they do include CBS in the main bundle. Start your 7-day free trial on Hulu today! When you subscribe to the live TV platform, you also get access to the video-on-demand library that they've been building for years. There are a couple of channel packs that you can add, as well as a handful of premium networks.
Amazon Prime – You can't exactly add CBS to your Amazon Prime subscription, but you can add CBS All Access, so you pay a single bill. You can start your 30-day free trial on Amazon Prime today! You can also add a bunch of other networks, HBO or Showtime.
What Can I Do to Watch Carol's Second Act Outside of the United States?
When it comes to watching in content outside of the United States, you need to know that live TV platforms and streaming services all have to respect licensing deals. This means that they can't allow content to be broadcast outside of the United States, so you won't get access to your platforms when you're traveling. The easy way to bypass this whole situation is to use a VPN to change your IP address so that you appear to be in the United States. We can recommend you go with ExpressVPN, which is one of the best tools on the market today, with thousands of servers all over the world and dozens of them in the United States.
Here's what you need to do to use ExpressVPN so you can watch Carol's Second Act anywhere you may go:
The first thing you have to do is to subscribe to ExpressVPN (49% OFF) after visiting their website. The whole process only takes a few minutes, and then you will be able to change your IP in just a few seconds. There is a 30-day money-back guarantee policy on ExpressVPN so you can ask for a refund in case there's anything you don't enjoy about the service.
You now have to download the app and to install it on your device. Launch the tool and log in to your account as soon as possible.
It's then time to choose a server that is located in the United States and to connect to it. There are a couple of dozens of those, so this should be pretty easy to do.
When the process is complete, you can go ahead and launch CBS All Access so you can start watching Carol's Second Act.
Can I Watch Carol's Second Act on the CBS Website?
Unfortunately, that's not something that you will be able to do. Unlike other networks, CBS no longer features a live stream on its website, since it has moved that stream over to CBS All Access. Therefore, the only way that you can access the CBS live stream is to pay for it. (Note: Another thing that you should know is that CBS is a channel that is only available in select markets, even when using a live TV platform. So if you live in an area that does not get CBS coverage, you can still use a VPN to change your IP, so you appear to be in a different city where CBS is present. Click here to find out what you need to do.)
Can I Watch Carol's Second Act With the TV Antenna?
That is something that you can do because CBS is one of the last few channels that still broadcast over-the-air. This means that by using a simple TV antenna, you can watch the new show on your TV for free. These devices are quite popular with cord-cutters because they enable them to watch local channels for free.
Before you jump at the chance to watch TV by spending close to nothing, you should look into what channels broadcast over-the-air in your particular location by visiting a site such as NoCable. There, you will find more details about all the networks that are available in your area and how far the broadcast stations are. This will help you figure out what range you need your device to have so you can make the most out of this investment. Make sure to check the devices we recommend above and see if any of them fit your needs.
Can I Binge-watch Carol's Second Act?
That is something that you will be able to do if you subscribe to CBS All Access because that's where you can find all the episodes that have aired from the show. On the traditional CBS website, you will find some of the latest episodes available to stream, but you will need to log in to an account by using credentials from your TV provider.
Can I Purchase Carol's Second Act Episodes?
You most certainly can do that by visiting platforms such as Google Play, YouTube, iTunes, Microsoft Store, Amazon Prime, and Vudu. You should make sure to check all the links before buying anything, because either of them may have a better deal available to use so you can save some money.
We would love to hear back from you so you can tell us which platform you chose to watch Carol's Second Act on. Share the article with friends and family so they can find a better way to enjoy TV. You can also follow TechNadu on Facebook and Twitter to get more tech news, guides, reviews, and interviews.