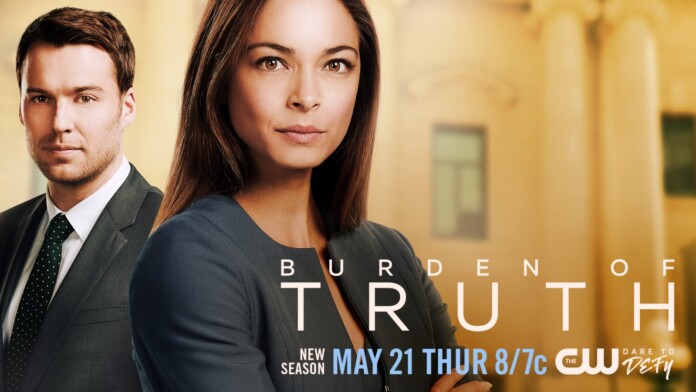 Burden of Truth is heading over for The CW for yet another season. We plan on watching all the new episodes online, so let us figure out exactly how to do that.
Burden of Truth is a series that originated in Canada, and that premiered back in January 2018. The show follows corporate attorney Joanna Henley, who starts her story by going back to her small hometown to represent a Big Pharma company before switching sides.
In the United States, The CW airs Burden of Truth, and the show is part of the network's summer programs. This first season has actually already aired over in Canada, starting in early January and ending in February. Still, it's only just now going to be available on The CW.
Burden of Truth returns May 21st on SOCO CW! pic.twitter.com/uCUtzPVSKB

— SOCO CW (@SOCOCW) April 17, 2020
When and Where to Watch Burden of Truth?
Burden of Truth returns with its third season to The CW on May 21st. New episodes are available starting at 8 PM, so make sure you have the time to watch.
How Can I Live Stream Burden of Truth?
We watch TV every day, but we also use the internet for all our needs, whether we're talking about checking out the latest news, talking with our friends, or binging on our favorite shows. Nowadays, many live TV platforms can help us keep up with everything we love, including our favorite TV channels. One of our favorite platforms to watch The CW and Burden of Truth online is Hulu, which has a single bundle of networks. Start your free trial of Hulu now!
Besides the main bundle, where you will find dozens of networks – including CW – you can also add a bunch of channel packs to your subscription, as well as various premium networks. When you subscribe to the Hulu Live TV service, they also give you access to the On-Demand library, so you basically get two platforms in one. Hulu works on a wide range of devices, whether you have iOS or Android smartphones and tablets, Apple TV, Android TV, Fire TV, Chromecast, Roku, PlayStation 4, and more. (Note: The CW only airs in select markets. You can use a VPN to solve your problem if you live in a different area and do not get access to the channel. You only need to connect to a nearby server from another city where it is available. You can click here to get all the details on the steps you need to take to make this possible.)
Here's how you can start your free trial of Hulu:
First off, you have to visit the Hulu Live TV webpage and tap on the "Sign Up Now" button so that you can start setting up your account. You will need to provide personal information in order to create an account, such as your email address.
Then, you get to build up your subscription by choosing the Live TV plan and any channel packs or premium networks you are interested in. There are also add-ons available if you want to expand the cloud DVR storage capacity or the number of simultaneous streams you can enjoy.
The last thing they need from you is your card details, so they can bill you as the free trial is complete if you decide to continue your subscription with Hulu.
Other Ways to Watch Burden of Truth Online
fuboTV – Another platform that can help you watch The CW and Burden of Truth is fuboTV, which has a single bundle of networks you can try out. Start your free trial on fuboTV now! There are also channel packs that you can add to your subscription if you want more content, and also add-ons to expand the storage capacity or the number of simultaneous streams. We should point out that fuboTV is the dream-platform for sports lovers, as there are many dedicated networks available.
YouTube TV – Another service where you will be able to watch Burden of Truth on The CW is YouTube TV. This platform has a single bundle of networks, and there are no extra channel packs available. There are, however, various premium networks you may add to your account. YouTube TV offers all subscribers unlimited cloud DVR storage space and three simultaneous streams for an account, at no additional cost.
How Can I Watch Burden of Truth When Traveling Outside of the United States?
If you happen to be outside of the United States and want to gain access to the platforms you use at home, you will need a bit of help because they're all geographically blocked. Basically, it means that people cannot access them outside of the United States, and it is your IP that will give your location away. To bypass the problem entirely, you will need to look into getting a VPN that can change your IP address so that you appear to be back home. We recommend ExpressVPN because it's one of the best tools on the market, featuring thousands of servers all over the world and some great privacy features thanks to the encryption protocols they use.
Here's how you can use ExpressVPN to watch Burden of Truth:
The first step on your list needs to be visiting the ExpressVPN website in order to set up an account. Before subscribing to ExpressVPN (49% OFF), you should know they have a 30-day money-back guarantee policy, so it's possible to ask for a refund if you have any issues with your account.
Then, you need to download the app for your device and install it. Launch the tool and login to your account as soon as possible, so the app becomes available to use whenever it is that you require it.
Look for one of the servers in the United States and connect to it. The process will only take a few seconds.
When the connection is established, you can go ahead and launch Hulu so you can start watching Burden of Truth over on The CW.
Can I Watch Burden of TruthLlive on the Network's Website?
Unfortunately, watching Burden of Truth live on The CW website isn't really a possibility because there is no live stream available whatsoever. The only way you can watch The CW live online is with one of the aforementioned live TV platforms.
Can I Watch Burden of Truth Live with a TV Antenna?
The CW is one of the few channels that continue to broadcast over-the-air, which makes watching Burden of Truth with a TV antenna a possibility. To access the broadcast, you will need to use a TV antenna that suits your particular needs. These devices are relatively cheap to buy, and they will enable you to watch CW and other local channels as well. Better yet, you get to watch for free.
Before you jump at the chance of watching TV for free, we do think that you should visit a site like NoCable, so you can figure out whether The CW broadcasts in your particular location. Furthermore, you will also learn what other channels you can watch with an antenna in your specific area, and the site will tell you exactly how far the broadcast stations are. The latter bit of information will help you figure out what range you need your device to cover. That said, make sure also to check the devices we included above in case any of these have the right features for your household.
Can I Binge-Watch Burden of Truth?
If you want to binge-watch Burden of Truth through The CW website, only have the most recent episodes available there. You can also stream the series over on Hulu or if you have an account with the Hulu On-Demand platform. The first two seasons are already available to stream, but there is no word when the first season will be uploaded. It will likely happen months from now, so you shouldn't really rely on it.
Can I Purchase Burden of Truth Episodes?
There are several places you can access to buy episodes or entire seasons of Burden of Truth, and those are platforms like Google Play, iTunes, Microsoft Store, Vudu, or Amazon Prime. Make sure you check them all out before making a purchase, just in case any of these has a discount that you can enjoy.