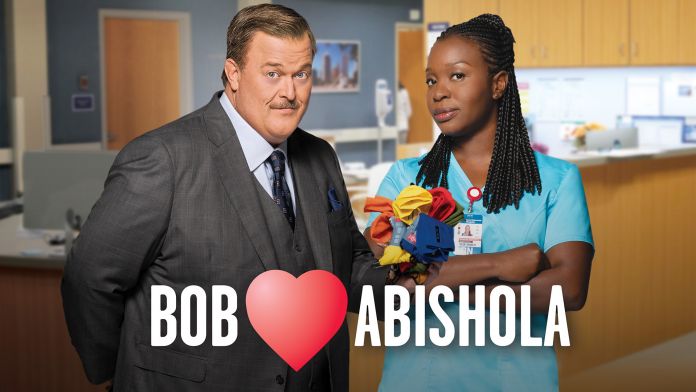 When it comes to comedies, we all love to watch a good show. The newly-arrived Bob Hearts Abishola has landed on CBS this September, and we intend to watch it all online, so we invite you to find the best way to do this as well.
The show puts the focus on a man named Bob, who has a heart attack and wakes up in the hospital where he meets Abishola, who's a Nigerian nurse that takes care of him. His life is pretty stressful, running a successful sock company with his family, but that changes when Abishola enters his life, and he decides it's time to win her heart.
Sitcom stars Billy Gardell and Folake Olowofoyeku have the main roles, although you will also see actors such as Matt Jones, and Maribeth Monroe.
When and Where to Watch Bob Hearts Abishola?
As mentioned, the show premiered on September 23rd, and you get to watch new episodes on Mondays at 8:30 PM. It is unclear at this point how many episodes of the show will have, but we are expecting over 20 of them.
How Can I Live Stream Bob Hearts Abishola?
In the past few years, we have all started watching a lot more content online, so it also makes sense to watch TV in the same manner. When it comes to watching Bob Hearts Abishola, we advise you to look into CBS All Access since it's a platform that will get you direct access to the show. Start your CBS All Access free trial now!
There are two plans that you can choose between on CBS All Access, namely Limited Commercials, and Commercial Free. You will have to pay $5.99 per month or $59.99 per year for the Limited Commercials version, or $9.99 per month, and $99.99 per year for the Commercial Free one. You can get a CBS All Access app for most of your devices, including Apple TV, Fire TV, Android TV, Chromecast, Samsung Smart TVs, Roku, PlayStation 4, Xbox One, as well as IOS and Android smartphones and tablets. (Note: CBS All Access only works in the United States, so if you want to watch your shows when traveling outside of the country, you're going to need to use a VPN. Click here to learn what you have to do.)
Here's what you need to do to start using CBS All Access:
The first thing you have to do is to visit the CBS All Access website and tap the "Try it free" button that you will find on the page.
As soon as you click on the button, you will get redirected to a page where you have to choose whether you're going for the Limited Commercials plan or the Commercial Free one. If you're going to pay for the full year, make sure to check the box below the plans.
You are required to provide your personal details, including your name and address, as well as any payment details, so they can set up the account. They won't charge you anything until the 7-day free trial is complete, though.
You then have to tap the "Start CBS All Access" button, and you can go ahead and watch the new show every Monday.
Other Ways to Watch CBS All Access
fuboTV – We are starting this list with fuboTV, which is a great service that will help you enjoy a lot of content, especially if you're a sports fan. Start your 7-day free trial on fuboTV now! Besides the single bundle that is available here, you can add channel packs, and premium networks to enhance your experience.
Hulu – We also have Hulu on our list, and it's a great service that will give you the best of both worlds because once you subscribe to the live TV platform, you also get access to the streaming service. Start your 7-day free trial on Hulu! CBS is present in the main bundle on Hulu, but you can add a couple of channel packs and several premium networks to your subscription.
Amazon Prime – We also have Amazon Prime on our list because it will also help you add CBS All Access to your subscription. You can start your 30-day free trial on Amazon Prime now!
How Can I Watch Bob Hearts Abishola Outside of the United States?
Whenever you travel outside of the United States, you have to know that live TV platforms and streaming services you have access to back home are now blocked for you. This happens because they have licensing deals to abide by, so they cannot allow broadcast or streams to take place beyond US borders. The situation can be fixed quite easily by changing your IP address, so the site believes you are still in the United States. We can advise you to go for ExpressVPN, which is one of the best tools of this kind currently on the market.
Here's how you can use ExpressVPN to watch your shows wherever you may be:
First, you have to go ahead and subscribe to ExpressVPN (49% OFF) after visiting their website and going through the account setup process. You should know that on ExpressVPN, you get to enjoy a 30-day money-back guarantee policy so you can ask for a refund if the service is not up to your standards for any reason.
You now have to download the app and to install it on your device. You should then launch the tool and log in to your new account.
It's then time to choose a server that is based in the United States, which shouldn't be too much of a problem since there are a couple of dozens of servers.
When the connection has been established, you can launch CBS All Access and start watching your favorite shows.
Can I Watch Bob Hearts Abishola on the CBS Website?
Unfortunately, that's not something that you will be able to do because the CBS website no longer features a live stream. The live stream has been moved to the CBS All Access platform, which makes perfect sense from a business standpoint, but it can be quite annoying for people who are accustomed to watching their favorite networks on their respective websites. (Note: CBS is a channel that is only available in select markets, even when using a live TV platform. If you are in this particular situation, you should use a VPN and connect to a server that is located in an area where is CBS is available. Click here to learn how you can use a VPN.)
Can I Watch Bob Hearts Abishola With a TV Antenna?
You most certainly can do this as well, because CBS is one of the channels that continue to broadcast over-the-air. This means that you can go ahead and buy a TV antenna if the channel is available in your particular location, and you will get to enjoy a few dozens of TV networks for free.
One thing we can say is that before you make a purchase, you should check a site such as NoCable to see whether or not CBS is even available in your particular location, by providing your ZIP code. You can also use the site to figure out what range you need your device to have, so you can enjoy as many stations as possible. Check all the devices we included above, and see whether or not any of these fit with your needs.
Can I Binge-Watch Bob Hearts Abishola?
That is something that you will be able to do, but you need to check out CBS All Access for it. You can also watch the latest episodes on the CBS website, but you will need to log in to an account by using credentials from your TV provider.
Can I Purchase Bob Hearts Abishola Episodes?
That is also something that you can do by visiting sites such as Google Play, YouTube, iTunes, Microsoft Store, Amazon Prime, and Vudu. Make sure to check all the links we provided, because either of them may run a better deal for you, so you can watch all your episodes.
We would love to hear back from you so you can tell us what you love most about Bob Hearts Abishola, so drop us a note in the comment section you will find below the article. Share the article with friends and family, and follow TechNadu on Facebook and Twitter for more tech news, guides, reviews, and interviews.