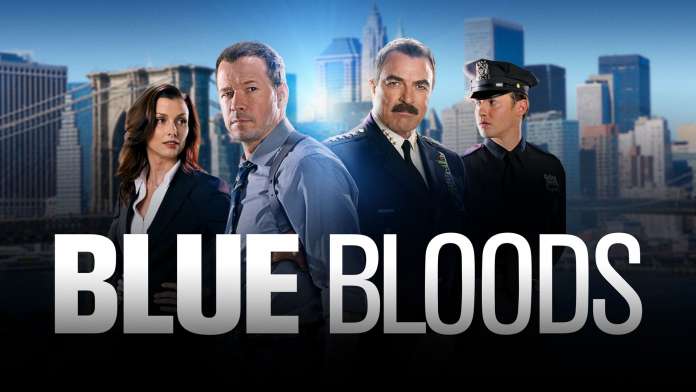 When it comes to police procedural shows, are there really enough on the market? We don't know the answer to that because we tried to watch them all, but Blue Bloods has been around for quite a while now, and we are quite excited to see the show's 10th season online.
The show focuses on the Reagan family in New York City, who has a history of work in law enforcement. Basically, there's a whole family of police officers, multiple generations that have taken the vow to serve and protect.
Blue Bloods features Donnie Wahlberg, Tom Selleck, Bridget Moynahan, Will Estes, and many others in the main roles. As mentioned, this is the 10th season, and there is no indication so far if the network will be renewing the show for yet another season, but since this is such a long-running show, they wouldn't cut it off without warning.
When and Where to Watch Blue Bloods?
The 10th season of Blue Bloods premiered on September 27th, and it will likely carry on through May of next year since the show usually gets 22 episodes. You can watch new episodes of Blue Bloods on CBS every Friday at 10 PM.
How Can I Live Stream Blue Bloods?
When it comes to watching content, we have all started migrating toward doing everything online because there are so many opportunities to enjoy such content. Even better, when it comes to watching Blue Bloods online, we will direct you towards CBS All Access because that's the easiest way to do it all. You can start your 7-day free trial on CBS All Access anytime!
There are two plans that you can get on CBS All Access, which are Limited Commercials, and Commercial Free. Limited Commercials will cost you $5.99 per month or $59.99 per year, while Commercial-Free costs a bit more, namely $9.99 per month or $99.99 per year. Both of these will get you access to a lot of CBS content, including a live stream. CBS All Access apps are available for a wide range of platforms, including Apple TV, Android TV, Fire TV, Chromecast, Samsung Smart TVs, Roku, Playstation 4, Xbox One, and iOS and Android phones and tablets. (Note: CBS All Access only works in the United States, so if you're going to watch the show when traveling abroad, you need to use a VPN even to access the content. Click here to learn what you have to do.)
Here's what you need to do to set up your CBS All Access account and start your 7-day free trial:
The first thing you have to do is to visit the CBS All Access website and tap the "Try it free" button you will find on the page.
You will then get redirected to a page where you have to choose which plan you want to go for: either Limited Commercials or Commercial Free. If you're going to pay for the full year, make sure to tick the box below the plans.
You are then required to provide some information about you, such as your name and address, as well as payment data. They won't bill you until the 7-day free trial is complete.
Tap the "Start CBS All Access" button, and you're good to go. Just tune in at the right time and watch Blue Bloods live online.
Other Ways to Watch Blue Bloods
fuboTV – Another great way to watch CBS is through fuboTV, which is a single bundle platform that features a ton of content. Start your 7-day free trial on fuboTV today! While there may be a single bundle of channels available on fuboTV, you can add a bunch of packs or premium networks, so you get more content.
Hulu – We also have Hulu on our list, and it's a great service that will enable you to watch a lot of content. When subscribing to the live TV platform, you will also get access to the video-on-demand library that Hulu has been building for years. Start your 7-day free trial on Hulu today! On top of the main bundle, you can also add a couple of channel packs and some top-quality premium networks.
Amazon Prime – Amazon Prime may not be a live TV platform, but you can still add CBS All Access to your subscription if you want to. Start your Amazon Prime trial, which is free for 30 days!
What Can I Do to Watch Blue Bloods Outside of the United States?
One issue you will encounter when traveling outside of the United States is the fact that live TV platforms and streaming services are blocked due to licensing deals that they signed. This means that visitors from outside of the United States will get blocked so you won't get access to these, even if you do pay for them. The solution to the problem is changing your IP address so that you appear to be in the United States. This should be pretty easy to do with the help of a VPN tool. If you're looking for recommendations, we can advise you to go for ExpressVPN, which is one of the best on the market, with some really great privacy features, and a lot of servers.
Here's how you can use ExpressVPN to watch Blue Bloods on the go:
The first thing you have to do is to subscribe to ExpressVPN (49% OFF), which you can do quite easily by visiting their website. It will only take you a few minutes to set up your account. Keep in mind that they offer a 30-day money-back guarantee so you can ask for a refund if there's anything you don't enjoy.
Then, you have to download the app and install it on your device. Follow up by launching the tool and logging into your account.
It is time to choose a server that is located in the United States so you can connect to it.
It will only take a few seconds. When the connection is established, you can simply load CBS All Access and start watching any of the content, including the new Blue Bloods episodes.
Can I Watch Blue Bloods on the CBS Website?
Unfortunately, that's not something that you will be able to do because the CBS website no longer features a live stream, such as other TV networks' websites do. The only way to watch a live stream of CBS is through CBS All Access or one of the live TV platforms we mentioned. (Note: CBS is a channel that is only available in select markets, so if you live in an area that does not get coverage, even though a live TV platform, you can use a VPN to connect to a server that is located in a city where CBS is available. Click here to learn more about how you can use a VPN.)
Can I Watch Blue Bloods With a TV Antenna?
That is actually something that you will be able to do because CBS is a channel that broadcasts over-the-air. Therefore, you can use a TV antenna to watch any of the content they broadcast. These antennas are quite cheap to purchase, and they allow you to watch a couple of dozen networks for free.
We do have an advice for you before you go and purchase any of the devices we just mentioned, which is to visit a site such as NoCable. Here you will find more information about the channels that broadcast over the specific location, so you can check if CBS is even an option for you. You can also find more details about how far the broadcast stations are so you can get the right range for your device, so you enjoy as many networks as possible. You should also check the devices we presented above to see if any of these will suit your needs.
Can I Binge-Watch Blue Bloods?
That is actually something that you can easily do, as you will find all the episodes available on CBS All Access. You should also check the CBS website, where you can find a few episodes, mainly the most recent ones. You will have to log in to an account with credentials from your TV provider in order to access these.
Can I Purchase Blue Bloods Episodes?
Yes, if you want to own the show, that is something that you can do by visiting platforms such as Google Play, YouTube, iTunes, Microsoft Store, Amazon Prime, and Vudu. You should make sure to check all the links because they may offer better deals for you, depending on when you're making the purchase, and the content you are interested in.
We would love to hear back from you so you can tell us which live TV platform you chose to watch Blue Bloods on. Drop us a note in the comments section below the article, and share it with friends and family so they can find a better way to enjoy TV as well. Follow TechNadu on Facebook and Twitter for more tech news, guides, reviews, and interviews.