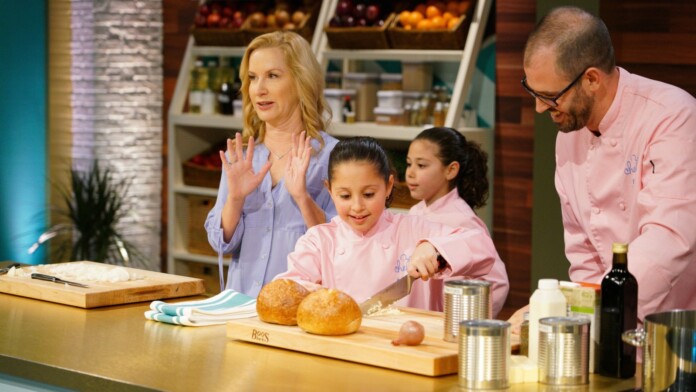 Disney+ is getting ready to introduce a cute new cooking show called Be Our Chef. We're going to watch Be Our Chef online, so let's go figure out how you can do that too.
Be Our Chef will be the first cooking competition that's exclusive on Disney+. The show will feature five families who are just crazy about food, as they make dishes inspired by various Disney franchises, like Frozen, for instance. If you're a Disney fan, you may have also noticed the show's name sounds familiar because that's the name of a song featured in Beauty and the Beast.
The show's host will be actress Angela Kinsey, whom you'll know from The Office. The dishes will be judged by chefs employed at the Disney resorts.
When and Where Can I Watch Be Our Chef?
Be Our Chef is scheduled to premiere on Disney+ on March 27th, so the first episode is days away. You'll get new episodes every week.
How Can I Stream Be Our Chef?
Well, Be Our Chef is a Disney+ original show, so there's no other way to watch it beyond Disney+. The service had been around since November last year, and it's already available in multiple markets, including the United States, Australia, New Zealand, Canada, and the Netherlands, with more scheduled to be added soon. You can subscribe to Disney+ alone, or you can bundle it up with Hulu and ESPN+ for $12.99 per month. Start your 7-day free trial of Disney+ now!
Disney+ works on a wide range of devices, so you can enjoy it anywhere you go on iOS and Android devices, Apple TV, Android TV, Fire TV, Xbox, PlayStation 4, and more. (Note: Shows that are available in certain markets may not be available across the world, so make sure to check your local library.)
Here's how you can start your 7-day free trial of Disney+:
First, you'll have to visit the Disney+ page so you can start setting up your account by tapping the "Start Free Trial" button. People that live in the US also have the option of picking the package that includes Disney+, Hulu, and ESPN+.
Then, you need to provide your email address and set up a strong password.
Next, you have to enter your card details so they can bill you when the free trial is complete. This is the step where you can choose whether you pay for the full year or once a month. It's possible to use PayPal or a credit card.
That's it! You can now watch Be Our Chef on Disney+!
Can I Watch Be Our Chef Elsewhere?
Sorry, but that's not going to be possible. Be Our Chef is a Disney+ show, so you can't find it anywhere else. It remains to be seen whether or not the show will be available to purchase on platforms like Google Play or iTunes.