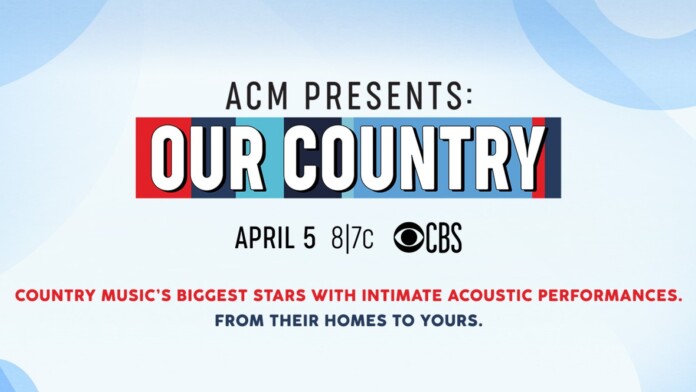 With the ACM Awards effectively postponed due to the Coronavirus pandemic, there is a new show prepared for us, as it seeks to keep us entertained. ACM Presents: Our Country will air soon, and we hope that you will join us in watching the show online.
What we know so far about the upcoming show is that it will feature intimate conversations and performances from the artists' homes, as well as clips from previous ACM Awards shows. Therefore, you get to watch your favorite country stars in their own homes, performing as good as they can – given the circumstances.
We're sure going to miss the red carpet event that predates every ACM Awards, but we're just as eager to watch what's going to happen in this new ACM Presents: Our Country show.
When and Where to Watch ACM Presents: Our Country
ACM Presents: Our Country is going to take place on April 5th, and the show will start at 8 PM on CBS, the place where you were supposed to watch the ACM Awards in the first place.
How Can I Live Stream ACM Presents: Our Country?
Over the past few years, it has become easier to watch more and more content online, including TV. After all, we already do everything else online, so watching TV over the internet is something that makes sense and gives us more freedom of movement. One of the best platforms to watch the ACM Presents: Our Country show is CBS All Access, which is the network's streaming platform. CBS All Access has been around for a little while, and it features two subscription options. The first one will be cheaper, but it involves watching some ads here and there, while the second one is a little bit more expensive, but it's ad-free. Otherwise, the content is exactly the same on both Limited Commercials and Commercial Free. Start your 7-day free trial of CBS All Access now!
CBS All Access works on pretty much any device you have at home, including iOS and Android phones and tablets, Apple TV, Android TV, Fire TV, Chromecast, Roku, gaming consoles, and more. (Note: CBS All Access is only available in the United States, so you will need a VPN if you plan on traveling abroad. You can click here to get all the details on this situation.)
Here's how you can enjoy your CBS All Access free trial:
First, you are going to visit the CBS All Access website and tap on the "Try It Free" button.
Once you do this, you get to choose between the Limited Commercial or Commercial Free plans, and this is also where you'll be checking a box for the year-long subscription if you want that.
Next, you'll have to provide your personal information to finish setting up your account.
You will also need to enter your card details, so they can bill you once the free trial is complete.
Other Ways to Watch ACM Presents: Our Country Online
Hulu – A really cool platform that features CBS is Hulu, which has a single bundle of networks. If you want more content, there are a couple of channel packs available, as well as several premium networks you will certainly want to at the very least try. We do have to mention that when you subscribe to the Hulu Live TV service, they also offer a way to watch everything available on their on-demand platform. Start your Hulu 7-day free trial now!
fuboTV – There is also the option of fuboTV, which is a really cool single-bundled service. Although it was first created for sports fans, it carries a ton of entertainment options nowadays. If you want to customize your subscription, there are a lot of channel packs that you can check out, as well as plenty of premium networks for you to try. Start your 7-day free trial of fuboTV now!
Amazon Prime – This streaming service does not come with a way to watch CBS itself, but it does offer a way to subscribe to CBS All Access, which is just as good. You will find CBS All Access among the Prime Channels, and you'll be able to watch anything available on the platform using the Amazon Prime Video app.
Note: Since CBS is a channel that broadcasts in select markets only, you will be limited even when using a live TV platform. Therefore, if you live in an area where you do not get access to CBS freely, you can use a VPN to connect to a server from a nearby city where the channel is available. You can click here to get all the details on how you can make this work with a VPN.
How Can I Watch ACM Presents: Our Country When Traveling Outside of the United States?
As you may already know, live TV platforms and streaming services in the United States are all geo-blocked. It means that you cannot access them from other countries because the contract they signed clearly states they are only allowed to stream content within the United States. As annoying as the situation can be, it's not as bad as it sounds because you can use a VPN to change your IP address and then appear to be back home, no matter where you are. We can recommend ExpressVPN for the job because it's one of the best platforms on the market today, with thousands of servers all over the world, and tight security and privacy features to help protect your identity.
Here is how you can use ExpressVPN to watch ACM Presents: Our Country,
You have to start by visiting the ExpressVPN website and subscribing to the service (49% OFF). Doing this will take a few minutes, and then your account will be set. We need to point out that ExpressVPN has a 30-day money-back guarantee, so if you have any issues whatsoever with your subscription, you can ask for a refund.
Then, you need to download the app and install it on your device. Launch the tool as soon as possible and login to your brand new account, so the app is available to use at a moment's notice.
Look for a server that is located in the United States and connect to it.
When the app informs when the connection has been established, you can go and launch CBS All Access so you can watch ACM Presents: Our Country.
Can I Watch ACM Presents Our Country Live on the CBS Website?
Unfortunately, you will not be able to watch the show live on the CBS website because there is no live stream available. Instead, the only way to access a live stream of CBS is to go for one of the live TV platforms we mentioned, including CBS All Access. We know all this can be frustrating, but it makes sense for the platform to restrict access to the live stream in this manner.
Can I Watch ACM Presents: Our Country With a TV Antenna?
This is actually a possibility because CBS continues to broadcast over-the-air. This means that you can simply use a TV antenna to watch any of the content they air. TV antennas are relatively cheap, so you won't be shelling out a lot of money for them, and they enable you to watch dozens of local channels depending, of course, on your location.
Before you buy one of these devices, however, we think that you should look into whether or not CBS even airs in your specific location. You should visit a site like NoCable to find out more details about all of this. You'll even get more information about the broadcasting stations and how far they are from your location, so you can figure out precisely what range you need your device to cover before making a purchase. You should check the devices we listed above in case any of them have the features you desire.