When you're looking for cool streaming services, you should also make sure to take Vudu into account, so we went ahead and did a Vudu review so you know what to expect.
First of all, Vudu has been around for a while, but it was in 2010 when it was acquired by Walmart that it began coming into the limelight more and more. You can watch loads of free content, but you can also buy movies and TV shows to stream on your devices.
Before we go any further, let's learn a bit about Vudu.
Overview
| | |
| --- | --- |
| Product Name | Vudu |
| Supported Platforms | Smart TVs, Game consoles, Android, iOS, Roku, Chromecast, TiVo, Blu-Ray Players, browsers |
| Availability | Vudu is only available in the United States and Canada |
| Unique Features | Let's you buy movies and TV series |
| Price | No subscription fee, but in-app payments are available |
| Visit | Vudu |
Also, let's see what the pros and cons we saw when testing it out.
| | |
| --- | --- |
| Pros | Intuitive UI; Vast selection of shows and movies, free content, allows users to buy titles |
| Cons | Somewhat dated UI, expensive movies |
| Verdict | Vudu has an odd business model in the day and age of subscriptions that open up the full library for you |
| Score | 8/10 |
Vudu Review – Find Out All You Need to Know
In the past few years, Vudu has grown quite a bit. The cool part about it is that you can use it for free, although admittedly, the content is pretty old. If you do choose to pay, however, there are a lot of fresh movies and series.
The service is only available in the United States and Canada, but you can get around the location part with the help of a trusty VPN. We tried out a few and ExpressVPN works just fine.
Platform Compatibility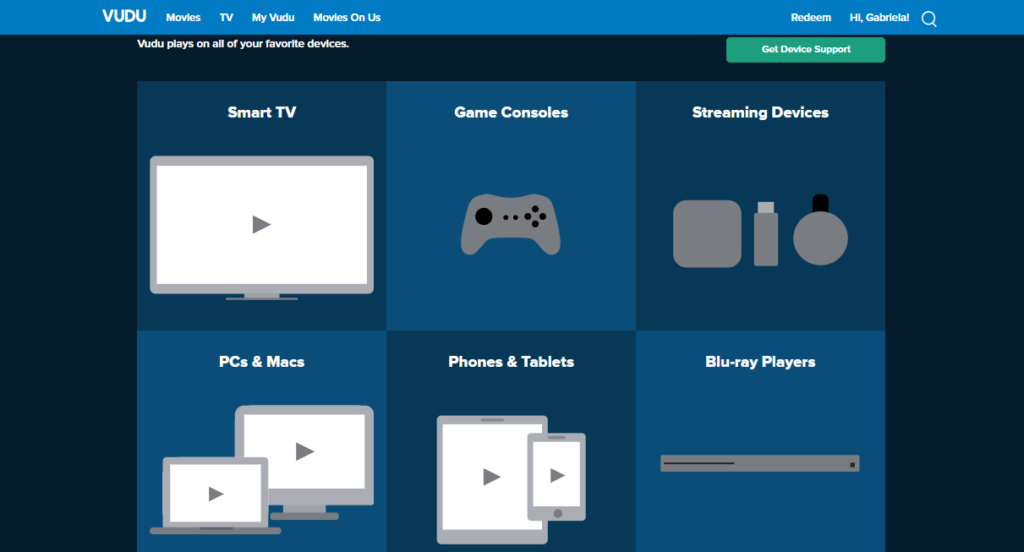 You can use Vudu on a large number of devices you own. Our Score: 9/10
Vudu works on loads of devices and they made sure to include all popular platforms so that you won't have any issues watching content.
Google: Android tablets and smartphones, Chromecast
Apple: iOS tablets and smartphones
Game consoles: PlayStation, NVidia, Xbox
Smart TVs: Vizio, Samsung, LG
Blu-ray Players: Sony, Samsung, LG
Other: Browsers, Roku, TiVo
Signing Up for Vudu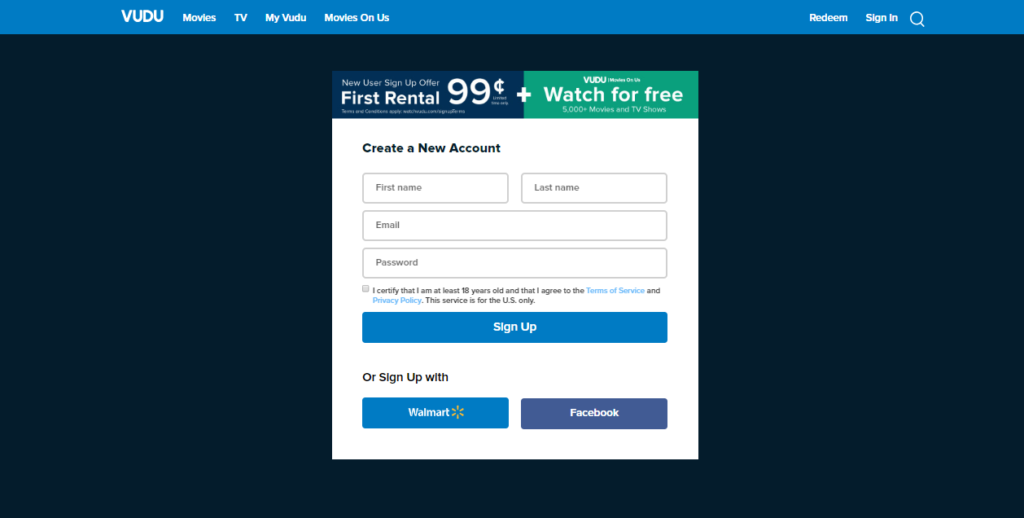 It only takes a couple of minutes to sign up for Vudu. Our Score: 9/10
The cool part about Vudu, as we've mentioned before, is that you can create an account and not even provide your card details. Basically, you sign up with an email address, you set up a strong password, and then you can just skip the rest of it. Of course, you can always add payment data at a later time, especially if you plan on buying movies and TV shows. That's the card they'll use every time you make a payment so it makes sense to have it on your account.
User Interface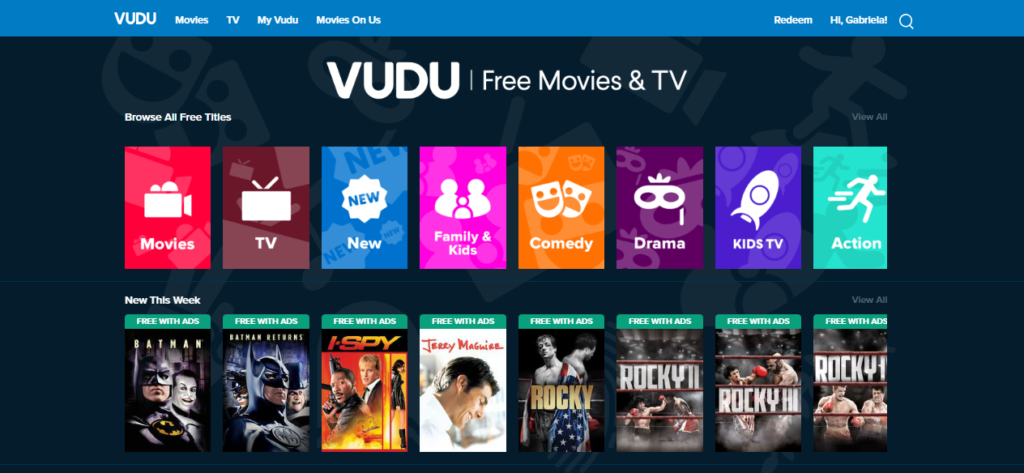 Vudu is easy to use, and you can easily discern between content categories. Our Score: 9/10
Vudu is pretty easy to figure out and you don't need to be a tech wiz to get around. In the top ribbon, you can find quick access to the various categories – Movies, TV, My Vudu, and Movies On Us.
In the Movies on Us, you can find free content, whether we're talking about movies, TV series, or family and kids' shows. From the My Vudu menu you can check out the content you plan to watch, content you've watched, any pre-orders you've made, and offers that are available for you.
Available Content
There's a big difference in the freshness of the content available for purchase and the free ones. Our Score: 7/10
There are heaps of movies and troves of TV series available on Vudu, especially if you plan to buy stuff. There's quite a big difference between the content you get for free and the content you can buy. For instance, among the free movies, you can find Zookeeper from 2011, Aloha from 2015, and The Getaway from 1994. But you can rent out Sicario Day of the Soldado or Solo: A Star Ward Story from earlier this year. Deadpool, Jurassic Park: the Fallen Kingdom, and Avengers Infinity War are another few names we're sure you'll recognize.
In the TV series category, you'll see a big difference too. For free, you can watch series of Rules of Engagement from 2006, or seasons from the 90s hit 3rd Rock from the Sun. If you want to pay, however, you can watch Sons of Anarchy, The Night Manager, Family Guy, The Simpsons, or Westworld.
Performance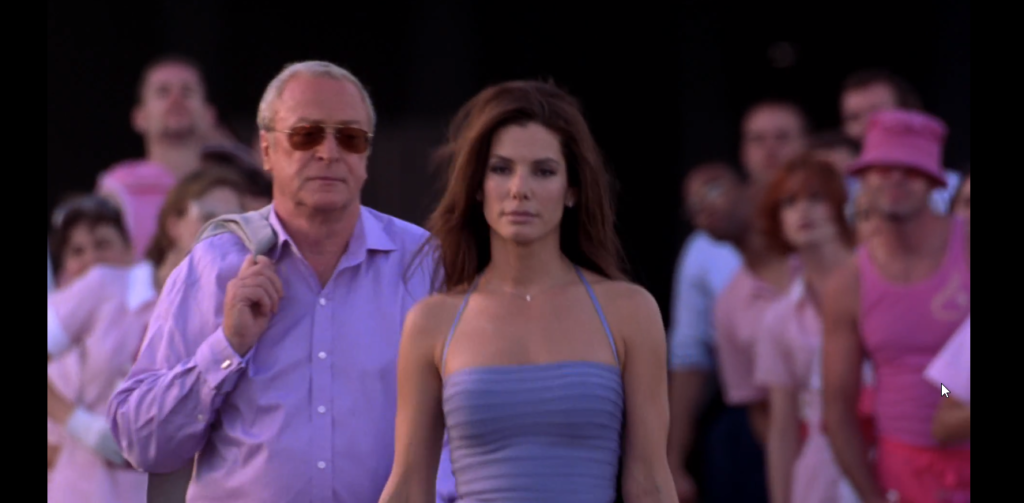 Video streaming works just fine and we didn't notice any issues. Our Score: 8/10
Streaming content is as easy as rain. You just tap on the content you want to watch and tap play. After you watch an ad (if it's free content), you get to enjoy your movie or your episodes. You can decide if you want to watch the content in SD or HDX from a small menu in the lower area of the screen. You can also enable and disable closed captions from the same area.
Vudu recommends users have at least an 11 Mbps Internet speed if they want to stream UHD content. HDX content requires 4.5 Mbps to 9 Mbps, while SD can even work on a 1 Mbps connection.
Customer Support
Find out everything you need to know from the Help section. Our Score: 7/10
The support page area looks dated, but you'll have to deal with that if you want any help. You can find loads of categories there, like information about billing, networking, content and so on. If you can't find the info you need in there – which we don't think will happen since the area is pretty populated with questions and answers – you can always email them via the website.
Pricing
Access to the service is free, but you do have to pay for individual content. Our Score: 7/10
Vudu is different than other streaming services, and we get that. They opted for free access, with users paying only for the content they actually want to see. The problem here is that it's actually quite costly to buy or rent movies. Ant-Man and the Wasp, for instance, costs $19.99 for SD and HDX, and $24.99 for UHD, but renting is closed until October 16th. Deadpool 2 costs $5.99 to rent, and $14.99 to buy. Similarly, the first season of The Night Manager costs $10.99, while a season of Sons of Anarchy costs $14.99. It just depends from one movie to the next and from one series to the other.
When you buy content, don't think that you actually own it, however, as you can only watch it on the device you downloaded it on.
The Verdict
We found Vudu to be a nice idea, but with options like HBO Now, Hulu, Amazon Prime Video, and Netflix, we don't think it has much traction. Sure, the collection of movies and series they offer is great, but paying for each of these in an old-fashioned way seems not a really good plan for this day and age. That's mostly because people have become accustomed to paying a monthly subscription fee and getting access to whatever content they want. Sure, there may not have immediate access to movies that left theaters last month, but that's something they're willing to ignore.
Pros: Clean UI, good library, you only pay for what you want to watch.
Cons: Costly rentals and high prices for movies and series, outdated UI.
Our Score: 8/10.
Final Thoughts
Vudu is a nice service to use when you are adamant about buying one movie or another and you really really want to have it. If that's the type of content consumption you want to do, then this is a great option for you.
We'd love to hear your thoughts on the topic and if you like Vudu. Please share the article online so others can find out about it too. Come to check us out on TechNadu's Facebook and Twitter pages.