Moviemakers are targeting yet another VPN service for indirect copyright infringement.
The particular service is promoting the use of pirating apps and torrenting platforms.
The plaintiffs are now asking for the blocking of services and also for the awarding of statutory damages.
After last week's news about "LiquidVPN" finding trouble from a group of filmmakers and facing a lawsuit for copyright infringement, facilitation, and promotion of piracy acts, another service has been put in a similar position this week. The makers of "The Hitman's Bodyguard," "London Has Fallen," and others have filed a complaint in the U.S. District Court of Virginia, targeting Popcorn Time, up to 100 of "Does" who are using it, Voxility LLC, Wicked Technology Ltd., and VPN.ht.
In the case of LiquidVPN, we had the direct promotion of Popcorn Time right on the website. For VPN.ht, the case is similar as the accusation claims that the service was promoting the use of the notorious movie piracy app.
The complaint includes screenshots from the blog, showing a post that is still up at the time of writing this, where the service characterizes Popcorn Time as "great" and presents itself as a solution for users to hide their IP and enjoy pirated content without fearing legal trouble.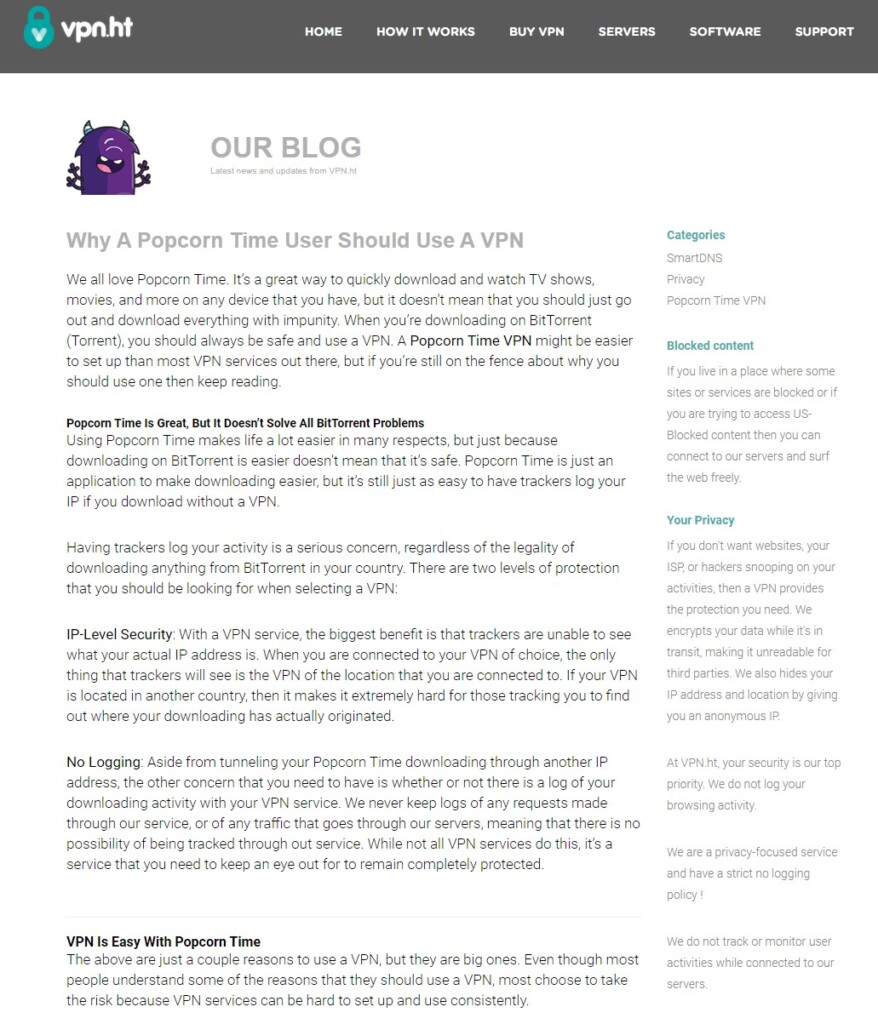 VPN.ht, a Hong Kong-based service, is even linking to the YTS website, which is a popular source for torrents of pirated films. For the plaintiffs, linking there is the equivalent of encouraging users to download and share pirated content, creating a sense that it is fine if they can do it without exposing their real identities. And finally, the website also mentions that the VPN service is "P2P friendly," so there is no restriction to using BitTorrent sites for any purpose.
Voxility LLC is a service provider who is contracted by Wicked, the operator of VPN.ht, and it is accused by the plaintiffs of contributory copyright infringement. The filmmaking studios maintain that Voxility knew exactly what Wicked was doing and allege that they had previously sent at least 50 individual notifications to the firm, asking them to stop. According to the complaint, Voxlity engaged in a "hide and seek" game with IP address allocation, keeping the support for its client Wicked alive and failing to take any action to stop the copyright infringement activities.
Again, what we see here is legal trouble due to how the products are marketed and how their capabilities are promoted. Other major VPN service providers maintain the same unlimited functionality on their products, so it is true that many of their clients are using them for piracy. However, thanks to their no-log policies and the fact that their clients' internet traffic is properly and end-to-end encrypted, nobody can tell what is going on inside those private data tunnels.
The complaint requests that Wicked blocks torrenting ports 6881-6889 and that the court awards statutory damages of up to $25,000 for each DMCA violation.