Twitter warns its users that they may have shared some of their data without having their permission.
This data was shared with advertising partners, but it's not sensitive information.
The platform claims it has fixed the problem by now, so check your settings.
Twitter has released an announcement to admit that its engineers have recently found two issues that may have violated its own user data privacy policy. More specifically, Twitter is warning users that even if your settings don't give permission to share data with their partners, they may have done so. The same applies to the associated setting about the personalization of the experience on the social media platform based on the devices that users log in to their account from, and also the inferences about their identity. The whole problem is revolving around targeted ad serving, as this is what enables social media platforms like Twitter make billions.
So, according to Twitter, if you clicked or viewed an advertisement since May 2018, the associated data such as your country code, the time of engagement, and the information about the ad may have been shared with its advertising partners. We're not sure if the "may" part was added to clarify that this didn't happen on all cases, or merely to make the statement sound less guilty. As Twitter also points out, since September 2018, users may have been served with ads that derive from data analysis that uses the "identity inferences", even if the user's permission for such a thing was never provided.
Now, Twitter reassures that the above misconfigurations have been fixed since August 5, 2019. In the meantime, the social media giant promises to get to the bottom of this in order to determine the exact number of users that have been affected by this and then share all of the details with the public again. Data like passwords, email addresses, etc. have not been shared with anyone, so the users don't have to do something to protect their accounts at this point. This was not a security incident, but a privacy violation one.
If you're unsure about what you allow Twitter to do with your data, check your personalization and data settings and uncheck all boxes as shown below. That is if privacy matters to you. If you wish for a more "personalized" experience on the platform instead, you should check all boxes and share all your data with Twitter's partners. The choice is yours, but unfortunately, it looks like Twitter hasn't been respecting this choice with reverence lately.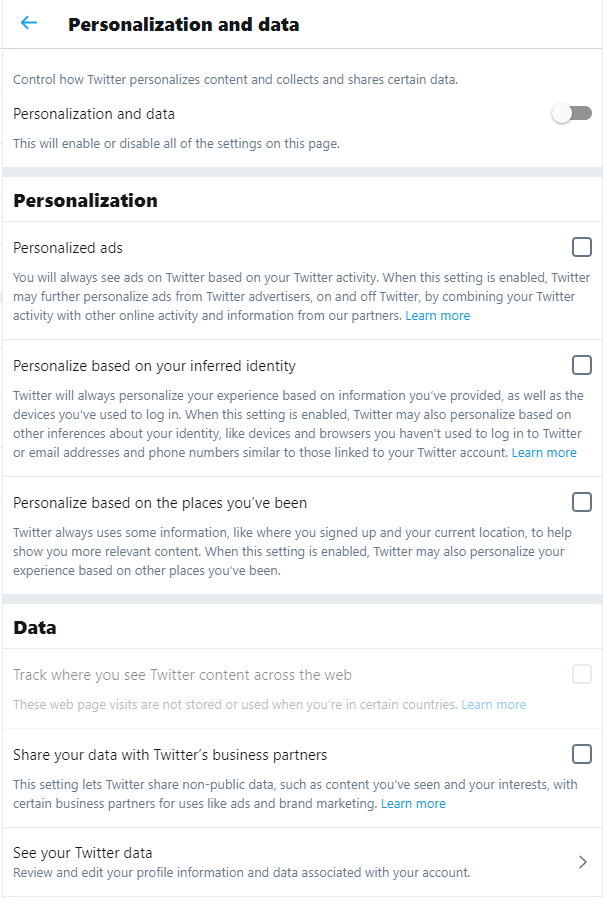 Have something to say about the above? Share it in the comments section down below, or join the discussion on our socials, on Facebook and Twitter.