Turkey has announced a new crypto-banning law that will come into effect on April 30, 2021.
The law cites money-losing risks and attempts to dispute the security of blockchains in general.
Experts believe that this is just an attempt to support the Turkish Lira from further value plumps.
Turkey's Central Bank has decided to ban the use of all cryptocurrencies for transactions and purchases of goods or services, citing possibly irreparable damage and a range of risks. As the announcement in the Official Gazette went further to explain, cryptocurrencies and the relevant digital assets that are based on distributed ledger technology cannot continue to operate without any regulation or central supervision, as they may cause non-recoverable losses for the transaction parties.
All in all, the Turkish authorities do not believe in the security of cryptos, or at least that's what they claim, and so they decided to ban them only to protect the people. The new law will come in effect starting on April 30, 2021, so holders of crypto in Turkey don't have much time to offload or exchange their assets.
The rise of crypto in Turkey was impressive lately, even though still not mainstream, and possibly, this is why the state decided to intervene before things get out of their control. The decision to outright ban them, though, hit hard - so much that Bitcoin suffered an immediate price drop of 4.6%. Moreover, the fact that the decision was taken in the middle of the night and without consulting stakeholders and experts on the matter reflects in how these issues are handled in Turkey.
Many speculate that the real goal of the Turkish government for taking this decision is to stop the bleeding of the Turkish lira and close the tap of the worsening leaks to cryptocurrencies. The more the value of the lira drops, the more people in Turkey engage in crypto investments, further pushing the demise of the country's currency. The Turkish lira's value has sunk by 10% in 2021, 24% in 2020, and lost over 50% of its value since 2017.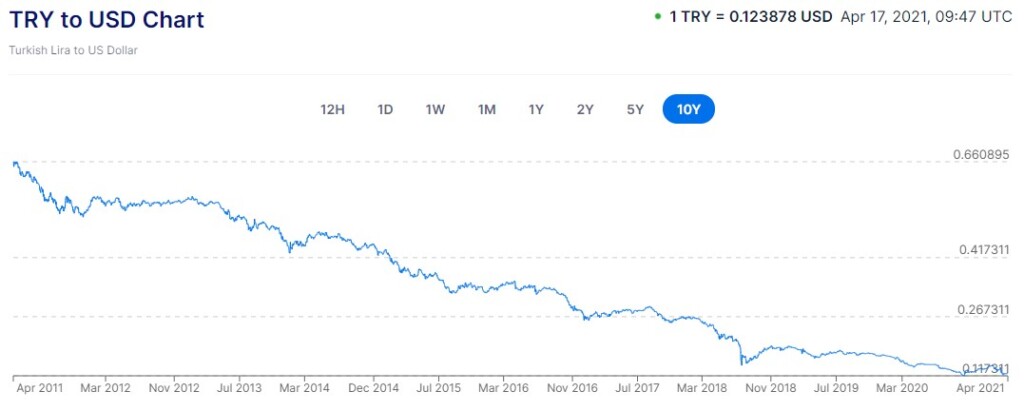 Last week, Turkey recorded inflation of 16%, which 11% higher than the central bank's 5% set target. According to an Arab News report, Turkey sold 11.7 million tons of gold in February 2021 to get some breathing oxygen that will help them tackle the economic crisis. President Tayyip Erdogan, who has been in charge during the entire period of the lira value collapse, has fired four bank chiefs during the past couple of years, but this hasn't brought any positive change.